WELCOME TO SKATE CULTURE INSIDER
A website by skateboarders, for skateboarders!
Skateboarding is a phenomenon that has gone through many eras of change. From the primitive days of the Z-Boys tearing it up in drained backyard pools, to the modern-day excellence of skaters showcasing their skills at SLS, The X-Games, the Battle of the Berrics, and even at the Olympic Games. Skating within today's society has changed drastically from a frivolous and often vilified activity where skaters would regularly run from the cops to skate a spot, and now, it seems that Skating is more socially accepted than ever. Skate Parks are popping up all over the place, there are more Skate Schools than ever before, and the new generation of skaters rising through the ranks are some of the most technically gifted that we have ever seen.
Well, that's why Skate Culture Insider exists. We are a website that is dedicated to giving you the inside scoop on what's happening in the local parks, on the streets, and what's happening at the top of the game too! We have a passionate team of skaters on hand to offer you anything you could possibly need. Whether that's a history lesson on the greatest skaters to ever ride on four wheels, a trick tutorial to make sure you get your kickflips on lock, or maybe a setup guide so you can finally decide which deck you are going to replace your battered current set-up with! Regardless of what you need, as long at it involves skating and ripping it up, you have come to the right place.
Skate Culture Insider is your online hub for all things skateboarding. We have a team of lifelong skaters, former skaters who still have a love for the activity, even if their knees can't take the strain anymore, and we have skaters that have picked up their four-wheeled weapons after a long time away. It's a ragtag bunch we have here, but our guys collectively have well over 10,000+ hours under their belt, making them certified masters of their craft. We have guys that specialize in Street, Tranny, and Vert skating to offer you some variety, and we keep up with all the new skate-related drip so we can point you to all the best gear! It's a skating blog written by skaters, for skaters!
What's Happening At Skate Culture Insider?
At Skate Culture Insider, we believe that content is king, and with that in mind, it's probably a good idea to let you know what sort of content you'll encounter when cruising through our site. Well, with relevance to skateboarding, you can read just about anything you fancy when visiting Skate Culture Insider. We have a wide range of content with a USP you won't see on other blogs like us. We only take on contributors that live and breathe skating, meaning that all the content we list on-site has an expert voice behind it. Someone that has taken all the slams and went through all the pain to land that trick you desperately want to learn.
Here at Skate Culture Insider there is a lot of content to powerslide into! Whether you want a trick tutuorial, a guide on how to set up your new deck, a skateboarder's life story in the form of a bio, an opinion piece, a product review, or even an interview with big-names within the sport, we have you covered!
However, we also believe that the happiness of our audience is vital to our success, and for that reason, we always look to you the reader for any feedback. If there is an event that you believe deserves coverage, if you are dying to learn a new trick and we don't have a tutorial there for you, or if you want to know just how good a piece of hardware is before buying, we want to know. We do a pretty good job curating targeted skating content, but we are always open to hearing your ideas!
How Do We Do It?
You might be wondering, what's our process? That's a fair question to ask and we are all about transparency and authenticity here. Our process is a three-step system that allows us to produce pristine and cutting-edge content. Firstly, we have our expert writers, who double as keen skateboarding enthusiasts and work tirelessly to provide readers with authentic, factual, and eye-catching content, all from an expert's perspective.
We have a three-step content production process that breaks down the steps needed to ensure quality from start to finish. We have multiple layers of checks on every single article, meaning that it will be scrutinized by multiple skating experts. Guaranteeing that when it hits the presses, it's good enough to meet the high standard expected by our readers!
Then secondly, we have our editors, who have a keen eye for detail, and a good grasp of the world of skateboarding. Allowing them to fact-check the content, ensure that it reads and flows perfectly, and ensure that the topic is covered comprehensively. Then finally we have the formatters and schedulers who will take the content and ensure that everything looks fantastic, that all sections are where they should be, and that all our links are functional. Then we push it out there for all you rippers to enjoy!
Our Team
Okay, now it's time to introduce our team of pro-writers, and avid skaters. Our team may not be sponsored riders, but they have more skating knowledge than the vast majority of skaters out there, we assure you of that! Our guys are a varied bunch with very different skating journeys, but that's what skating is all about, giving the outsiders and the outcasts a way to come together as a community. Well, our community of certified rippers is at your service and aims to make your journey within the world of skating as smooth as skating fresh-laid concrete! Here is our team below:
Callum Marshall – Managing Editor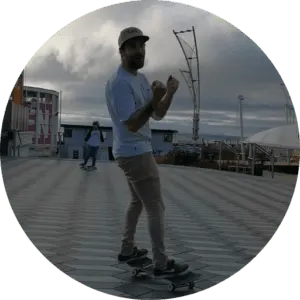 Callum is someone that has made a career as a games journalist primarily, covering the latest and greatest within the video game industry. However, when he's not playing games, he's undoubtedly skating. Having skated a lot as a teen, Callum hung up his trucks to become an international Rower for a short period of time. However, after blowing out his shoulder and succumbing to the boredom that the worldwide lockdown brought, he returned to skating. This was one of the best decisions he ever made and he hasn't looked back since.
Callum can be found skating the local spots in Derry, mere miles from the hometown of BATB 12 Winner, Jamie Griffin, and is always looking for new and inventive ways to give you a letter in a game of S.K.A.T.E. Outside of skating, Callum is an avid gamer, a Monster Energy drink connoisseur, and can tell you anything and everything about the British sitcom Peep Show. Go on, Test him!
Best Trick on Lock: A toss-up between a Tre-flip, a hospital flip, or a double kickflip
Current Battle: Trying to learn to do literally anything switch
Favorite Board Ever: Anti-Hero's Eat S**t and Die series or the Bones Brigade Peralta Series
Skateboarding Icon: Chris Cole, or more recently, my man Jamie Griffin
Dream Skate-Spot: Encinitas Skatepark, California
Regular or Goofy?: Goofy