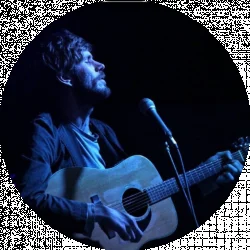 Latest posts by Kyle Baker
(see all)
Whether you just want to cruise the streets, use a skateboard for transport, bomb massive hills, or are looking at getting involved in the unique world of street skating, you may be wondering where exactly to start when purchasing your first board. If you are thinking about buying a skateboard, firstly, you won't regret it — we promise! And secondly, you've come to the right place!
In this guide, we'll walk you through the different types of skateboards available, the components you'll need to consider when buying, and our top choices for each.
Skateboard Styles
Every skateboard is designed to fit into a certain style of skating, and while some of these — such as hybrid boards — can crossover in many ways, it's best to decide what type of skateboarding you want to get into and choose a board accordingly.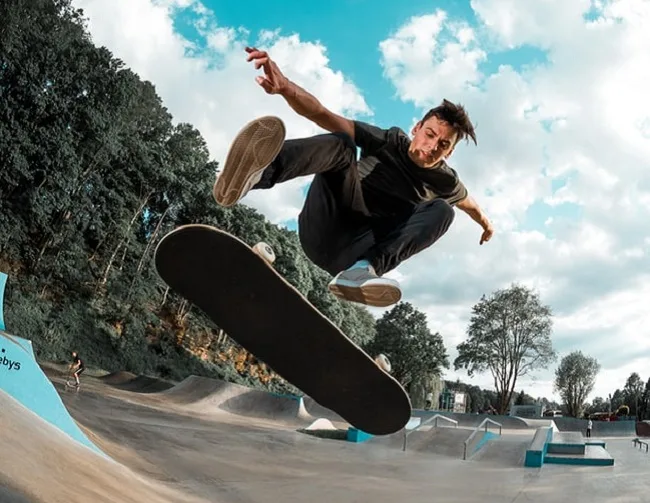 Getting a board to cruise around town on is drastically different from a street board, and they are different in almost every way. There are three main types of boards available, all with specific design features that make them ideally suited to their unique function:
1. Street skateboards
Street boards are made as thin and lightweight as possible in order to be able to ollie and flip them as easily as possible. They are the type used on the streets, in parks, and slightly different variations used on vert ramps.
The width and length between street boards vary only slightly (they are typically 28-33-inches long and 7.5-8.5-inches wide), and they feature both nose and tail kicks, substantial concaves for more pop, and an almost symmetrical design.
2. Longboards
If you are looking for a board to use as transport or you want to start bombing some massive hills, a longboard is for you. As the name suggests, these boards are much longer than skateboards, typically measuring between 33-59-inches in length, and are usually wider too, measuring between 9 and 10-inches.
3. Hybrid skateboards
Also known as cruiser boards, hybrid skateboards harken back to the first days of street skating. They are ideal for transport and cruising, and they are far more stable than skateboards and so are a great place to start for beginners.
Hybrid boards are usually the same length as skateboards, but are slightly wider, up to around a maximum of 10-inches. Hybrids also usually have a tail kick and small nose kick, so you are able to perform some tricks, but are a fair bit heavier than skateboards.
If you are a complete beginner, no matter the style you want to get into, we recommend going for a pre-built, complete setup. This way you can hit the streets straight away, and as you become more proficient and start to develop your own style, you can start customizing your setup accordingly.
Street Skateboards
A complete skateboard has five basic components to it: the deck, typically made from maple, trucks, wheels, bearings, and the hardware. As mentioned earlier, for street skating these components are all on the smaller side to allow for the ability to bust out grinds, slides, and flip tricks.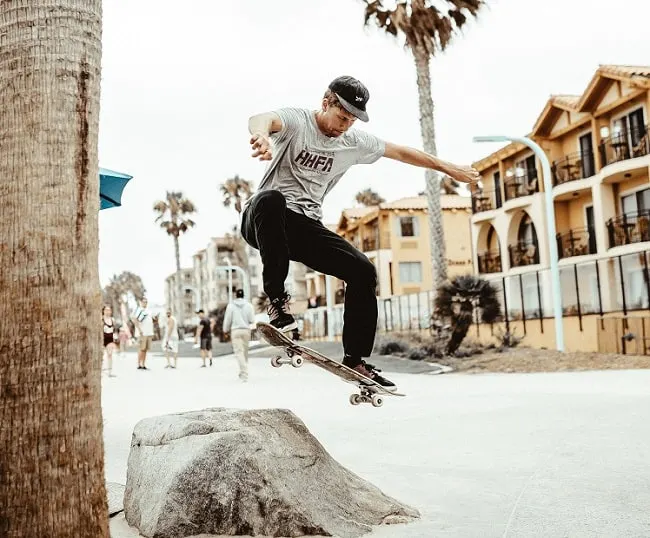 All of these components come in varying degrees of quality, but the stronger the better as they'll need to be able to take the beating that is involved in street skating.
Best Street Skateboard Brands
As far as decks go, there are a few trusted brands that have stood the test of time and are the go-to for professional skateboarders. With the explosion of street skateboarding in the last few decades, there are a ton of reliable and trusted brands to go for, but here are a few of our favorites:
Element
Element was founded in 1992 and so has a lot of skin in the street skating game already. With its classic "earth, air, fire, water" logo that epitomizes the company's aim of creating art out of the environment, the brand has evolved to become one of the most well-regarded and recognizable skateboard brands on the planet.
Element makes some of the best decks available, including completes, as well as wheels and high-quality apparel. Its team includes some of the best names in skateboarding, including Nyjah Huston, Bam Margera, and Ethan Clements.
Zero
Founded by professional skateboarder Jamie Thomas, Zero Skateboards was created with the ethic of skateboarding in its purest form and to answer to the mediocrity in skating at the time.
It began as a clothing company and quickly transitioned into one of the most popular board manufacturers around focusing on skateboarding in its purest and rawest form. The team consists of hug names in skateboarding like Jamie Thomas himself, Chris Cole, and Dane Burman.
Santa Cruz
Santa Cruz is an iconic name in the world of skateboarding and has been an integral part of skateboarding since its inception. The company is the oldest continuous skate brand on the planet, and makes iconic decks, completes, and wheels. The team consists of riders like Steve Alba, Blake Johnson, and Tom Asta to name but a few.
Honorable mentions:
Blind Skateboards
Powell Peralta
Flip Skateboards
Chocolate Skateboards
Girl Skateboards
Completes
If you are a complete beginner in the world of street skateboarding, we highly recommend going with a complete first. Complete boards are great as they come ready to shred, without the need to apply grip tape or assemble components, both of which can be difficult for newcomers.
Some completes come unassembled though, and you'll need to put the components together yourself. If you are DIY minded and want to dive into the deep end, the process is not that difficult and there are tons of videos showing you exactly what to do. Plus, it's a great introduction to all the various components and how they work together.
Our top choice of complete skateboard for street — Element "Mandalorian" Complete
This complete board setup from element has a 7.75 width, Element trucks with soft bushings, Element wheels, and awesome "Star Wars" graphics. It also comes already set-up and ready to ride — a great beginner board from an iconic company.
Best Budget Complete for street — Minority Maple Complete
If you are looking for a complete that is more on the affordable side, this complete from Minority is great value for money. It has a 100% maple deck, 5-inch black trucks, 52mm PU wheels, and awesome graphics.
Decks
Decks are arguably the most important aspect of your skateboard as this is where your feet are in constant contact. That being said, your deck is also the most frequently changed component of your setup, as trucks should last years, and wheels and bearings at least 6 months of skating every day.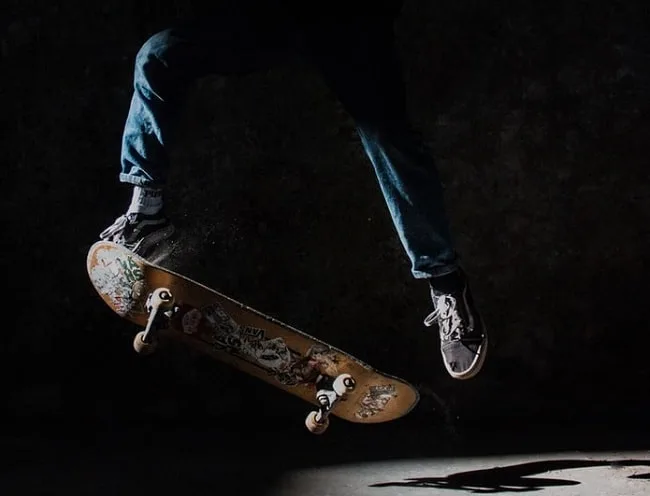 Still, you'll need to experiment a bit and find the right width for your style. Decks are typically 7.5 to 8-inches for most riders, but more and more riders are going wider these days, and 8.5-inch decks are becoming common. Almost all decks come without grip tape, so you'll need to put it on yourself, but this is an easy process that after doing it once you'll have it down.
Depending on how often you skate and how hard you are on your board, your deck should last 5-10 months or more, but professional skaters will eat through a deck in a matter of weeks.
Our top choice of street skateboard deck — Element Logo 7.75-inch
It doesn't get more recognizable than the classic Element "Earth, air, fire, water" logo deck, made from sustainably harvested maple. The deck comes in 2 sizes: 7.75-inch and 8-inch.
Best Budget street deck — CCS Blank Logo 7.75-inch
CCS makes some great quality yet affordable skateboard products, and its "blank logo" 7-ply Canadian maple deck is a great option for skaters on a budget.
Trucks
Trucks are typically the longest-lasting component of your setup, and so we recommend buying the best you can afford. Trucks are composed of a few different parts, the axles, kingpins, and bushings, and need to be "broken in" for a week or so before they start feeling right.
Trucks come in several different widths, and their size will greatly affect the feel of your board. As a general guide, try and go for trucks that are the same width as your deck. For street skating, you'll want low trucks that are designed for small wheels, sharp turns, and flip tricks.
Our top choice of trucks for street — Independent 129 Stage 11 Standards
Trucks don't get much better than Independent when it comes to street skating, and Independent has been the go-to brand for trucks for decades. The Stage 11 trucks are as tough and long-lasting as any Independent has ever produced, and a set of these will last you years.
Best trucks for street on a budget — CCS 129mm trucks
These trucks come in raw or solid black coloring and are a solid set of trucks for skaters on a budget. As a bonus, they come with 1-inch hardware included!
Wheels
Wheels for street skating need to be small and lightweight, and typically on the harder side. A diameter of 50-55mm is ideal, and a durometer (the hardness) of around 99a is perfect.
Softer wheels will give you more grip but less sliding ability and acceleration, and smaller wheels offer more acceleration but less overall speed. Some top brands to look out for are Spitfire, Santa Cruz, and Ricta.
Our top choice of wheels for street skating – Spitfire Classic Series Skateboard Wheels
These wheels from Spitfire have stood the test of time and are a top choice for street skaters around the world. They have 54mm diameter and 99a durometer, are hand-poured and hand-shaped and crafted 100% in the USA.
Best Street wheels on a budget — Mini Logo A-Cut Skateboard Wheels
With a 52mm diameter and a super hard durometer of 101a, these wheels are fast and smooth and ideal for street skaters on a budget. They are made with a unique Super-High Rebound formula that will outlast many other similar wheels.
Longboards
Longboards are more than just elongated skateboards: yes, they are longer, but are also wider, have bigger and softer wheels, and wider trucks. Longboards are made for optimum stability while going at high speeds downhill, and the decks are often flexible to give them a more surfboard-like feel.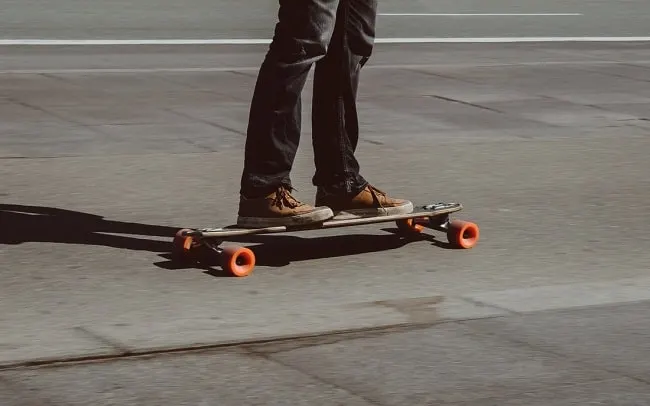 Tricks are rarely done on longboards and they typically have a very small tail kick or no kick at all and come in a few different iterations depending on the way you want to ride them.
Longboards come in 3 different styles: cruising and carving, freestyle, and downhill.
Best Longboard Brands
Longboarding has exploded in the last few decades, and with that growth has come a wide array of brands to choose from. Here are some of the most trusted and best-selling brands that make the best quality longboards and components.
Sector 9
Sector 9 has been making some of the best longboards since the early 1990s and is one of the most trusted brands in the sport. As well as top of the line longboards, Sector 9 also make high-quality apparel. Its downhill team features some of the best names in the business, including Jimmy Riha and Louis Pilloni.
Arbor
Arbor has been making some of the best longboards on the planet since 1995 and is one of the most recognized and respected names in the business. Arbor donates a portion of all product sales to help protect and restore forests, plus they make some killer boards!
Globe
Globe makes some fantastic longboards at reasonable prices and has been in the skate game since the late 1980s. They are well-designed and have high-spec components and are the ideal point-of-entry for beginner longboarders.
Honorable Mentions:
Santa Cruz
Loaded
Landyachtz
Prism
Completes
If you are new to longboarding or just want a board to use for transport and cruising, we again recommend going with a complete setup. A complete deck will give you the basic feel of longboarding so you can get into full customization mode later on once you have some experience.
Our top choice of a complete longboard — Globe Chromantic Complete
The Globe Chromantic has a swallowtail-shaped kick tail and a flat, pointed nose with a slight concave and kicktail grip pad. It is 33-inches long by 9.5-inches wide, making it the perfect size to dip your toe into the world of longboarding. It comes fitted with 6-inch Tensor trucks, 62mm wheels, and ABEC-7 bearings.
Best longboard on a budget — Quest Super Cruiser Complete
Our top choice for riders on a budget, the Quest Super Cruiser is 44-inches long and is made from a combination of maple and bamboo laminates. It has a small kick on the tail for basic tricks and comes fitted with 7-inch aluminum trucks, ABEC-7 bearings, and 70mm wheels.
Read our full guide on how to find the best Longboard bearings.
Decks
Longboard decks come in a wide variety of shapes and sizes, all of which cater to different styles of longboarding. Downhill decks are typically narrower and longer than a cruiser deck, while cruiser decks are usually wider and shorter and offer more stability.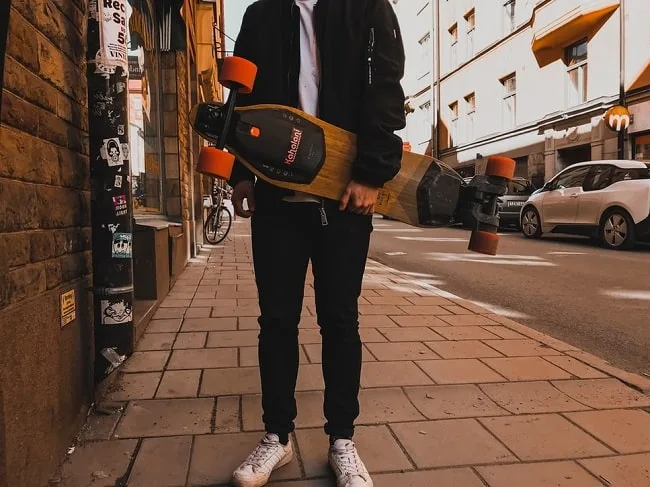 Longboard decks typically range from 33-inches up to 60-inches long and are made from maple, bamboo, or a combination of both.
Our top choice of longboard deck — Sector 9 Nica Deck
With a hat tip to longboarding's surfing roots, the Sector 9 Nica has a classic surfboard shape, including a "fish-tail" tail. It is made from 5-ply vertically laminated bamboo and has some awesome surf-style graphics too.
Best budget longboard deck — Bamboo Skateboards Mini Cruiser Blank Skateboard Deck
Made with 6-ply bamboo and maple, this deck is a nice and simple design with minimal graphics to keep the price low. All in all, a great deck to get started in the world of longboarding.
Trucks
Longboard trucks almost always feature a reverse kingpin design (RKP) as opposed to the traditional straight-through kingpin of skateboard trucks. This design offers more stability and control for deep turning and carving and cruising at high speeds.
The baseplate of the truck can come in several different angles depending on your needs, but as a general rule of thumb the lower the angle, the more stable.
However, this stability comes at a price as the lower angle will be less responsive for tight turns. Typically, lower-angled trucks are best for speed, but higher angles work better for freeriding and general cruising.
Our top choice of longboard trucks — Gullwing Sidewinder II
The Sidewinder II trucks from Gullwing are unique in that they have a double kingpin setup. This makes cruising and turning easy and smooth, plus the trucks can easily be converted to a single kingpin setup too.
Best budget choice — Caliber Trucks Cal II
Caliber makes some of the best longboard trucks around, and although these trucks are affordable, they by no means are low quality. These trucks are built for speed, with a 40-degree hanger angle and no-slip bushing seat.
Wheels
When it comes to longboard wheels, bigger is better, but longboard wheels come in a wide variety of sizes and durometers. Depending on the terrain they are skating, longboarders will frequently change out wheels to suit the asphalt.
Anything above 60mm is the general size to go for, and the larger the wheel the more speed and less chance of getting caught up on stones or cracks. Harder wheels are preferred for downhill as they allow you to slide easier, while softer wheels are more grippy and offer a better option for general cruising.
Best choice for cruising — Orangutang Caguama 85 mm Longboard Wheels
With a large diameter of 85mm, a 77a durometer, and a 56mm contact patch, these wheels from Orangutang will give you a great combination of speed and stability. They are also available in 80a and 83a durometers if you need something harder.
Best choice for downhill — Orangutang Kegel 80 mm Downhill
If you are looking for speed and high quality, look no further than the Orangutang Kegel. These 80mm wheels are designed for speed with an 80a durometer and sharp square lips for maximum traction. Keep in mind that these wheels are large, and you may need to add some risers to your setup.
Hybrid Skateboards
A hybrid skateboard is the best of both worlds if you can't quite decide whether to go full street or full longboard, or just want a board to cruise on while popping the odd trick occasionally. Think of a hybrid as a wider skateboard or short longboard, with features from both worlds to make for a unique ride indeed.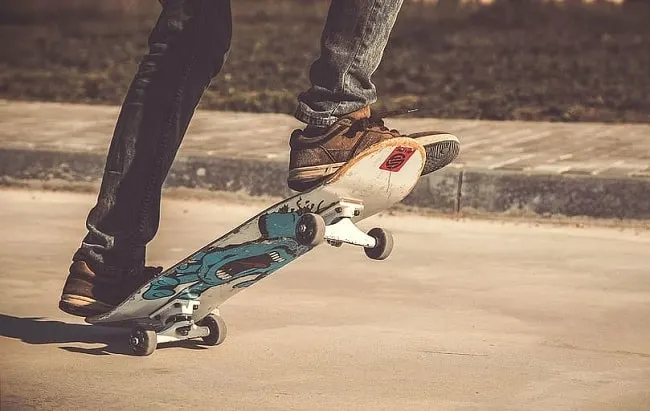 Brands like Santa Cruz, Arbor, and Globe make the best of both street and hybrid boards, dipping their toes into both the street skating and longboarding markets.
The trucks are typically a classic skateboard design, but RKP trucks are commonly used if you're using the board more for cruising. Wheels are generally larger than skateboard wheels, starting at around 60mm, and can be as hard or as soft as you prefer depending on your use.
With hybrid boards, there are really no rules, and it's a good idea (and a lot of fun) to experiment with different skateboard and longboard combinations.
Completes
Completes are again the way to go if you are a beginner, and these are some of our favorites:
Our top choice overall — Rayne Darkside Vulture
The Rayne Darkslide is the perfect crossover board, blending the best aspects of skateboarding and longboarding. It is 36-inches long and 9.75-inches wide, with a kicker tail for popping tricks, and comes complete with Road Rider trucks, 64mm Rayne Envy wheels, and Mini Logo bearings.
Best budget choice — Quest Rorshack Bamboo
At 34-inches long and made from a maple and bamboo combination, the Quest Rorshack is a great hybrid option on a budget. It comes equipped with 6-inch aluminum trucks, 65mm wheels, and ABEC-7 bearings.
Decks
Hybrid decks come in several different shapes and sizes and are typically wider and heavier than skateboard decks but far smaller than longboard decks. These decks are ideal for parks and pool skating, or for general cruising.
Our top choice of Hybrid skateboard deck — Santa Cruz Roskopp Frame Hand
Featuring the classic "frame hand" logo that is an infamous Santa Cruz graphic, this hybrid is made from 7-ply maple pressed with epoxy for a long-lasting, tough deck. It has a nice big tail kick with plenty of pop and a slightly smaller nose kick, giving it a classic, old-school look.
Best Budget choice — Blank & Graphic Longboard Deck Mini Cruiser
A great choice for skaters on a budget, this deck is 27-inches long and 8-inches wide, making it closer to a skateboard in size. The shape is what separates it though, with a large, wide tail kick and pointed nose.
Other Components to Consider:
Bearings
Bearings fit inside your skateboard wheels and allow them to spin freely on the trucks. Regardless of your wheel size, bearings are all standard size and will fit into any size wheel. They come in sets of 8, two for each wheel.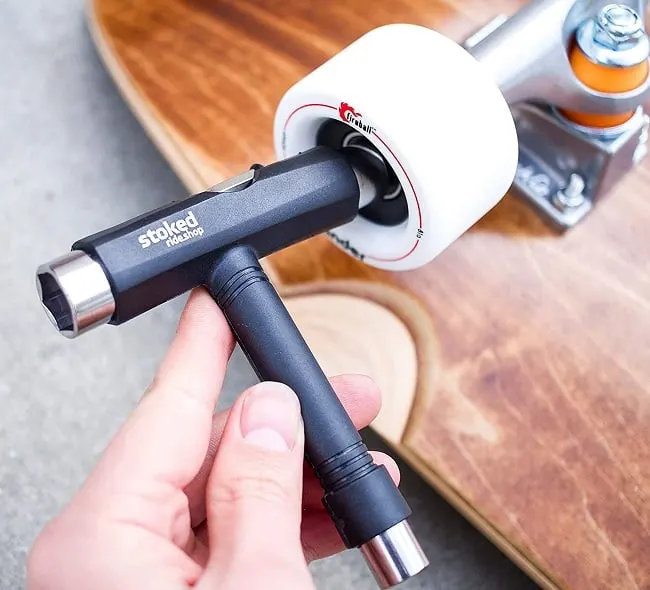 The most important factor to look out for is the ABEC rating — the higher the rating the more precise and speedier the bearing will be. ABEC 1 bearings are the cheapest and least accurate, and typically slower and not very long-lasting. ABEC 9 bearings are built for speed and are the preferred rating for downhill longboarders but are super expensive.
For street, ABEC 5 and ABEC 7 are the most common, blending a perfect mix of speed, quality, and durability. Bones make some of the best bearings on the planet, and its "REDZ" bearing line is a classic among all skateboarding disciplines.
Our top choice of bearings— Bones Redz 8-pack
It doesn't get much better than Bones Redz, and these bearings will easily last for 6 months or more of daily skating. They have removable shields for easy cleaning and are as smooth and fast as they come.
Best Budget bearings — Keecaan Premium Skateboard Bearings
These ABEC-11 bearings from Keecaan are great value for money, with removable rubber shields and included bearing spacers to fit into any wheel/truck combination.
Hardware
Mounting hardware is used to connect the trucks to the deck of your skateboard and is the simplest component of your setup. Each truck requires four bolts and locknuts, and the bolts are typically Allen or Phillips head. The only important detail you'll need to pay attention to is the length of your bolt.
If you install risers on your board (a plastic plate that sits between your truck and deck) you'll need to go for longer bolts. Risers are usually reserved for longboards or hybrids, and street boards very rarely have risers. The standard bolt length is 1-inch, but for longboards and hybrids, you may need to go up to 1 1/2-inch.
Our top choice of skateboard hardware — Bones Skateboard Mounting Hardware
Bones are again a brand you can trust, and its mounting hardware comes with white heads to help with foot placement and board direction.
Best hardware on a budget — ACER Racing Titanium Skateboard Hardware
About as simple as it gets, this mounting hardware from ACER is made from aerospace titanium which is 50% lighter than steel and is corrosion-free.
Risers
Risers are hard plastic pads that are used between your trucks and deck to make more space for bigger wheels and raise the overall height of your board. They help prevent wheel bite and will help reduce cracks where your trucks meet your board.
In general, risers are used for longboards and hybrid boards as they tend to have bigger wheels, but skateboarders use them in some cases too, as the extra height may provide more pop while doing tricks.
Our top choice for skateboard risers — Independent 1/8-inch risers
Independent knows trucks, and these risers are super hard and durable, made by a company known for high-quality products.
Best budget risers — YS Sport Risers
Made from soft rubber and featuring extra holes for different mounting lengths, these risers are about as basic as it gets and will do the job perfectly.
Common Questions and Answers:
What skateboard is best for me?
The answer to this question depends first on your intentions. If you are not into tricks at all but just want to cruise around and maybe skate some pools or bowls, or if you are a complete beginner and are still deciding what style to skate, a hybrid is the best choice. The wider deck will give you more stability and you'll still be able to learn some basic tricks.
If speed and adrenaline are your thing, a longboard is naturally the way to go. The long length deck shape and design and bigger wheels will give you the most stability down hills. If you are in line to be the next king of the street and want to do some technical tricks, grinds, and slides, the lightest board possible is best, and a street board is the way to go.
Are tricks easier on a small skateboard?
Most definitely! The lightweight and thin deck and smaller wheels make ollies and flipping your board way easier. A hybrid board is also good for basic tricks, but the added weight will make the tricks you can do limited. This is why you'll always see street skaters riding specifically designed street boards.
Can I teach myself to skateboard?
We live in the age of YouTube, so you can most definitely teach yourself to skateboard! Of course, skating with friends is always fun and you'll learn a lot quicker. We recommend getting your balance, practice turning, slowing down, and learning to stop properly before bombing any hills or trying any tricks.
Should I buy a skateboard?
This is the easiest question to answer: Yes! We promise you won't regret it!
Conclusion
While it may seem a bit complex and overwhelming at first, finding a good skateboard is not that difficult. Once you are accustomed to all the necessary components and aware of the brands to go for, the rest is aesthetics.
Hopefully, our guide has made finding the best skateboard a little easier for you so you can take the plunge and get skating today! If you have any more questions or feel we may have left something out, please let us know in the comments.