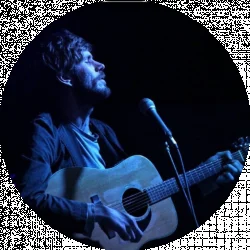 Latest posts by Kyle Baker
(see all)
One of the components of your longboard that will make the biggest difference to your ride is the bearings. Wedged on either side of your wheel, bearings are what allow your wheel to move smoothly and rapidly, giving you a both smooth and fast ride. Bearings come in varying quality, designs, and materials — including ceramic — all of which will have a different effect on your ride.
There is a lot of confusion about what makes a good longboard bearing, as there are some myths perpetuated by manufacturers — for example, ABEC rating — and this can make choosing the bearings a somewhat stressful process. But fear not! We've scoured the internet to find the best longboard bearings out there and to help you choose the best set for your unique needs. Let's get started!
What to look for when choosing longboard bearings
When choosing longboard bearings it's not just about speed! You also want your bearings to be strong and long-lasting as well as fast. Many users get hung up solely on ABEC rating, but there is definitely more to choosing bearings than this.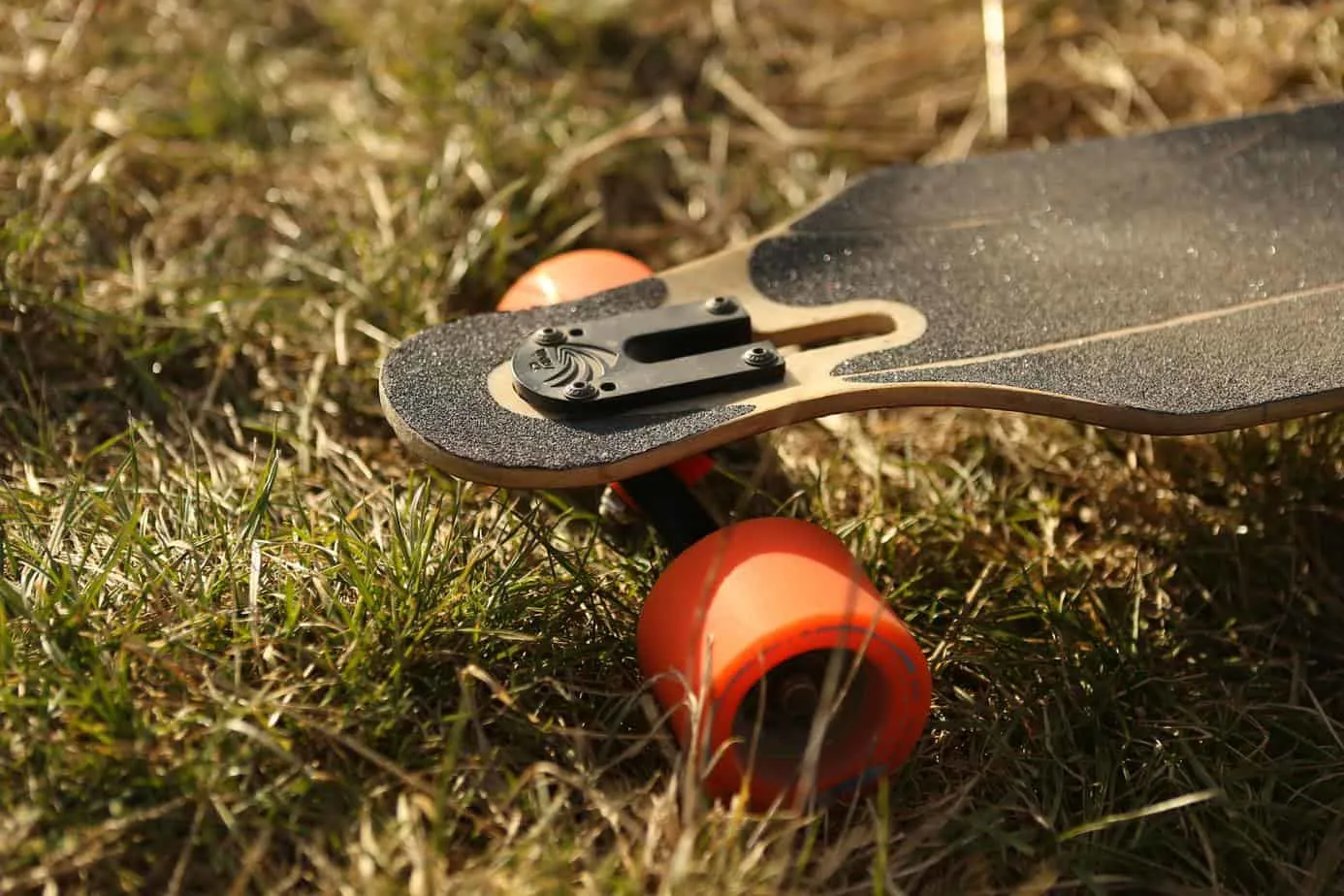 Luckily, bearing sizes are all standardized so you don't need to worry about whether or not they'll fit your wheels, but there are some other important factors to look out for, including:
Material
Longboard and skateboard bearings come made with three different materials: steel, ceramic, and less commonly, titanium. Steel bearings are the industry standard, as they are durable, inexpensive to make, and fast.
There are varying differences in the grades of steel used, but naturally, higher-grade steel will be tougher and longer-lasting. The downside to steel bearings is that they'll rust easily when exposed to moisture, so make sure to keep them well lubricated and try and avoid skating in the rain.
Ceramic bearings are arguably the undisputed kings of longboard bearings. They are harder than steel and thus deform less under pressure, are heat resistant, and thus expand less with less friction at high speeds — meaning faster speed capability, and of course, they will not rust when exposed to moisture. They are susceptible to breaking with heavy impacts, though, making them not ideal for street skating, but ideal for longboarding.
Lastly, there are titanium bearings. These are lightweight, durable, and highly rust-resistant, but this all comes at a price — these bearings are expensive. Their performance is very similar to steel bearings, although they will last a lot longer.
Bearing parts
There are 5 main components to a single bearing, all of which will have an impact on their performance, including:
Shield. These are usually removable and cover the sides to protect the inside of your bearing from dirt and grim.
Outer race and inner race. The races form a track for the ball bearings to roll inside of and form the inner and outer structure of the bearing itself.
Balls. A set of balls, typically 6 or 7, roll along a track comprised of the races and the retainer. The rotating and movement of these balls are the fundamental mechanism of how a bearing works.
Retainer. The metal retainer is what keeps the balls in place, equal distance from each other, which adds speed and reduces friction.
Spacers. Spacers are used between the bearings and the core of the skateboard wheel, keeping your bearings properly spaced and allowing tightening of the axle nut without reducing spin. Not all bearings use these and some have them built-in.
ABEC rating
The hallowed and much-referenced ABEC rating, and the cause of many online arguments among skaters! Most bearings come with an ABEC rating, usually both on the packaging on the bearing's shield itself. ABEC ratings typically consist of 5 levels — 1, 2, 3, 5, 7, and 9, with the higher numbers typically being thought of as the faster bearing. However, the truth is that ABEC ratings were devised outside of use in skateboarding for rating tolerances and physical limits of bearings used in machinery.
So, while it is true that a higher ABEC rating has a higher capability for high speeds, this makes little difference in skateboarding as the bearings will never spin at the speed the ABEC rating was devised for.
There is a lot more that goes into judging a bearing, including stress and impact handling, strength, materials, and durability, and generally, any ABEC rating at around 5 or above is perfect for longboarding, and even an ABEC 3 is fine for cruising.
Best Longboard Bearings – Our Reviews 2022
1. Bones Reds Skateboard Bearings 8-Pack – Our top choice overall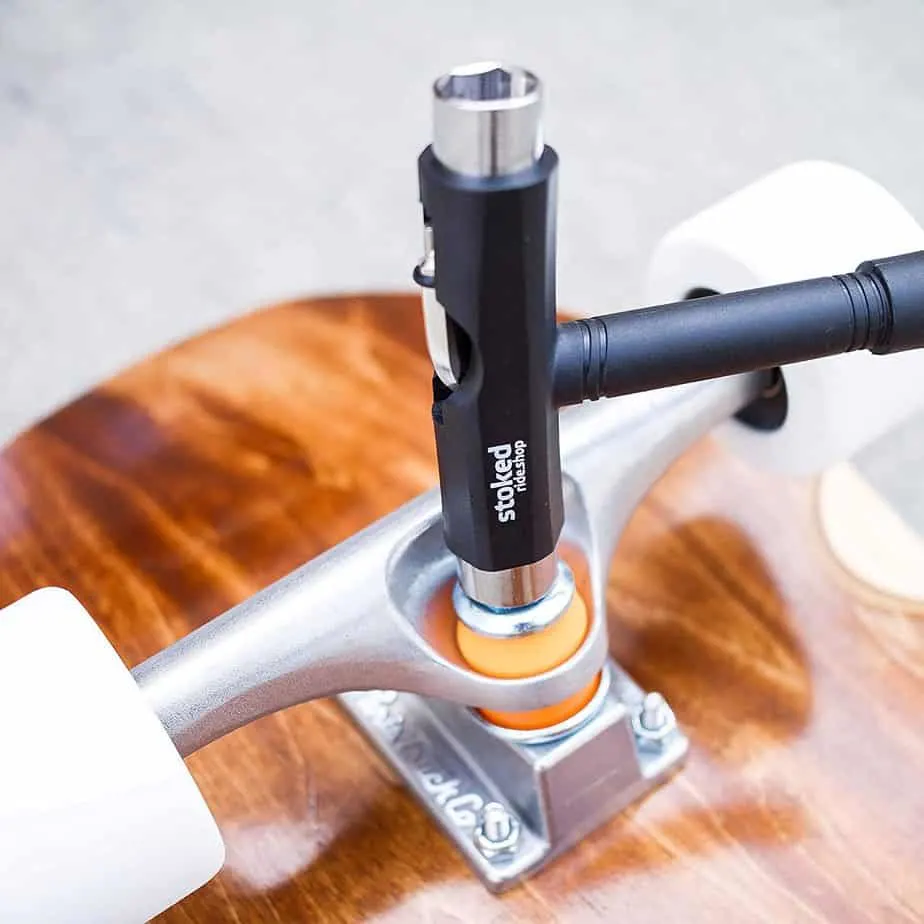 Bones Reds are the industry standard for skateboard and longboard bearings, loved by skaters all over the world – and for good reason. Made with carbon steel, these bearings are tough, fast, and long-lasting and are arguably some of the best all-around bearings on the planet.
They have removable rubber shields so you can clean and service the bearings yourself, and it also reduces friction while you roll. This particular set also includes a handy skate tool for adjustments on the run, with a Philips head, Allen head, and wrenches to fit your wheels, trucks, and deck bolts.
These are the best-selling bearings in the United States because they are simply some of the best all-around bearings you can find.
2. CCS Premium Longboard Blue Steel Bearings — Best budget choice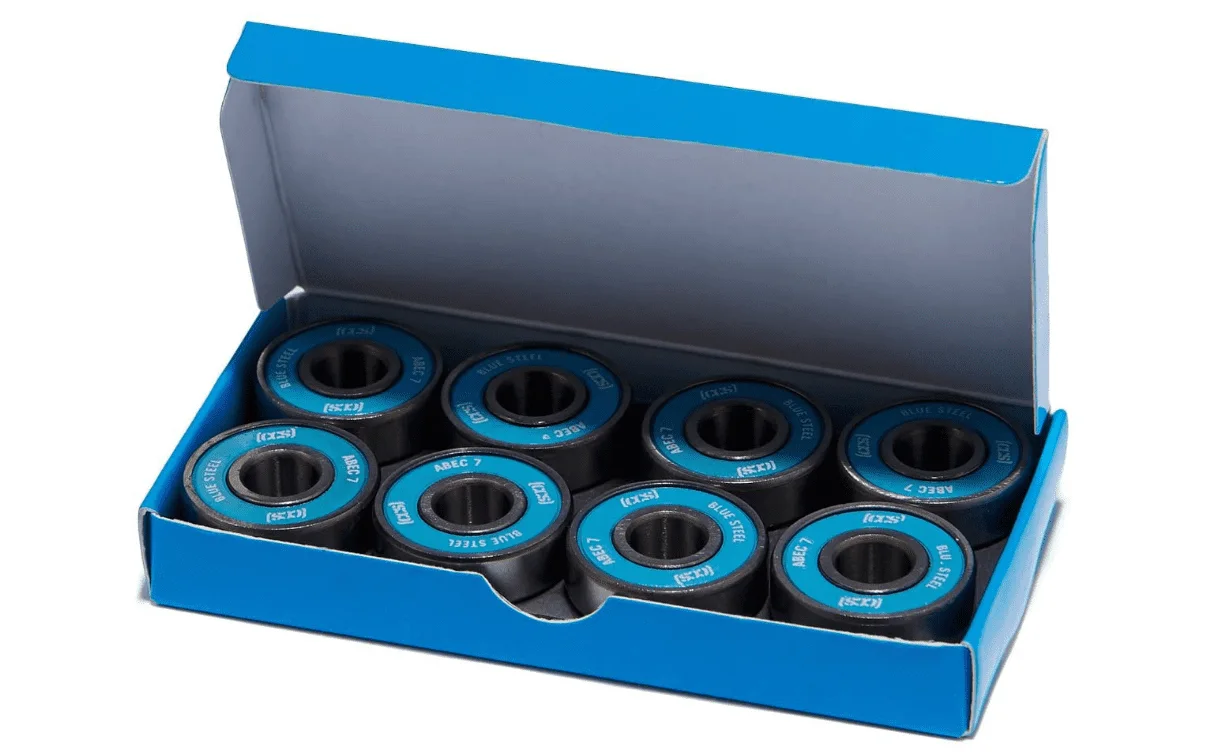 CCS makes some great, high-quality products for skateboarders on a budget, and it's Blue Steel Bearings are no different. These bearings have removable blue shields for easy cleaning and maintenance, with chrome steel ball bearings and an ABEC-7 rating.
They are pre-lubricated so you can put them to use right away, and re-lubricating is a snap. You are unlikely to find a set of smoother, quicker, and more reliable bearings at this price.
3. Bones Swiss Ceramic Bearings — Premium choice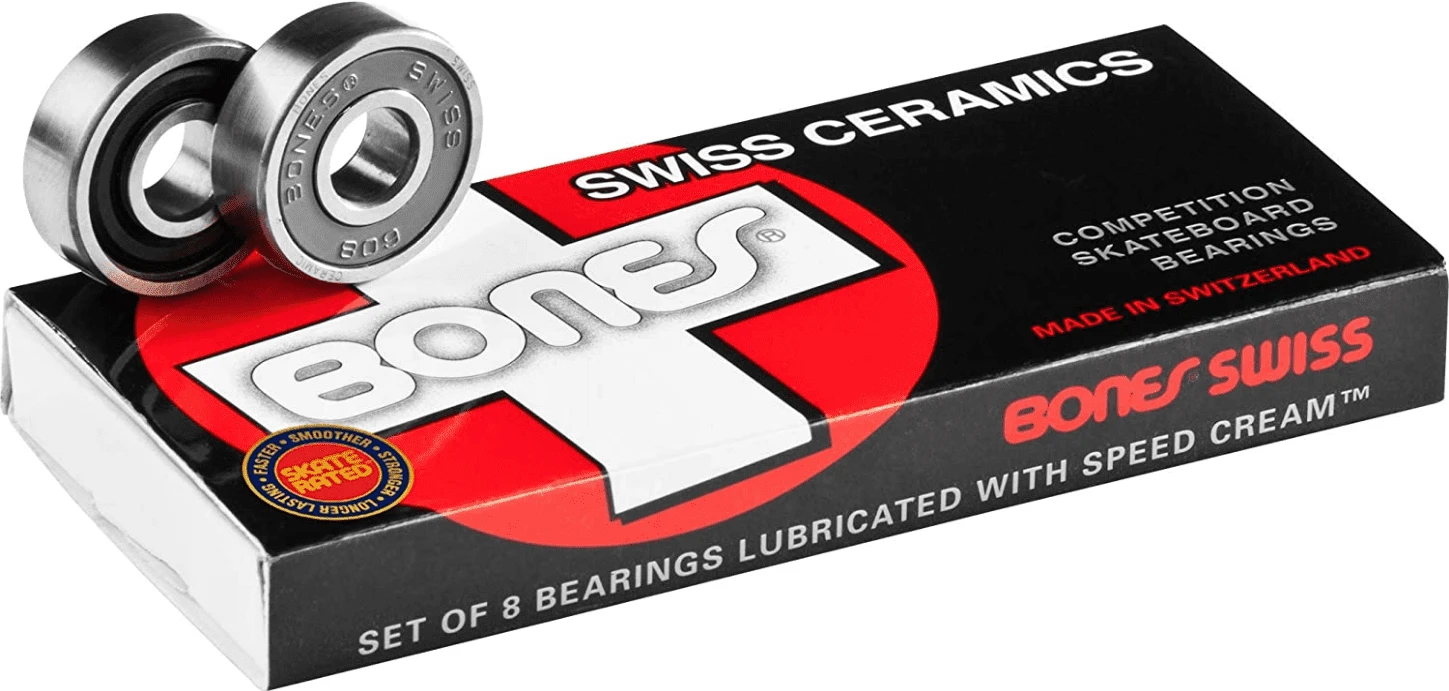 The Bones Swiss Ceramic bearings are about as good as it gets when it comes to longboard bearings. These bearings are light, fast, strong, and ideal for downhill longboarding.
They are precision-grade Swiss design bearings with nylon ball retainers and come loaded with Bones Speed Cream for a long-lasting, smooth, silky ride. While these bearings are some of the best you'll likely be able to find, they come with a hefty price tag — 2-5 times more than most other professional-grade bearings.
That being said, they come with a lifetime warranty against factory defects and are well worth the cash if you've got it.
4. Heady Shake Pro Longboard Bearings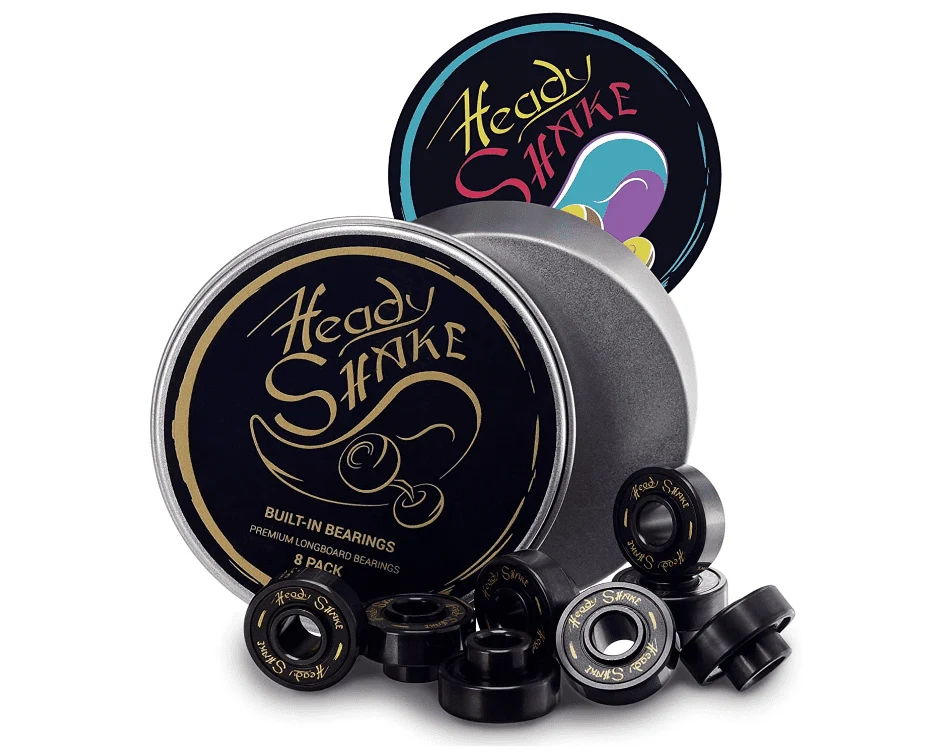 These bearings from Heady Shake are designed especially for longboarding, featuring built-in spacers and speed washers that make swapping out wheels a breeze.
They are ultra-low friction, with ABEC-9 precision for faster acceleration, durability, and speed, and come pre-lubricated — ready to roll right out of the box.
The bearings feature a reinforced nylon retainer, chrome steel balls, a rubber seal, and black inner and outer rings, making them look as good as they feel.
5. Yellow Jacket Stripes Premium Skateboard Bearings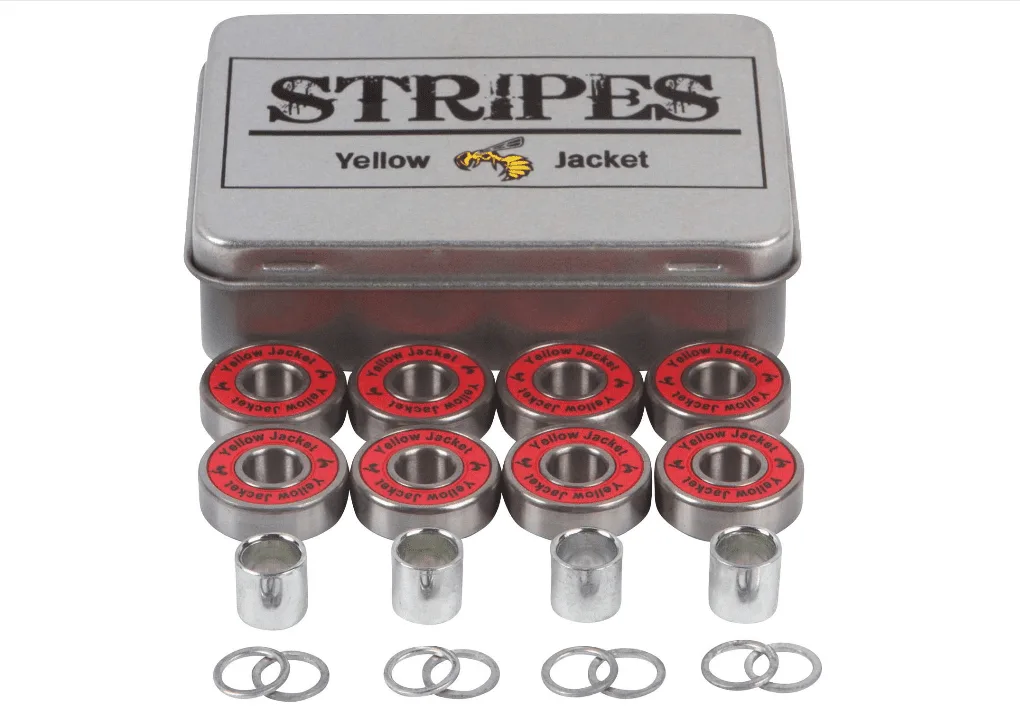 The "Stripes" series from Yellow Jacket comes in a variety of different colors, with some imaginative yet appropriate names including "White Lightning", "Bomber Blue", and "Racer Red."
The colored seals are engraved and will protect your bearings from dirt and dust and help extend their life dramatically. They come pre-loaded with "Ultra-Fast" lubricant and have a hefty ABEC-9 rating. These are an excellent set of bearings for a surprisingly low price.
6. KVENI Ceramic Skateboard & Longboard Bearings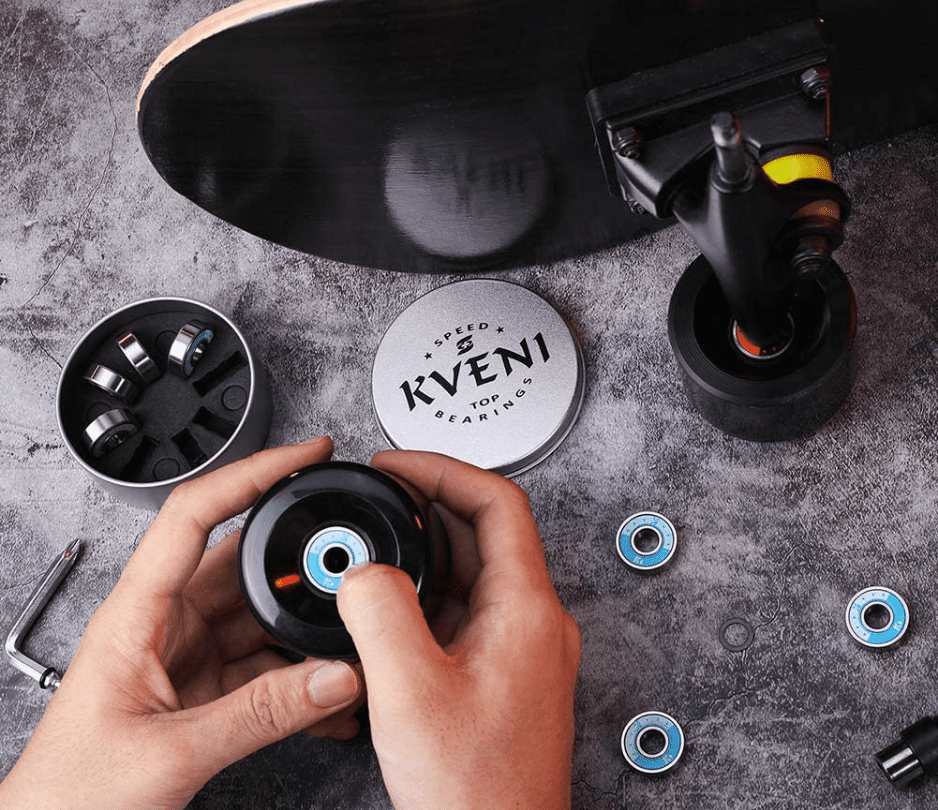 Offering the precision and speed of ceramic construction, these ceramic longboard bearings from KVENI are made to last and built for speed. They have stable and precise nylon retainers, ceramic balls that can withstand high pressure, a carbon steel outer ring, and a removable rubber shield to reduce dust and make cleaning and lubricating a breeze. These ABEC-9 rated bearings come pre-loaded with lubricant, and will only take an hour at most to break in.
7. Yellow Jacket Venom Premium Skateboard Bearings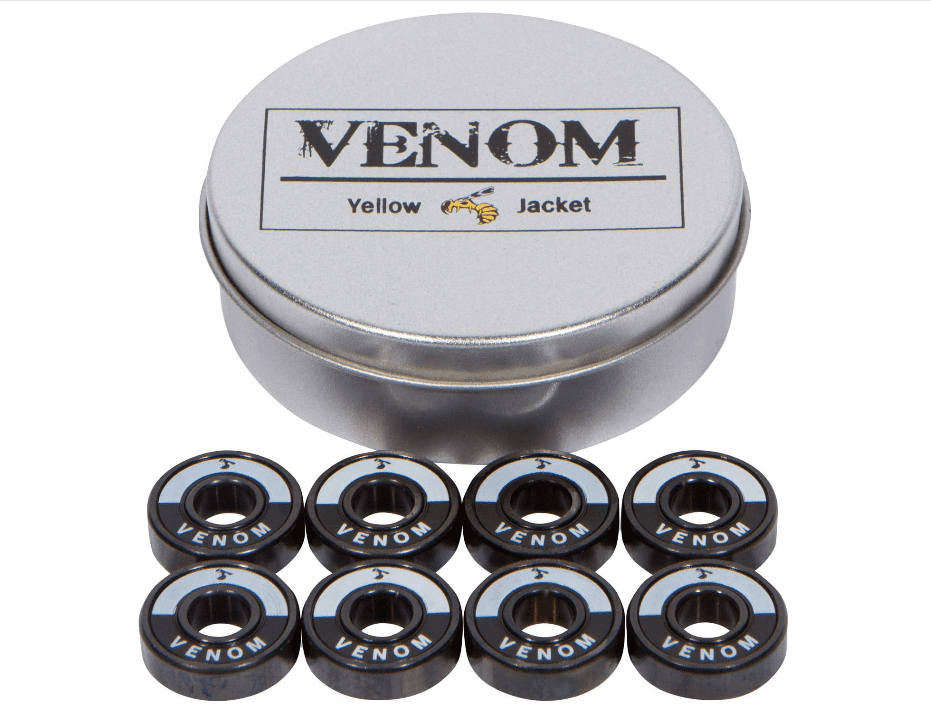 The premium bearing range from Yellow Jacket, these "Venom" bearings are titanium coated ceramic speed machines that are designed to both as durable and fast as possible.
The ceramic balls are heat resistant and perform well at high speeds, and the titanium-coated housing is made to stand the test of time. Ceramic bearings offer some of the best performance possible, and to be honest, you cannot go wrong with this set.
8. TROUBLE SKATEBOARDS Black Titanium Longboard Bearings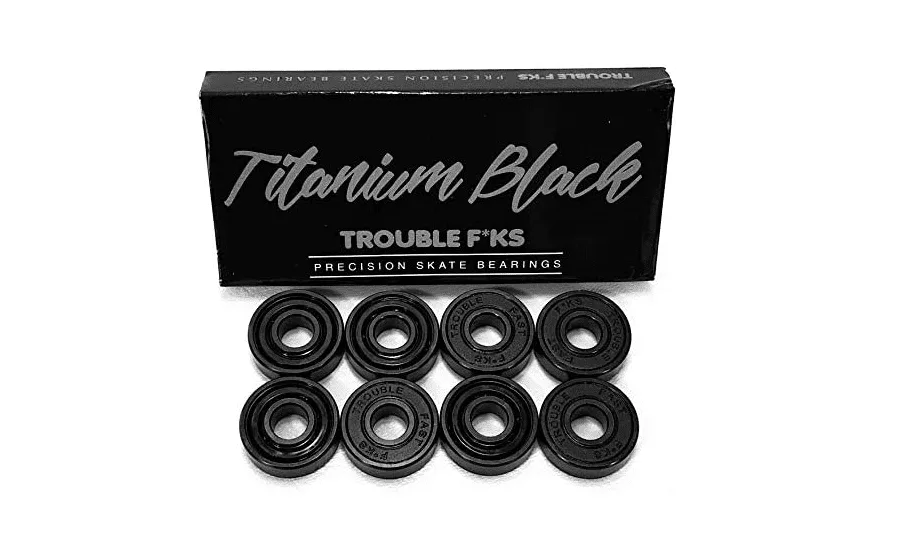 Despite their low price, the Black Titanium longboard bearings from Trouble Skateboards are surprisingly fast and ultra-durable. They have a great black aesthetic with a black rubber shield for easy cleaning, an ABEC-9 rating, come preloaded with high-speed lubricant, and are some of the quietest bearings out there. These bearings are great out of the box but may not have the longevity of some of the other bearings we've tested.
9. Fireball Dragon Skateboard & Longboard Bearings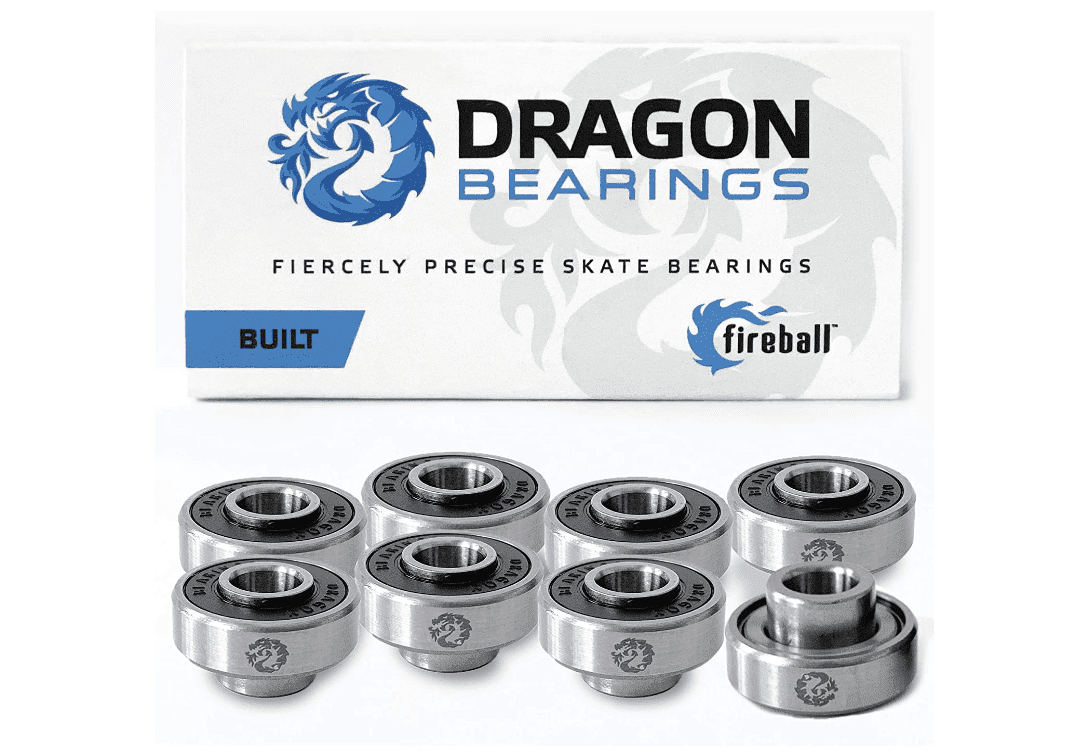 With built-in spacers and rings, these "Dragon" bearings from Fireball making changing wheels a cinch, and will give your wheels perfect alignment and reduce bearing movement.
They have a tough, smooth nylon ball cage with a unique "labyrinth" seal that keeps up to 50% more dirt and dust out than other bearings, making your bearings last and perform better for longer. They are loaded with steel balls that are coated in "Endure" grease and are ready to roll right out of the box.
10. Oldboy Chrome Skateboard & Longboard Bearings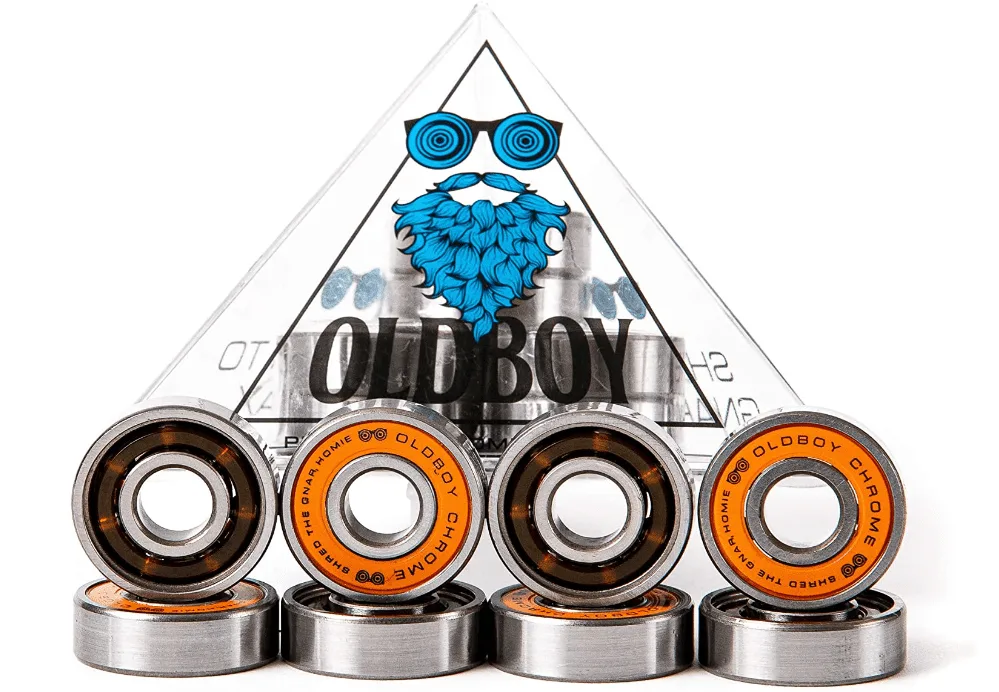 Oldboy Chrome longboard bearings are known for their speed, smoothness, and durability, and these are some great performing bearings despite the relatively low price. The steel outer houses 7 tempered steel balls nestled inside of a precise nylon cage and are pre-lubricated and ready to ride.
The nylon shield is removable for easy cleaning and maintenance and these are an ideal choice for beginner and intermediate longboarders. Plus, they come in an awesome pyramid box with two included stickers!
Frequently Asked Questions
Question: Do bearings matter on a longboard?
Answer: Absolutely! The bearings you choose to use on your longboard will have a massive effect on your ride, not only in speed but the smoothness and overall feel too. If you are just cruising the streets on your longboard or using it for transport, you won't need to purchase the most high-end bearings available, but a decent set will make your ride smoother and more comfortable. If you are screaming downhills, on the other hand, you'll want the fastest but also the most reliable bearings you can find.
Question: How long do longboard bearings last?
Answer: This question depends on a few factors, including quality and maintenance. A decent quality set of longboard bearings should last you around a year — but that is only if they are looked after, lubricated, cleaned often, and kept away from moisture. This question also depends on how much you skate, as if you are skating for hours every day, they will last 6 months at most. High-quality ceramic or titanium bearings will typically last far longer, and for the casual longboarder, you can get years out of a well-looked after ceramic bearing.
Question: How often should you clean your bearings?
Answer: Bearings should be cleaned and lubricated every 2-3 months, depending on the environment you skate in and how much you skate. If you skate in gritty, sandy areas you'll need to clean your bearings far more often, probably at least once a month. It's a great idea to purchase some high-quality lubricant to keep your bearings smooth and running properly, as you'll need to lubricate them after every clean.
Question: Do ceramic bearings need cleaning?
Answer: Again, if you have been skating through some dust or dirt, you may need to open your bearings up and clean them out. However, ceramic bearings do not corrode, so you don't need to oil or lubricate them nearly as often as steel bearings. A good brushing out of grit regularly is good practice, however.
Conclusion
Our favorite longboard bearings overall are the Bones Reds — the industry standard for longboard bearings and the best-selling bearings in the United States. Made from carbon steel with removable rubber shields, plus a handy skate tool for adjustments on the run, these are bearings you really cannot go wrong with.
For longboarders on a budget, we highly recommend the CCS Blue Steel Bearings. With removable blue shields, chrome steel ball bearings, and an ABEC-7 rating, these are by far the best bang for your buck for longboard bearings.
There is a lot of confusion and conflicting information out there regarding longboard bearings, making it tricky to pick the right set for your needs. Hopefully, we've cleared out some of the confusion and narrowed the options somewhat, so you can stop researching, grab some bearings, and get skating!