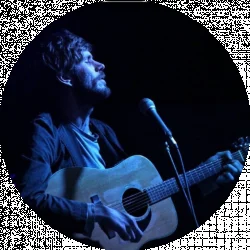 Latest posts by Kyle Baker
(see all)
Longboarding does not only consist of flying down hills at spine-tingling speeds and sliding around corners with your hand's inches from the concrete. There are less adrenaline-inducing forms of the sport, and casual cruising, whether for transport or simple fun, has become a widely popular aspect of longboarding too.
Longboards for cruising are very similar to the high-speed varieties, in as much as they are longer, wider, and faster than skateboards, but there are a few key differences that make them unique.
Downhill longboards are meant purely for speed, whereas cruising boards are designed to be fun, functional, and have the capability of performing a few tricks when needed too.
In this article, we'll take a look at some of the best longboards designed for cruising available today, as well as what to look for when buying a cruiser-style longboard.
Let's get started!
What is a cruiser longboard?
Put simply, a cruiser longboard refers to a longboard that is shorter than a traditional downhill longboard, but longer and wider than a skateboard (usually, but not always). They are far more portable and lightweight than downhill boards and are responsive and maneuverable enough to cruise through busy city streets.
Cruisers are typically used for transportation purposes, but most varieties have small kicks that allow for some basic tricks too. If you've ever ridden a skateboard long distance, you'll know how uncomfortable those small wheels can be, with loads of vibration and not much protection from small stones and cracks. The large wheels of a longboard make speed and pushing a breeze, and make for a far more comfortable ride overall.
A full-sized, downhill longboard has a large turning radius and no kicktail that makes it difficult to maneuver in tight spaces. A skateboard, on the other hand, is a breeze to maneuver but doesn't have the comfort and speed of a longboard. A cruiser is somewhere between these two — the ideal choice if you're using your board mainly for transport or a chilled ride through the city streets.
What to look for in a cruiser longboard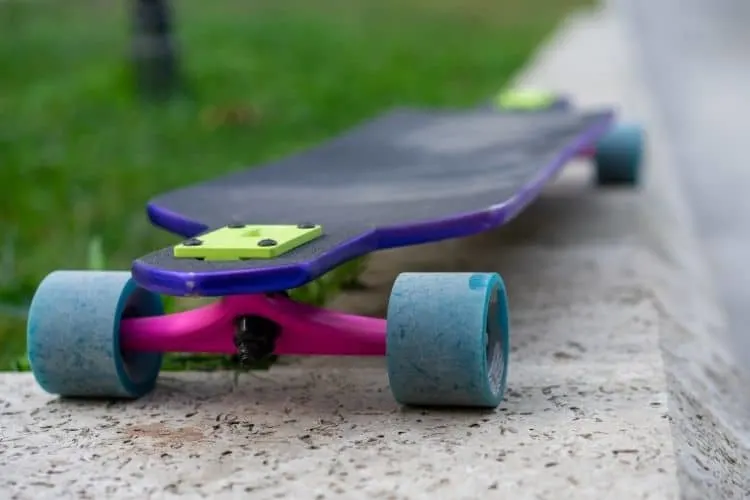 There are a few key points to look out for when purchasing a cruiser, and we highly recommend beginning with a complete setup to get a good idea of your tastes, and from there you can begin refining the separate components you prefer.
Decks
There are a massive variety of different shapes, lengths, and designs of longboard deck available, all of which will give a vastly different feel to your ride. Some decks are short and wide, allowing for tricks and easier to ride for beginners, and others are long and narrow, built for higher speeds. When buying a longboard, you'll need to consider the following aspects of a deck setup:
Shape
In general, a longboard for cruising will be shorter than a downhill longboard, but slightly longer than a skateboard. Still, you can use any type of longboard for general cruising! For beginners, however, we highly recommend a slightly shorter and wider deck, as this will offer more stability than a downhill board. Also, you may want to consider using a longboard with a tail kick if you want to pop a few ollies and other tricks.
Width and length
Because all longboards are long (as you may have guessed from the name!) your longboard deck choice will be based on the width more than the length. A thinner, longer board will make you feel unstable while riding — especially in the beginning — and a deck that is too wide for you can be difficult to control at high speeds. For cruising, however, wider is better.
Construction materials
Longboards are all typically made from maple plywood, but bamboo decks are also becoming popular due to their high flexibility and lightweight. It is becoming a popular practice for manufacturers to combine the two in cruising boards, and either material is a great choice for cruising. That being said, maple is still superior, and if you are planning to do any tricks, a maple deck is far more reliable.
With all that said, the best board is the one that feels comfortable to you. You may need to try a few different shapes out to see which has the best feel.
Trucks
Trucks are as important to your longboard set up as any other component, and they can have a massive impact on the overall feel of your ride. For cruising, you'll want trucks that are easy to turn yet stable, and of as good quality as possible. Longboards often have specialized trucks like drop-through or reverse kingpin designs, but standard trucks — the same trucks used on skateboards — are perfectly fine for cruising.
Wheels
Longboard wheels come in a massive variety of sizes and hardness (durometer). The larger and harder the wheels, the more overall speed your board will be capable of. Although softer wheels can handle impacts, cracks, and stones better, and smaller wheels have faster initial acceleration. For a cruiser, you'll want a middle ground in both size and hardness.
Bearings
Bearings are one of the easiest components to choose for your cruiser. In essence, the more expensive the bearings, the better they will perform and the longer they will last. "Bones" Bearings are the undisputed king of longboard and skateboard bearings, and any set from the company will work perfectly for cruising and last a lot longer than most other brands.
The Best Longboards for Cruising in 2022 — Reviews
Magneto Mini Cruiser — Our favorite pick overall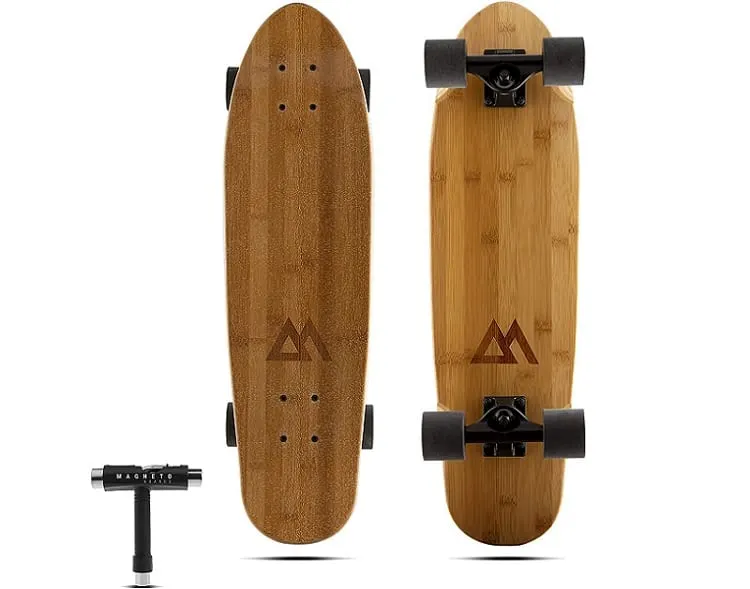 As far as cruisers go there are a ton to choose from, making it fairly difficult to decide. From our experience and taking into account hundreds of user reviews, the Magneto Mini Cruiser is our favorite.
It is slightly smaller than most longboards at 27.5-inches making it nice and portable and easy to carry around, and ideal for beginners. The deck has a hefty tail kick plus a small nose kick to give you more control while cruising, plus allows you to pop some basic tricks.
The deck is made with 2 plies of bamboo combined with 5 plies of Canadian maple, with a clear grip tape that shows off the gorgeous wood finish. It has Paris-style trucks with a 5-inch hanger, and 60mm wheels with a durometer of 78a, ideal for cruising.
The only issue we have with this board is the hardware. The included bearings are not ideal, and the trucks need some adjustments before riding, although both of these are easy to fix.
Pros
Compact and portable
Double-kick design
Bamboo and maple construction
Paris style trucks
60mm, 78a wheels
Cons
Flybar Skate Cruiser — Best budget option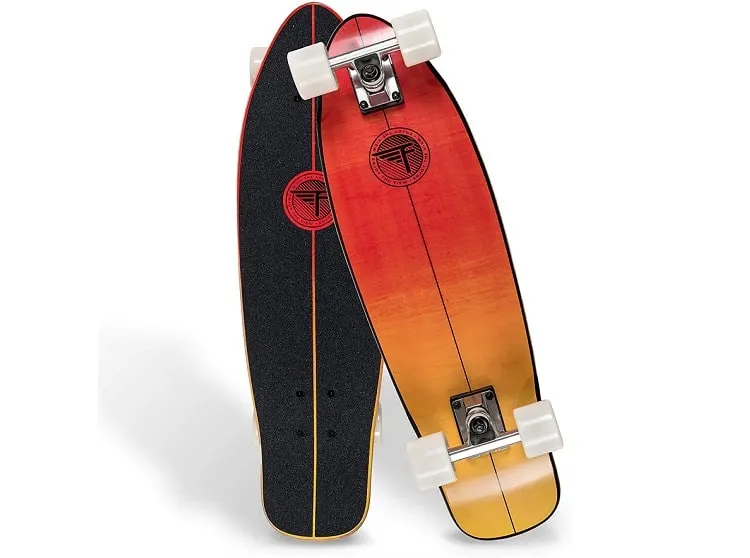 If you are looking for a low-cost cruiser that can still get the job done, this cruiser from Flybar Skate is an ideal choice. The deck is 27.5-inches long and made with 7-ply Canadian maple, plus features a small kicktail to pop a few tricks.
The setup has 4-inch, powder-coated aluminum trucks, fitted with a 6mm rubber riser pad to prevent wheel bite, and 60mm, 78a polyurethane wheels loaded with ABEC 9 bearings. We love the unique grip tape design with its racing stripe and Flybar logo!
Because this setup is inexpensive, there are some questionable quality parts, including the bearings that do not feel fast or seem to last very long, plus the bolts which strip easily.
Pros
27.5-inches long
Canadian maple deck
60mm, 78a polyurethane wheels
Unique design
Inexpensive
Cons
Low-quality bearings
Hardware strips easily
DB Longboards Harbinger Street Cruiser — Premium choice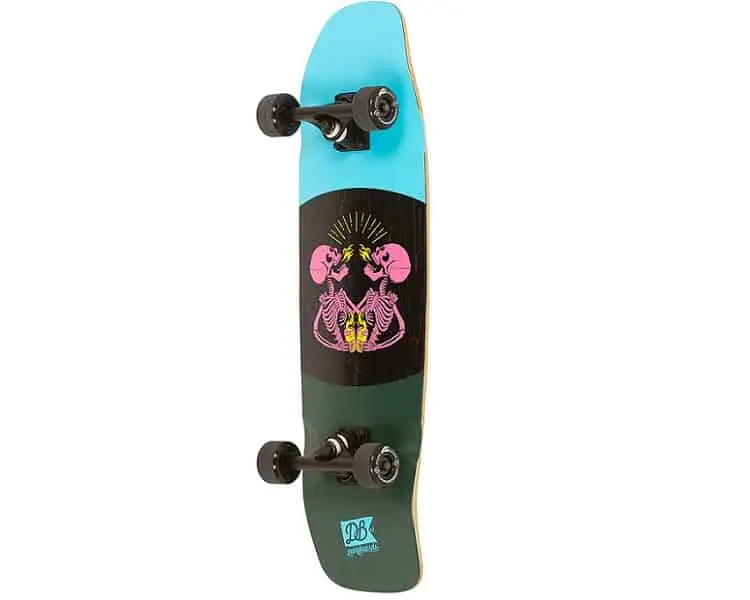 The DB Longboards Harbinger Cruiser is the perfect longboard/skateboard hybrid, and an ideal option if you are looking for a cruiser that is still capable of some fairly technical tricks.
At 31-inches long and 9-inches wide it's a great cruiser, but with a double kick design and 15-inch wheelbase is perfectly capable of navigating curbs and popping some ollies and flip tricks. The setup has a 7-ply Hardrock maple deck, Atlas trucks, 60mm Cloudride wheels, and comes in 3 slightly different deck shapes.
With the adaptability of this setup, it is hard to fault, and the high price is the only real downside.
Pros
Longboard/skateboard hybrid design
Double kick design
15-inch wheelbase
7-ply Hardrock maple deck
60mm Cloudride wheels
Cons
Defeilsport 31-inch Longboard — Best for kids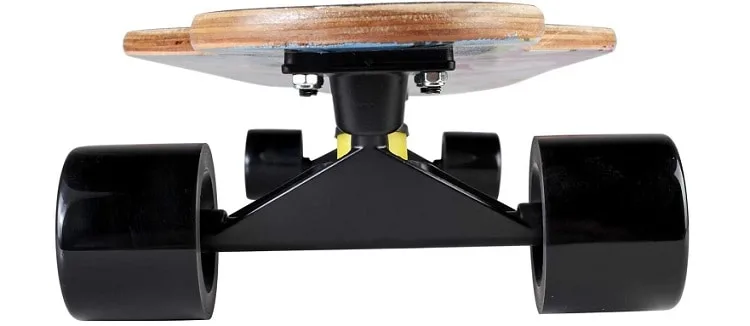 This 31-inch, 7-ply Canadian maple longboard from Defeilsport is the ideal choice for kids. The board comes complete with 60mm, high rebound polyurethane wheels loaded with ABEC 7 bearings and has an 8-inch width for ideal stability for beginners.
The board has a great turn radius with a 23-inch wheelbase that can navigate fairly tight corners, and there are very small kicks that can come in handy for turning too.
The deck has a fair bit of flex in it, but this shouldn't be a problem for small kids. Additionally, the included bearings are very tight, and it's probably worth replacing them with something better.
Pros
Inexpensive
Ideal size and weight for kids
23-inch wheelbase
60mm, high rebound polyurethane wheels
8-inch deck width
Cons
A fair bit of flex in the deck
Low-quality bearings
Landyachtz Dinghy 28″ Complete — Best hybrid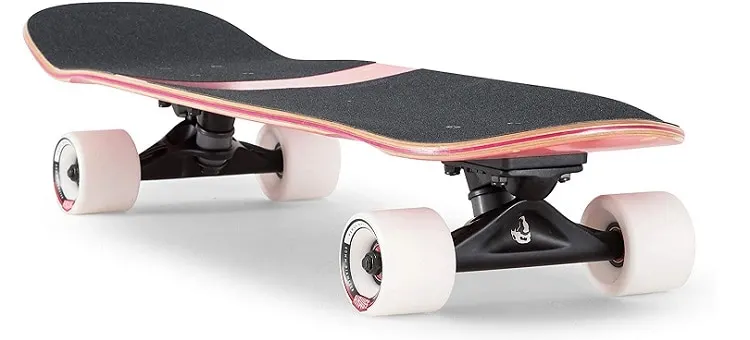 The Landyachtz Dinghy Complete is the best of both worlds — combining a capable cruiser with a more skateboard style setup, and is ideal for riders that want to crossover between both worlds. At just 28-inches long the board is super portable and lightweight making it easy to carry around and stash when not being ridden.
Landyachtz makes some of the best longboards in the world, and this cruiser has some truly high-quality components as a result. It features a 7-ply maple deck with a decent tail kick that has tons of pop, with wheel cutouts and flares to reduce wheel bite, and 63mm 78a "Hawgs" wheels.
It is difficult to fault a setup like this, but the high price and smaller size may enough to put some riders off.
Pros
Awesome hybrid design
Portable and lightweight
7-ply maple deck
Wheel cutouts and flares
63mm, 78a "Hawgs" wheels
Cons
Expensive
It may be too small for some riders
Kryptonics Super Fat Cruiser — Best for beginners
If you are looking for a stable setup to cruise the streets, the Super Fat Cruiser from Kryptonics has got you covered. The board is 30.5-inches long and a whopping 9.75-inches wide to give you a super comfortable and stable ride. The deck also has a wide kicktail for popping tricks and turning, making it ideal for beginners to learn on.
The setup features 65mm, 88a polyurethane wheels loaded with ABEC 5 bearings and heavy-duty 6-inch aluminum trucks.
The bearings on this board are not fantastic and you'll probably need to replace them fairly quickly. Also, the width of the board makes very tight turns difficult, as even with the riser pads there will likely be some wheel bite.
Pros
30.5-inches long and 9.75-inches wide
Wide kick tail
65mm, 88a polyurethane wheels
ABEC 5 bearings
Heavy-duty 6-inch aluminum trucks
Cons
Poor quality bearings
Difficult to make tight turns
Quest "Totem" Longboard
The Totem Longboard from Quest is longer than many of the other cruisers we've mentioned at 36-inches, but the unique shape and large wheel wells make the board ideal for cruising nonetheless. The deck is made from a combination of bamboo and Canadian maple with a small tail kick and surfboard shape.
The setup comes equipped with 51mm, 80a wheels loaded with ABEC 7 bearings, and 6-inch aluminum, reverse kingpin trucks.
One of the main concerns we had with this board is the shallow angle of the kick, which makes it difficult to use when combined with the length of the deck. A lot of users also mentioned that the included bearings are very slow, but they can be changed out for something better.
Pros
Bamboo and Canadian maple deck
Unique and classic shape
Small tail kick
51mm, 80a wheels
6-inch aluminum, reverse kingpin trucks
Cons
Shallow-angled kick tail
Included bearings are poor quality
EPIKGO Electronic Skateboard with Dual-Motor — Honorable mention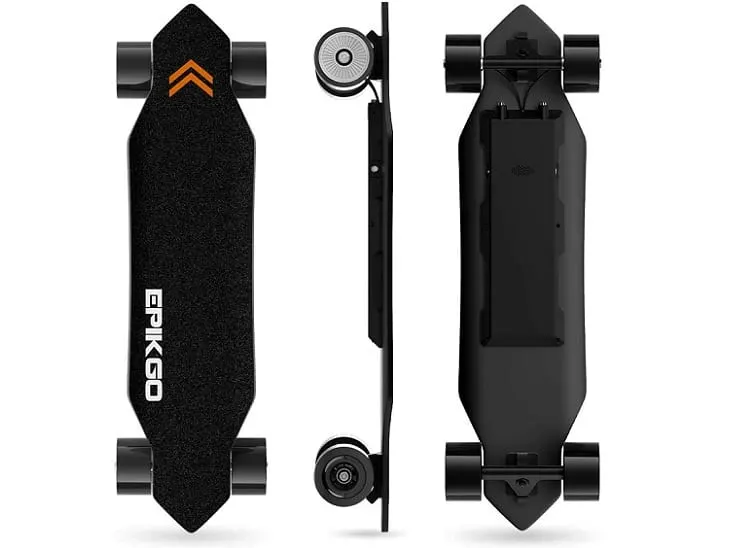 The EPIKGO Electronic Skateboard is definitely worth mentioning here as it is ideal for cruising! With this battery-powered cruiser, you can reach speeds of up to 25 mph and travel up hills without pushing or breaking a sweat! On a single charge of only 2 hours, you can travel up to 12 miles, making it great for transport to school or college.
The board has simple handheld controls that allow you to change between 3 different speeds with the press of a button, and it features a sturdy 7-ply maple deck.
Some users claim the top speed and distance range are slightly exaggerated, but these stats depend on the terrain and the weight of the rider.
Pros
Battery-powered cruising
25 mph maximum speed
2-hour charging time
12-mile range
Handheld controls
3 different speed settings
7-ply maple deck
Cons
It may not be as fast as advertised
The range is dependent on several factors
Frequently Asked Questions
Question: Is a cruiser longboard good for beginners?
Answer: Most definitely! The large, wide deck is comfortable and stable, as are the large wheels that can easily roll over cracks and small stones. This makes cruisers ideal for beginners as they are not too fast, are super stable, and have large decks that feel easier to ride on than a skateboard deck.
Question: Can you use a cruiser for tricks?
Answer: If your cruiser longboard has a hefty enough kicktail, it can certainly be used for basic tricks like ollies. That being said, cruisers are a lot heavier, wider, and generally bulkier than skateboards, making more complex tricks far more difficult.
Question: Can you cruise on a downhill longboard?
Answer: A downhill longboard has the speed and smoothness that make it ideal for cruising, although you may have some trouble with tight corners and turns.

The long wheelbase and lack of tail kick makes tight turns very difficult. That being said, it can be done, and you can technically use any board you want for cruising! A purpose-made cruiser is the best option, though.
Conclusion
The Magneto Mini Cruiser is our favorite choice of cruiser longboard overall. It is portable and easy to carry around, has a tail kick plus a small nose kick, is made with 2 plies of bamboo combined with 5 plies of Canadian maple, plus clear grip tape that shows off the gorgeous wood finish.
It also has Paris-style trucks and 60mm wheels with a durometer of 78a, making it an ideal board for cruising!
If you are looking for a low-cost longboard for cruising, the cruiser from Flybar Skate is our top budget choice. The deck is 27.5-inches long and made with 7-ply Canadian maple, has 4-inch, powder-coated aluminum trucks that are fitted with a 6mm rubber riser pad, and 60mm, 78a polyurethane wheels loaded with ABEC 9 bearings.
While you can technically use any skateboard or longboard to cruise on, a specially designed cruiser will certainly make the experience smoother, faster, and a lot more fun. Hopefully, our reviews have narrowed down the options and made choosing the right cruiser for your needs a lot easier!