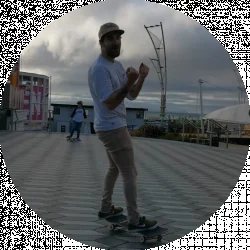 Latest posts by Callum Marshall
(see all)
Just in case you missed it, let us tell you proudly. Skateboarding is now an Olympic sport. A fact that would shock the skaters of old that ran from the cops on the regular. Skating being within the Olympics means that there needs to be infrastructure for skating, teams and coaches, a headquarters for each competing nation, and many more considerations addressed. For many countries, this is still a work in progress. You need only read our Ryan Swain interview to see that even medalling countries aren't all that well equipped.
However, one country that has been ready for this leap for years is the USA. This huge country pioneered skating back in the days of Stacey Peralta and Tony Alva when skaters were emptying pools just to carve around in neighbor's back yards. Since then, the move to add hundreds of designated skate spots has allowed US talent to flourish. This has been mainly down to Tony Hawk's foundation to build skate parks nationwide and the results speak for themselves.
However, what you may be asking yourself, is which of these parks are the best of the best? Well, we happen to have all the answers and we are ready to spill the beans. The USA has so many great skate parks but we intend to only share with you the cream of the crop. So without further delay, here is our guide to the best skate parks in the USA.
What Makes A Good Skate Park?
Before we jump into our justification for mentioning all the parks we love within the USA. It's probably best to touch on what makes a skate park better than your average setup. A good skatepark needs to have variety above all else. It's great when a park has some manny pads or some ledges and it's equally great if there are huge kickers and quarter pipes. However, if that is all there is it only lends itself to one type of skating. So for a park to become beloved by the skating community, it needs to have a splash of everything. Here is a list of all the features that a good park and the criteria we used to make these recommendations should have:
Plenty of rails and ledges, ideally with coping
A good number of quarter pipes, or failing that, a bowl
A pump track
Stair sets and hubbas
A mini ramp/halfpipe
Open areas of flat ground
Large drops or gaps
Signature pieces for avant-garde skating
Then as for materials, a premium skatepark will use SkateLite or other similar products. This mimics the best indoor ramps in the business and is ideal. However, well-built concrete ramps and obstacles can be just as good if the designers of the park know what they are doing. The main materials in parks that indicate low quality tend to be wood that has degraded over time or cheap metal mesh that isn't conducive to great skating.
Good upkeep is also essential when referring to a great skate park. The best skate parks in America tend to have park attendants and have budgets for repair and cleaning every year, or are privately owned and maintained by their owners. Without this, a park can fall into disarray, the obstacles within the park become a safety hazard and the place eventually becomes less skate friendly than street spots. So maintenance is key.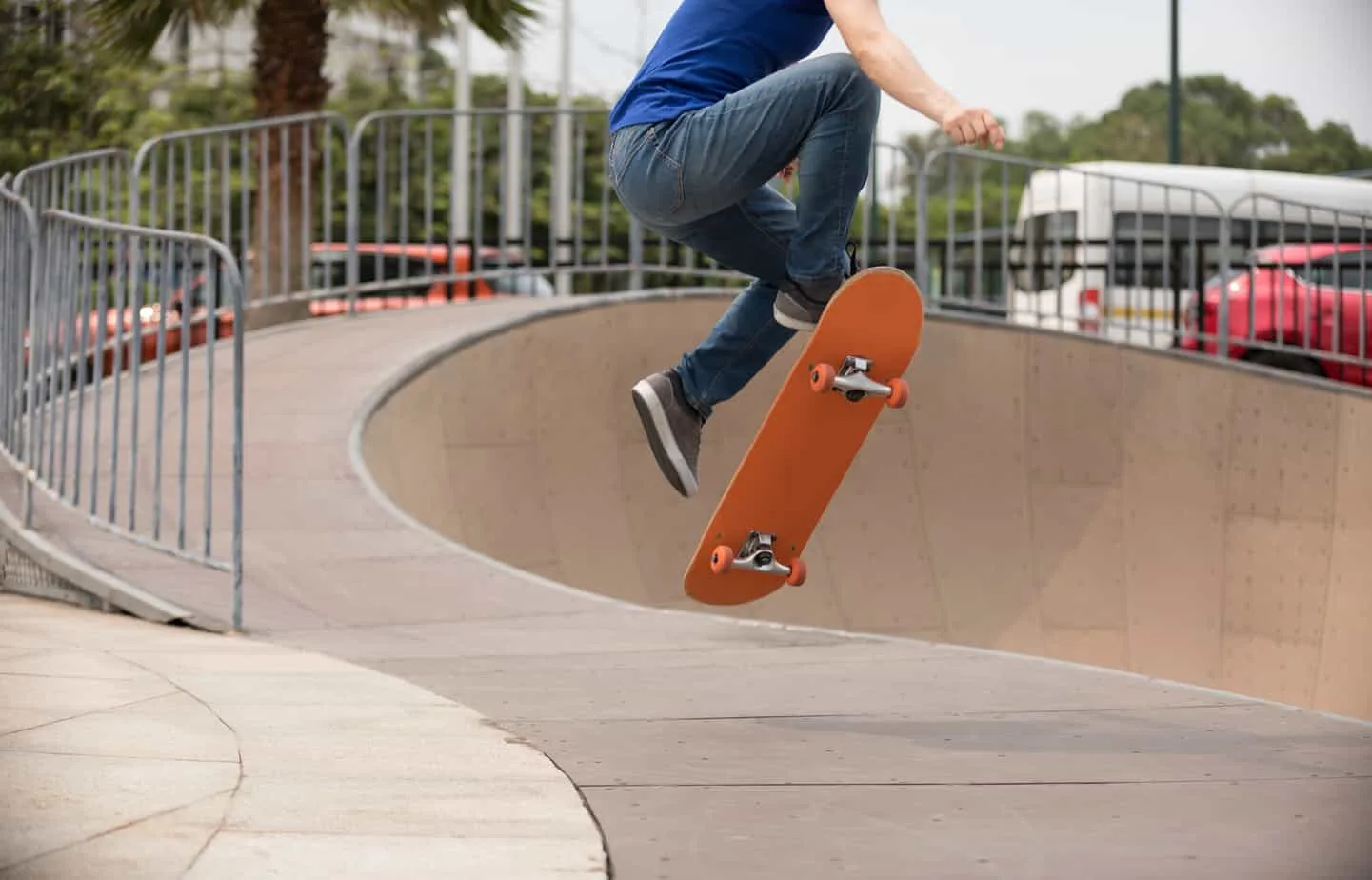 However, the most important thing when it comes to a park is flow. This is the ability to generate speed when you need it, have the space to turn when it's necessary, and chain obstacles together seamlessly to perform killer lines. A great park will be meticulously designed to ensure that all skaters can co-exist within the park and still do their runs to perfection.
How Many Skate Parks Are There in the US?
While an exact number is hard to come by, not only because the USA is a huge country, but also because it is hard to gauge if parks are still active. Plus, parks are popping up rapidly from week to week. So we are going off an estimate made by an outlet called Stadium Talk. This website conducted a study in May 2021 and found that there are approximately 2,800 skate parks within the USA.
There is also some information online that showcases how many skate parks are available per 100,000 residents in US states. This research was carried out by David Lange as recently as the 3rd of August 2021. It turns out that Ladero, Texas, and Sacramento, California have 3.3 skate parks per 100,000 residents which is the highest figure for any state across the country. These are closely followed by Chula Vista, CA on 2.9, Reno, Nevada on 2.6, and Anaheim, CA on 2.5.
What Are The Best Skate Parks In the US?
Ok, so now you know how many choices we are working with here. Plus, you know the criteria for what makes a great skate park. So, now it is time to run through a list of the best skate parks that the US has to offer. Just a disclaimer, we may play it fast and loose with the term skate park as many areas, while not official parks, have some of the key qualities that make them iconic skating locations, so you have been warned. Here is our list of the best skate parks in the US.
#1 – Skate Park of Tampa (S.P.O.T)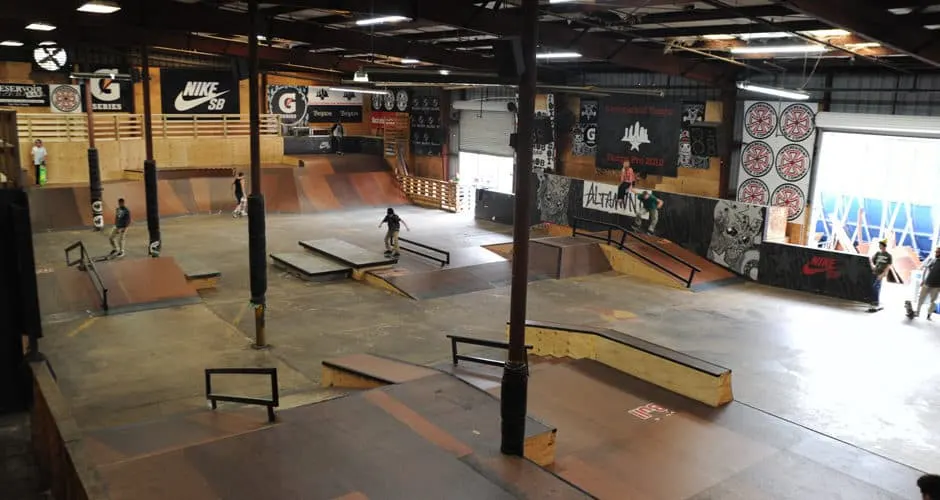 The Tampa skatepark is one of the most famous parks within the history of skateboarding. Since this park opened back in 1993, this park has hosted both professional contests and amateur contests shining a spotlight on the best and brightest talents in the sport ever since. This park is made with all levels of a skater in mind and offers beginner, intermediate and advanced runs for all who take it on. This park has been featured in several Tony Hawk games, has been used as a music venue, a comedy venue, and remains one of the most iconic spots in all of the skating. So if you ever get the chance to drop into Tampa, this is the place to be.
#2 – Burnside Skate Park
Here is another park that has been featured within the Tony Hawks Pro Skater Series. The Burnside Skate park is located in Portland, Oregon, and is located directly under a freeway, offering one of the most aesthetically pleasing venues to skate in all of America, plus some coverage from the rain if needs be. It's rather like my beloved Bridges Urban Skatepark in Belfast, NI thanks to the unique setting. This park is aimed mainly at the bowl and transition skaters with lots of banks, quarter pipes corner ramps and bowls to skate. So if this sounds like your cup of tea, be sure to check it out.
#3 – Spring Skatepark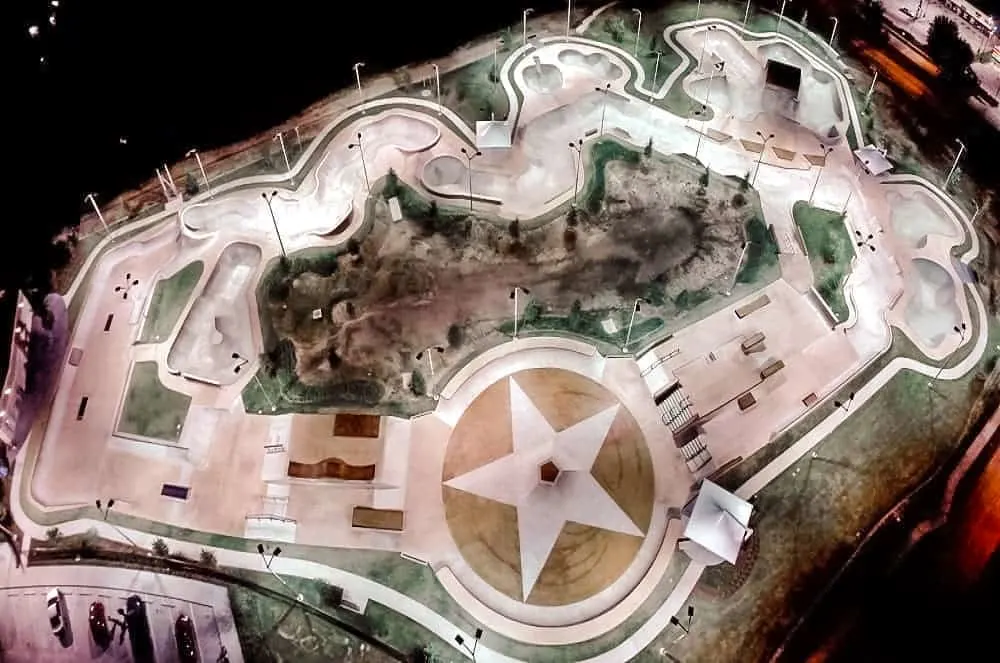 Now, this park may not have the same iconic reputation to carry it as the last two entries. However, in terms of sheer size, Spring Skatepark more than earns its place here. This park is located in Texas and is the largest skatepark in the USA, amassing 78,000 square feet filled to the brim with pure skateboarding bliss. In fact, this park is so large that it takes the title of the second-largest skatepark in the world. This park has a large plaza, 10-sets, countless bowls, flat rails, round rails, manny pads, banks, kickers, ledges. You name it, this park probably has it. The only thing that this park is short of is a dedicated vert ramp but for street and tranny skaters, this is heaven and one you need to make the trip to see for yourself.
#4 – Venice Beach Skatepark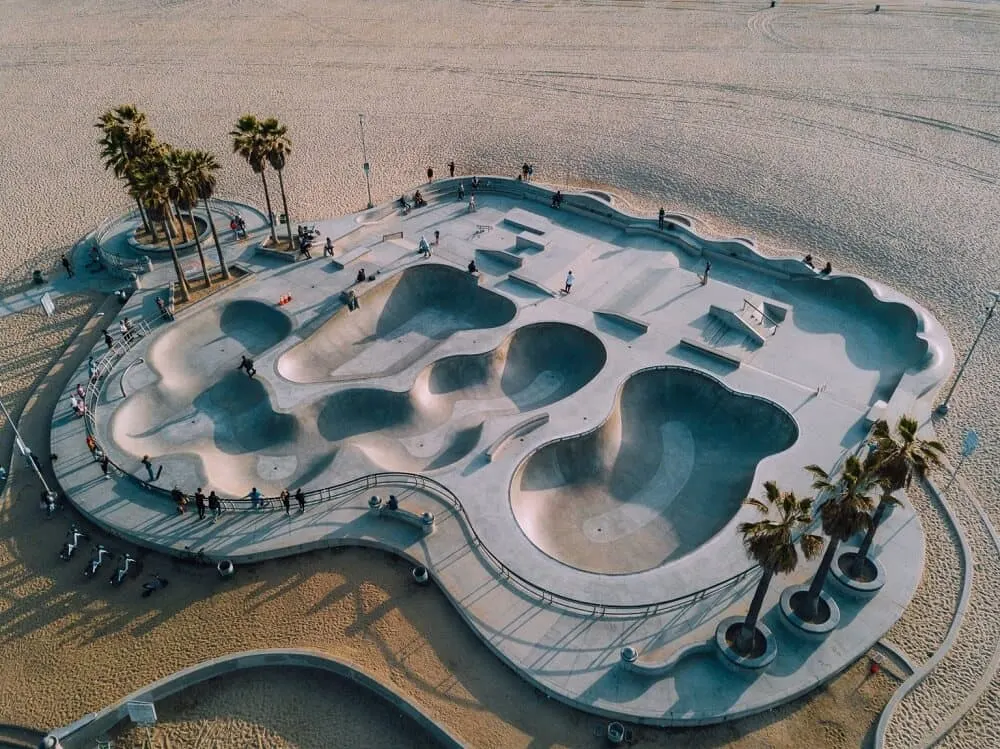 If you were looking for a picturesque location to hone your craft, we can think of few better places than Venice Beach skate park. This park located in Los Angeles, California is kitted out with some of the sweetest bowls to carve in the whole of the US, it has lots of ledges, rails, stair sets, and in terms of scenic views, you won't get any better than this. sadly, due to the global pandemic, this park is currently closed at the time of writing as the powers that be have filled the area with tonnes of sand. However, we hope that before long skaters begin to tear this area up once again.
#5 – Denver Skatepark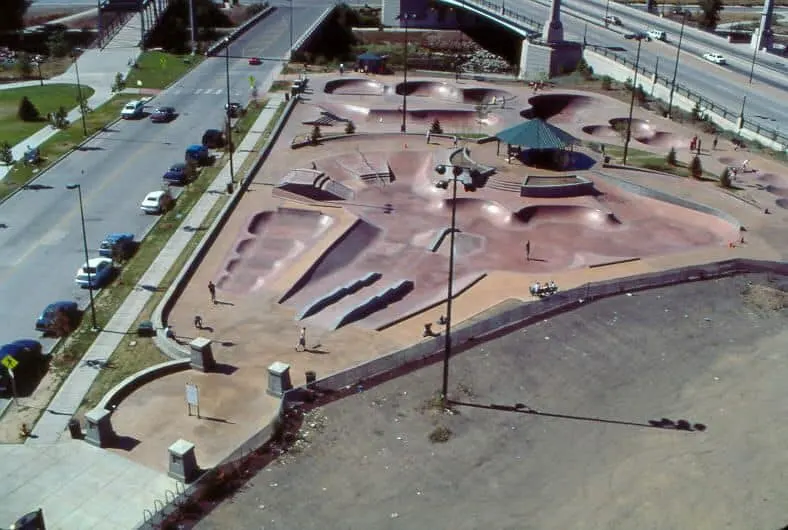 Now we move to Denver Colorado for our next entry, Denver Skate Park. This park is right in the heart of the City, is built around a large Gazebo, and provides its visitors with tonnes of bowls, banks, ledges, rails, and stair sets that are well worth breaking out the video camera for. This park is huge too, so don't worry about getting in someone's way, there is more than enough room for all that turn up to shred. So if you ever drop into Denver, know that this park is waiting there for you.
#6 – Lake Cunningham Regional Skate Park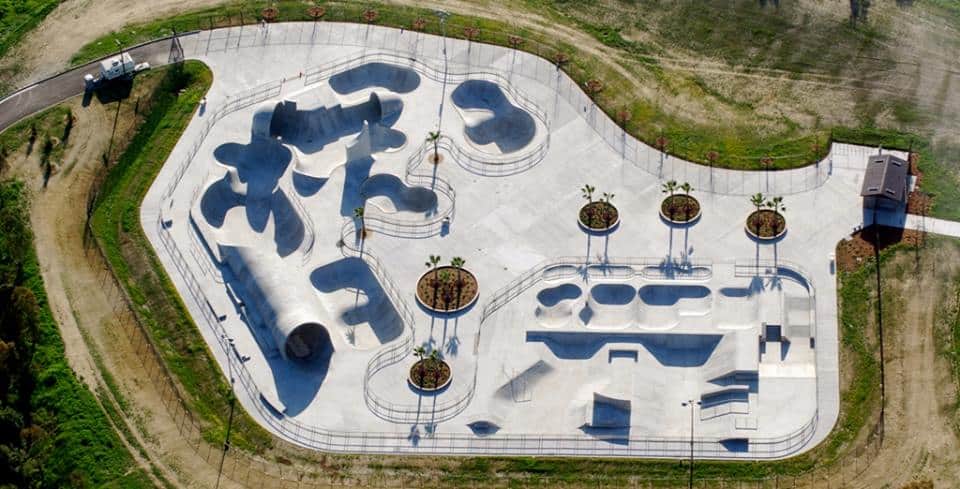 Next, we have perhaps one of the most unique skate park designs ever built. This park is made for transition and bowl skaters primarily, with a wealth of features that allow you to live your daredevil fantasies. This skate park has a series of bowls and banks, as well as a smaller street section with mini bowls, stair sets, and rails. However, the most eye-catching features on offer here are the incredible 70-foot cradle and one of the only full pipes in the entire country. So if you want to try something completely new, San Jose, is where you need to go.
#7 – Kona Skate Park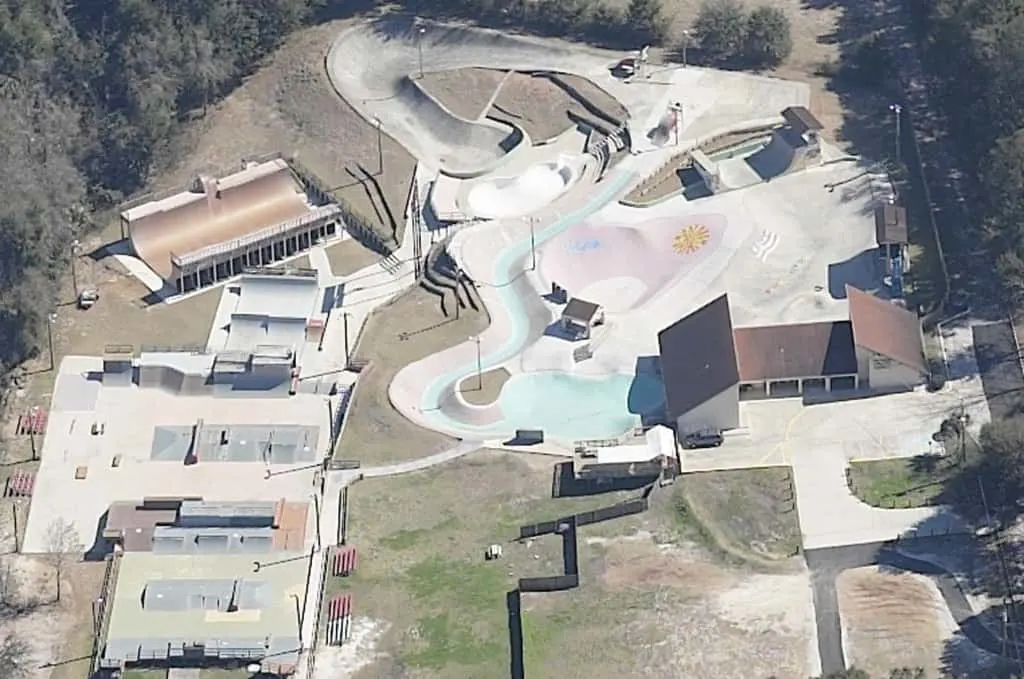 We have been focusing on public skate parks mostly on this list, so how about perhaps the most incredible private park ever made next? Kona Skate Park in Jacksonville, Florida is the longest-running privately owned skatepark in the world and offers some of the sickest carves, lines, and individual spots within the US skating landscape. Not to mention that this park has a huge vert ramp which is a rare bonus. Plus, this colorful park is also featured in Tony Hawk's Pro Skater 4. Fans of a certain age will remember bombing down the slalom and trying to manual through the cones. Well, if you want to try this in real life, the park is waiting for you.
#8 – West LA Courthouse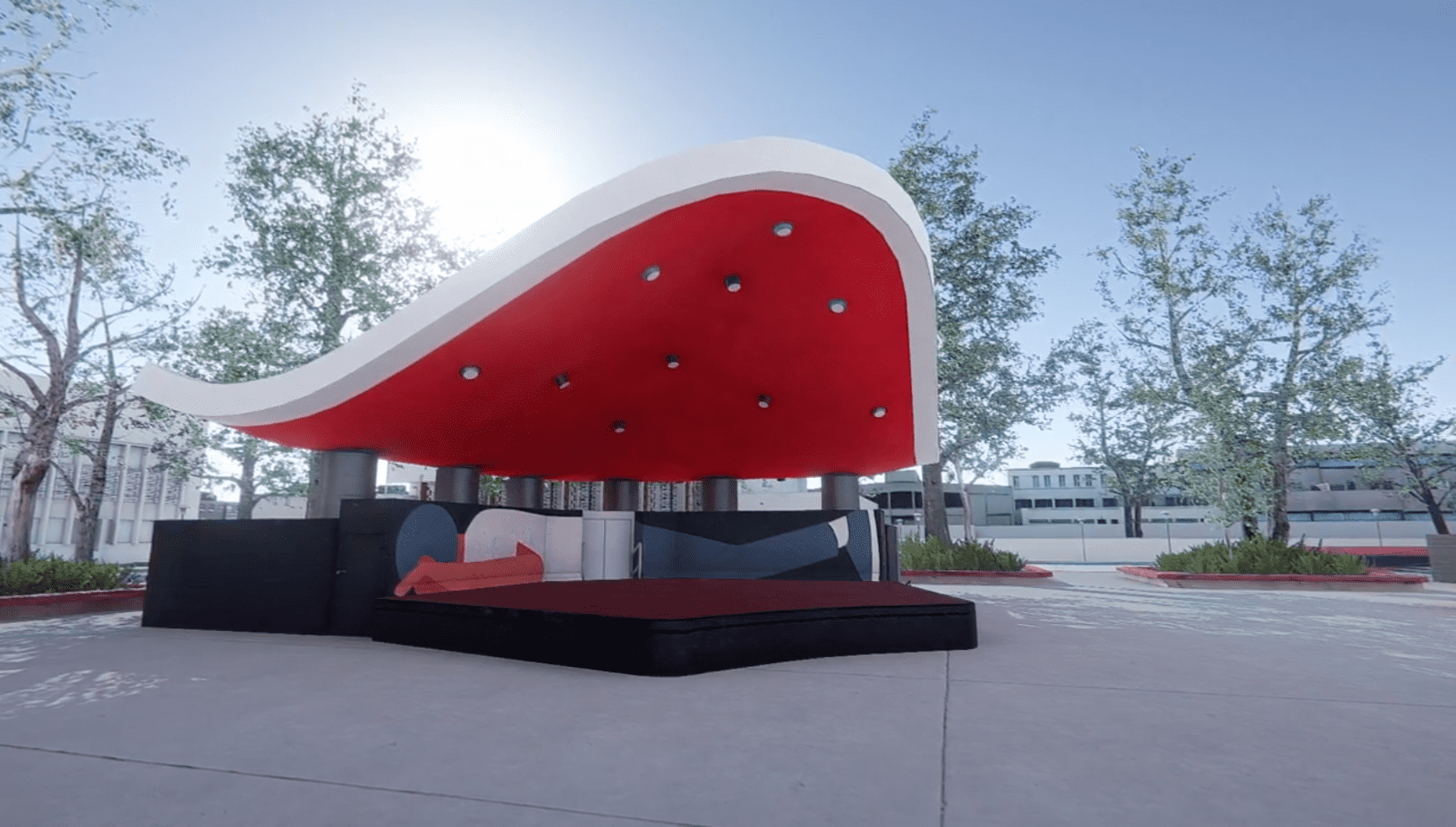 Ok, so this is not a skatepark in the conventional sense. In truth, it's just the surrounding area of a courthouse in West Los Angeles. However, the area has some of the best street skating spots all a stone's throw away from one another. So in our books, this is a naturally occurring street park. The LA courthouse has one of the most iconic and recognizable plazas in the world of skateboarding, a series of planters that make for great ledges, some stair sets, a small concrete bank area, and some interesting DIY fixtures that seem to stay there year-round. It's rare that an area pops up and lends itself to skating quite as seamlessly as this spot and for that reason, this 'park' deserves a mention on this list.
#9 – Grant Skate Park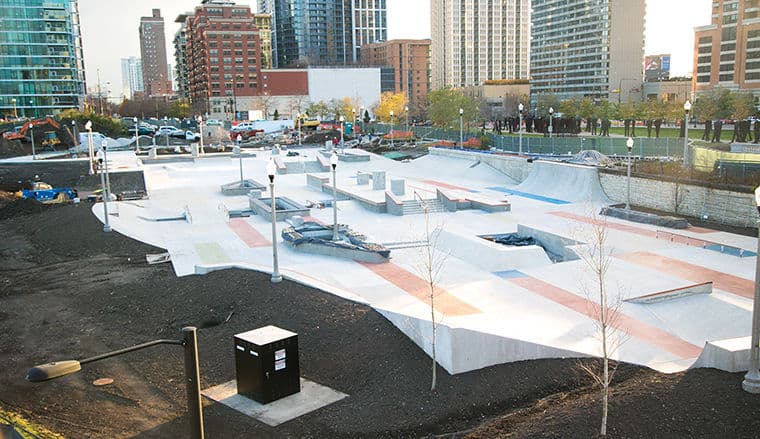 We move on to Chicago and one of the finest parks in the USA, Grant Park. Now, residents of Chicago will know that Grant Park is a much larger park within the city but around this area, there is a reasonably sized skate park which does a lot within the space. You have stair sets, rails, ledges, and banks as most parks do. However, there are unique features such as the triple pillars in the middle of the park, fun pyramid banks, or the stone pit bank that makes for one of the coolest gaps at a local park. So if you frequent Chicago often, this is the park you will want to roll down to first.
#10 – The Berrics
Then lastly, we have the Berrics, a park in Los Angeles California that acts as the backdrop for countless battles in the battle of the Berrics. We all love a game of skate but what some people fail to notice is just how cool the surrounding park is within these videos. The Berrics has incredible ten steps, banks, fat ledges, picnic benches, flat banks, manny pads, hubbas, and much more. It's the perfect setting for competitions, features plenty of pro skaters' social media output. So, if you ever get the chance to pop in, don't hesitate to do so.
Are There Any Famous Areas In the US For Skating That Aren't Official Parks?
Yes, there are tonnes of areas within the US that have featured in a variety of different video parts, Trasher covers, and other forms of skating media. However, these areas tend to be more popular for one particular feature rather than offering a smorgasbord of obstacles that a park can offer. However, that doesn't mean that they are any less exciting to an avid skater. So here is a quick list of some of the finest non-park spots within the skateboarding zeitgeist.
#1 – El Toro: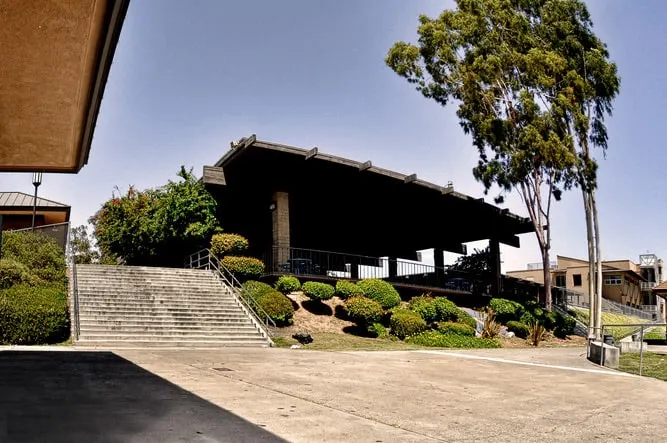 El Toro is an old, decommissioned high school within the Lake Forest area in southern California. The surrounding school area is pretty impressive in terms of offering plenty of skatable features. However, it's El Toro that attracts all the pros to this schoolyard. El toro is a 20 stair with a handrail that serves as one of the most intimidating spots in all of skateboarding. Even being able to land a trick on this imposing stair set is something that will see you revered as a legend within the sport. Heath Kirchart was the first to land a trick here and since then, only a select few have landed something of note here.
Sadly in 2010, the handrail was removed from this spot. However, skaters are still leaping down these stairs and landing some killer tricks in the process so El Toro lives on and remains one of the world's most iconic skate spots.
#2 – Brooklyn Banks: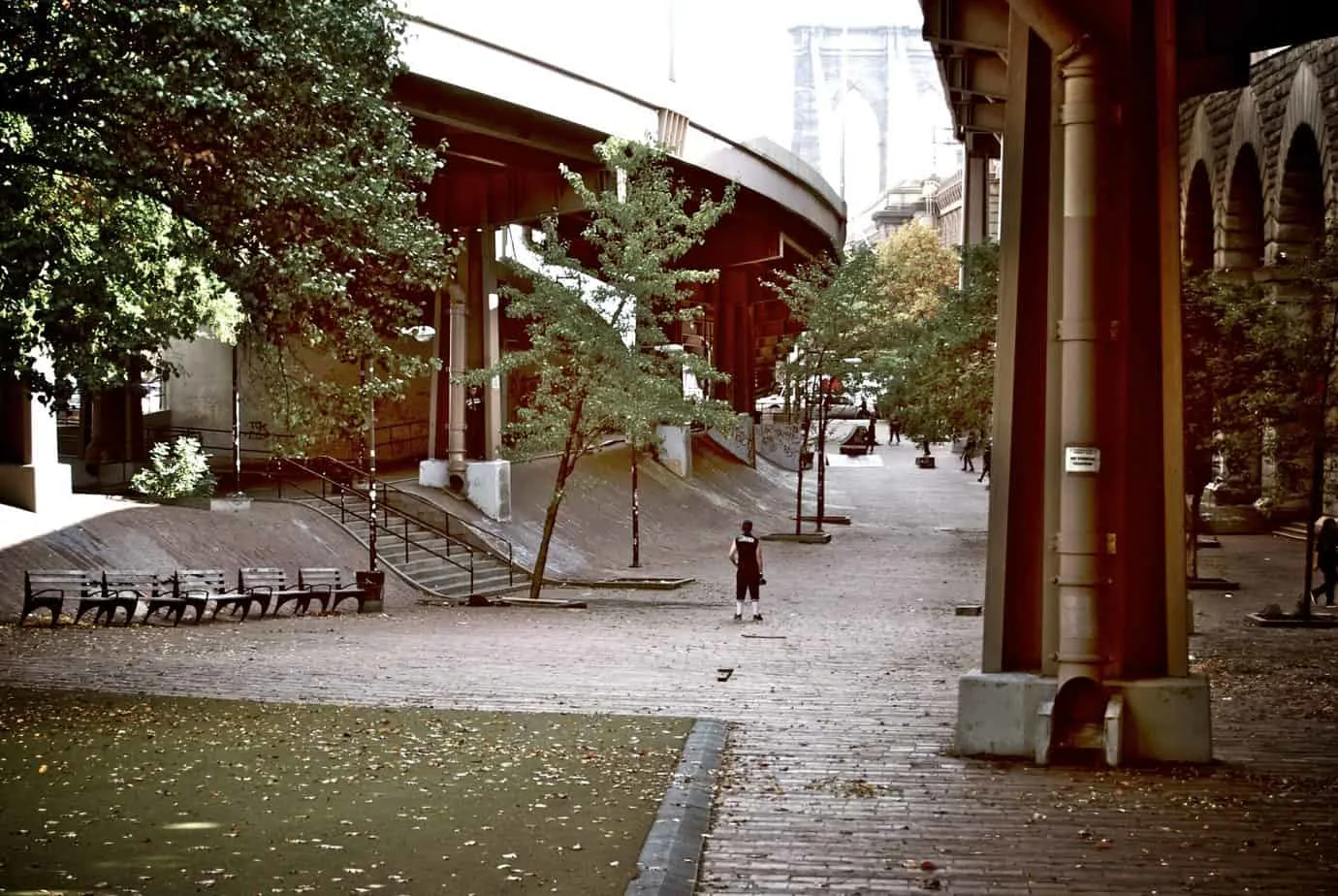 You may have seen this spot tucked away in the corner of Tony Hawk's Underground's Manhattan level. However, this area is located in Brooklyn, New York. This area features some natural, brickwork-Esque banks, some killer stair sets, and some nice benches and ledges to skate. Despite this area being available to skate again after years of equipment storage stopping skaters in their tracks, it is now illegal to skate here despite this area being named an official skate park before the renovations in 2014. Although, the law never seems to keep a good skater down.
#3 – Lockwood Elementary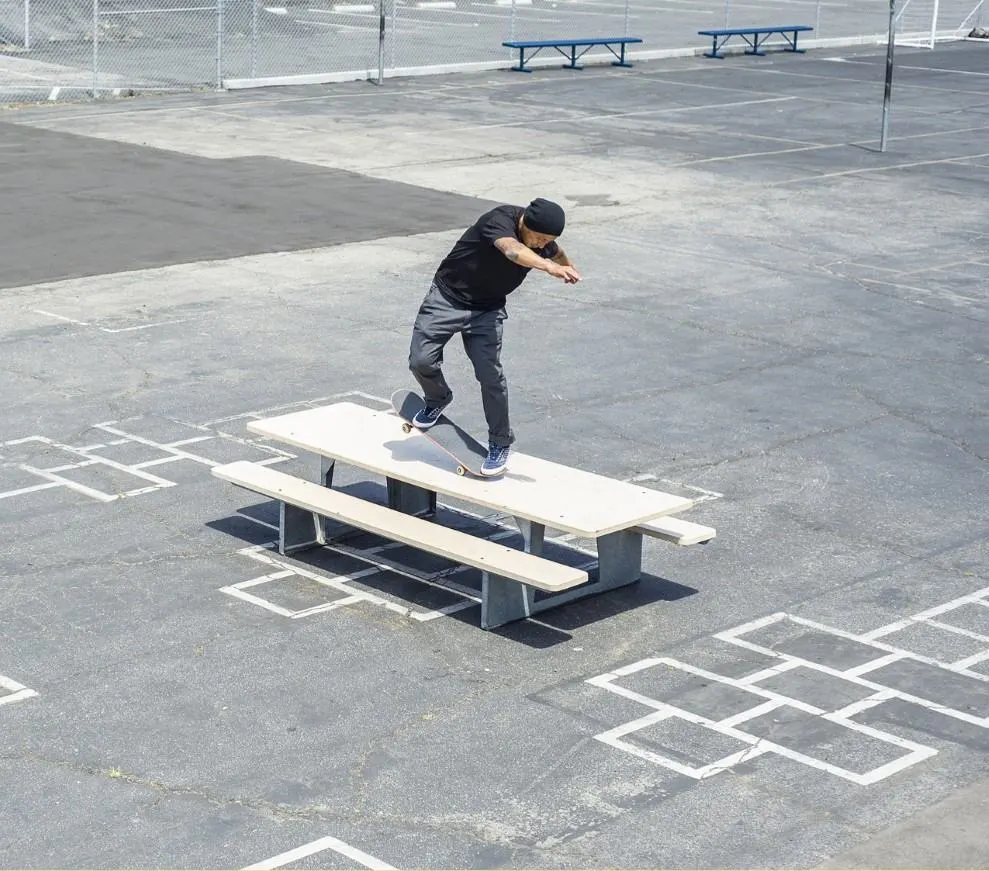 Much like El Toro, there is another school that has become synonymous with skateboarding and that is Lockwood Elementary in Bothell, Washington. This spot was perhaps made famous by Daewon Song and his video part, Daewon's Picnic. He made this area a pilgrimage for Washington skaters, hit some iconic spots including the blue rail on a descending flat bank and this area was replicated in the original EA Skate title. So if you happen to be in the area, call down and check it out.
#4 – China Banks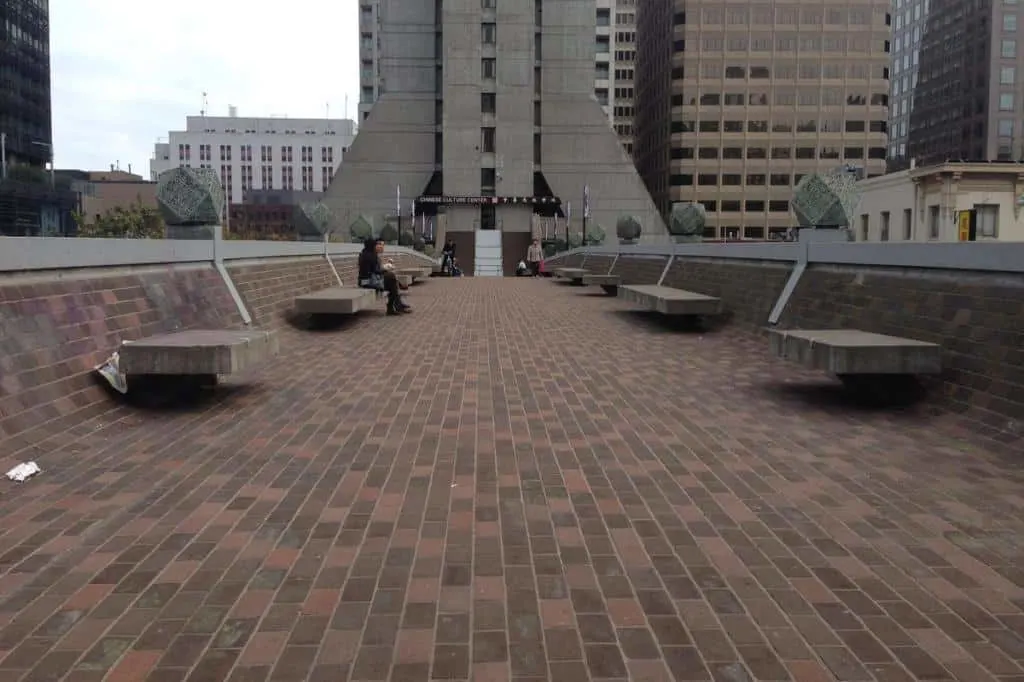 Then lastly, we have the China Banks in San Francisco, CA. This area is a long stretch of brickwork pathway which has a series of benches that are great for grinding and a curved bank at each side which opens up the possibilities for shredding even further. This spot is perfect for street skaters and offers a rare natural outlet for transition skaters to do their thing outside of a park setting. So if you want to tear this up, head out to San Francisco and get after it
Which Park is Best?
Now, before we finish, you may be wondering what the best of all the skate parks listed is and truthfully, this is purely down to preference. So for that reason, we can only offer our opinion on the matter. So in our eyes, the best of the bunch would have to be S.P.O.T. It might not be the most exciting of all listed or the largest but there is something truly iconic about this setting. Something that speaks to us and ever since we have seen this park, we've been mapping our dream runs for the Tampa Am. So for us, Tampa park is the winner.
Park and Ride
As you can see from the information above, there are so many incredible parks in the US that are just begging to be skated. We could honestly go on and on, listing the other iconic spots and parks in each state, but we hope that our picks of the bunch satisfied you and we hope that you get the chance to head out to these places and try them out for yourself.
FAQ Section
If you have reached the end of this article and still haven't got the answers that you are looking for, don't panic. Our FAQ section is bound to offer the clarity you seek, check it out below:
Question: What is The Largest Skate Park in the World?
Answer: We mentioned above that Spring Skate Park in Texas is the second-largest park in the entire world. Well, that poses the question, which is the largest in the world? Well, that would be an SMP skatepark in Shanghai, China. This park costs somewhere in the region of $25 million and is approximately 147,000 square feet. This park features a huge, bright red half pipe, a giant cradle, loads of bowls, and a raised street section overlooking the bowls. It's genuinely one of the most impressive park projects ever so you need to check it out.
Question: What Other THPS Maps Are Based on Real-World Skate Parks?
Answer: We continually mentioned the THPS series throughout this article because, one, it made skating as popular as it is today, and two, the iconic video game just loved using real-world locations for their maps. Well, we thought we would stop beating around the bush and give you a list of all the real world parks that the series featured. Take a look below:
Venice Beach skate park, CA
FDR skate park, Philadelphia
Calgary Olympic Park
Kona Skatepark, Florida
Embarcadero Center, San Francisco
South bank Undercroft, London
Question: Who Has Won Battle of The Berrics?
Answer: We also mentioned the Battle of the Berrics competition in this article. For those that aren't aware, this is a tournament that sees pros, Joes, influencers, and icons battle it out in games of skate until one skater prevails as the winner. It takes consistency and skill in equal measure to win this competition. However, you may be wondering who has won the Battle of the Berrics to date. So we thought we would help you out. Here is every winner of BATB since it began below:
2008 – Mike Mo Capaldi
2009 – Chris Cole
2010 – Paul Rodriguez
2011 – Morgan Smith
2012 – PJ Ladd
2013 – PJ Ladd
2014 – Eric Koston
2015 – Cody Cepeda
2016 – Sewa Kroetkov
2017 – Diego Najera
2018 – Chris Joslin
2019 – Luan Olivera
2021 – TBD
So that is our guide to the best skate parks in the USA. What did you think of this guide? Was this helpful and informative for you? Which of these parks would you love to visit the most? Let us know in the comments section below and as always, thank you for reading Skate Culture Insider.
For more interesting readings, check out: