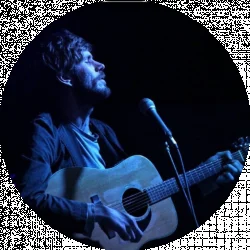 Latest posts by Kyle Baker
(see all)
Every skateboarder needs a backpack — skateboarding and backpacks are almost inseparable. Whenever you go skate, it's very rare that it's only your skateboard you are taking along. You'll need something to hold skate tools, spare parts, wax, hoodies, camera gear, and often, your skateboard.
Whether you are regularly skating the streets and parks, or whether you use your skateboard as a daily commuter, a backpack is an essential piece of equipment. You may also take a bicycle or public transport to the skatepark, and it's a great option to be able to stow your board on a backpack and have free hands.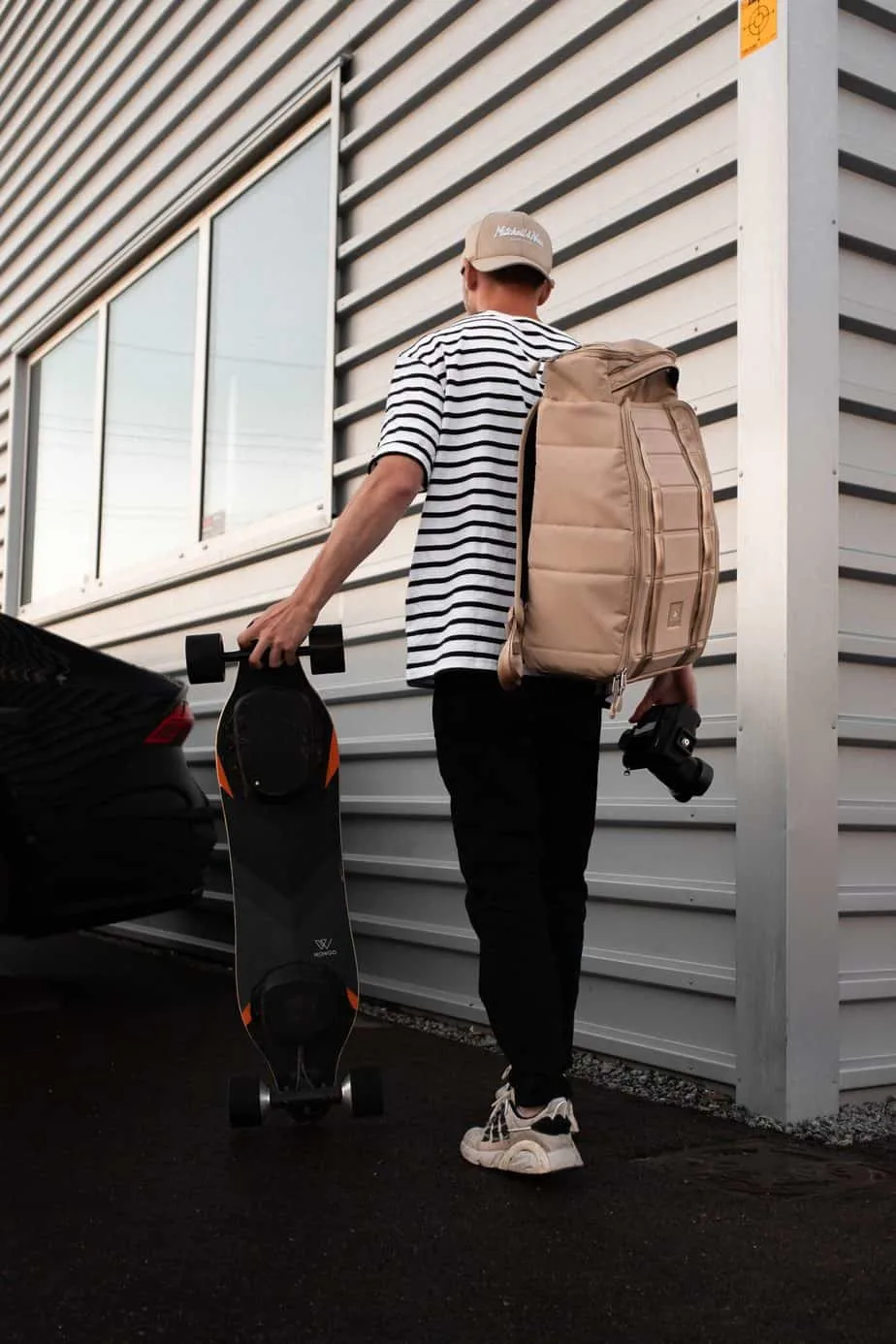 There is a huge variety of specially made backpacks specifically catered toward skateboarding, all with their own unique features. It can become confusing to find the right backpack for your unique needs, so we put together this list of reviews of our favorites, plus a detailed guide to help you choose the perfect pack.
Some factors to consider:
Before diving into the reviews, there are a few important factors to consider before purchasing a skateboard backpack. Everyone will have their own unique needs from a backpack, and they can vary widely, from the most basic iteration to the most complex packs complete with multiple pockets, compartments, and padding. Here are some factors to consider before diving in and purchasing a new skateboard backpack:
What are your needs?
The first factor to consider is your unique needs. What will you be using it for? Is it just a pack to throw some snacks and skate tools into, or do you need something more secure or durable? Will you be using it to carry your board or just for assorted gear and accessories? How much space do you need? These are important questions to answer, as the more features you want from a pack the more expensive it will get.
Features
Skateboard backpacks can be the most basic get up and go design, to complex features for every conceivable need. Again, you need to consider whether you'll actually make use of these extra features as they can become expensive.
Some packs are waterproof or have separate waterproof pullovers, others have multiple sections for items like phones, laptops, iPads or car keys, locking ability, mesh linings, the list goes on. Consider carefully whether you'll need these features or no
Size
Are you using your backpack to stash a few skate items and some water, or do you need space for extra clothing, food, shoes, and other bulky items? The larger the backpack the more it'll likely cost, so you'll need to consider your use.
Do you want to be able to safely carry a laptop or tablet too? Some packs have specially made, padded compartments for these, and so if you are carrying your computer this is a worthwhile extra feature.
Durability
Street skating can take you to some rugged places, and of course, there is always the chance of falling with your backpack on your back. You'll probably be using your pack every day, and so it should be as durable as possible.
Packs with skateboard attachments should also have strong rugged straps and an abrasion-resistant area where the grip tape is in contact with the back. Waterproofing is a great addition if you get caught in the rain, and some water water-resistant polyester coatings or waterproof pullovers.
Comfort
Features are not everything and your pack should also be as comfortable as possible. Extra padding, wide and padded shoulder straps and adjustable sternum straps will all make your ride more comfortable, especially with heavy loads. Skating with your pack on can also work up a sweat, and the back panel and shoulder straps should have some breathable mesh to keep your back cool and dry.
Our Top Choices of Skateboard Backpacks 2020:
Now that you know what features to consider, here are our top picks of skateboarding backpacks.
The Jaywalker Backpack from Element has all the features you need from a Skateboard pack, making it our top choice overall. It has a large 30-liter capacity, stowable front straps to attach your board, and is made from highly durable polyester with a faux buckskin bottom.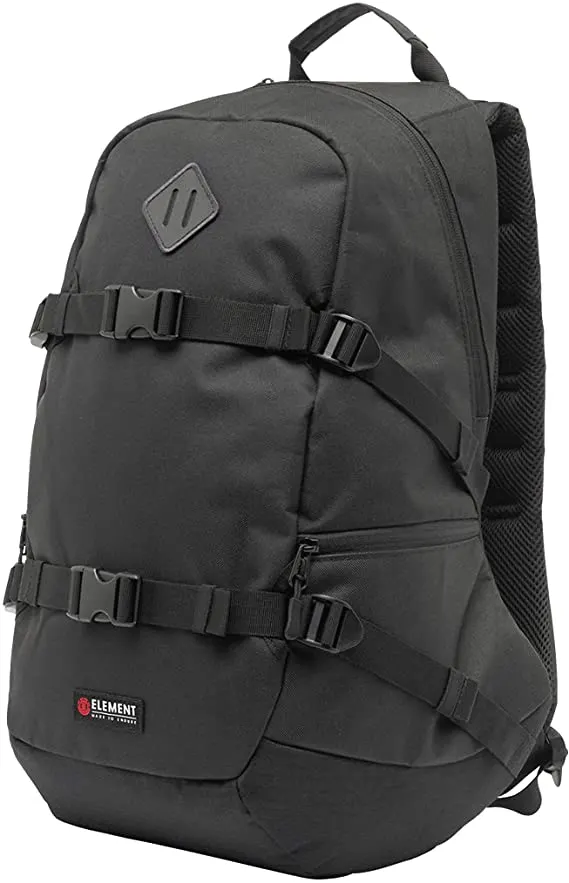 The pack has a large main compartment with a padded laptop fold, plus a "hidden" front storage section, side drop pockets, and a nifty sunglass pouch at the top. Adjustable side straps are included for flexible storage space, plus there is an adjustable sternum strap for added comfort.
There is very little to fault with this pack, but we feel the shoulder straps could have been a bit more padded as they can get uncomfortable with heavy loads.
Pros
30-liter capacity
Stowable front board straps
Made from durable polyester with a faux buckskin bottom
Included laptop fold
Side drop pockets
Sunglass pouch
Adjustable sternum and side straps
Cons
The shoulder straps are not as well-padded as they could be
Volcom has long been a dependable brand in the surf and skate industry, making quality clothing and apparel. The Substrate backpack is no exception and provides a quality backpack at an affordable price.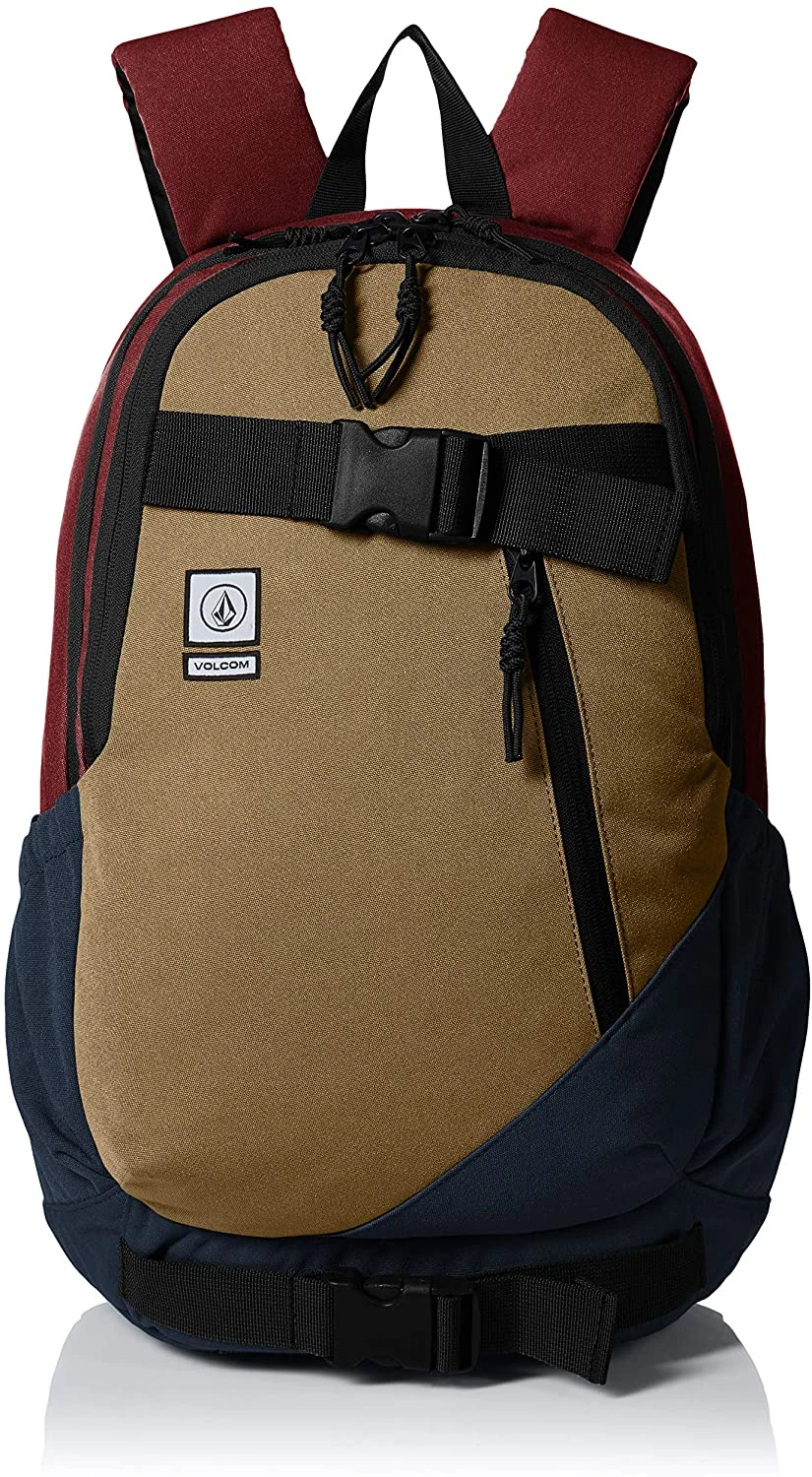 It has a decent 26-liter capacity and is crafted from 100% durable polyester. The front features durable skateboard clips to house your board, plus a slim padded pocket for smaller laptops or tablets. The front also features a stylish diagonal zippered pouch for skate tools, phones, or wax.
While this back is great quality and feature-packed, some may find the 26-liter capacity a bit on the small side.
Pros
Inexpensive
100% polyester construction
Durable skateboard clips
Slimline laptop and tablet pocket
Front pocket for phones and skate accessories
Cons
Comparatively small capacity
The RPM backpack from Nike SB is about as good as it gets when it comes to design, functionality, and durability, and is a great choice if you are looking for something long-lasting. The pack's entire outer shell is made from water-resistant polyester, a great feature if you're caught out in the rain with precious cargo.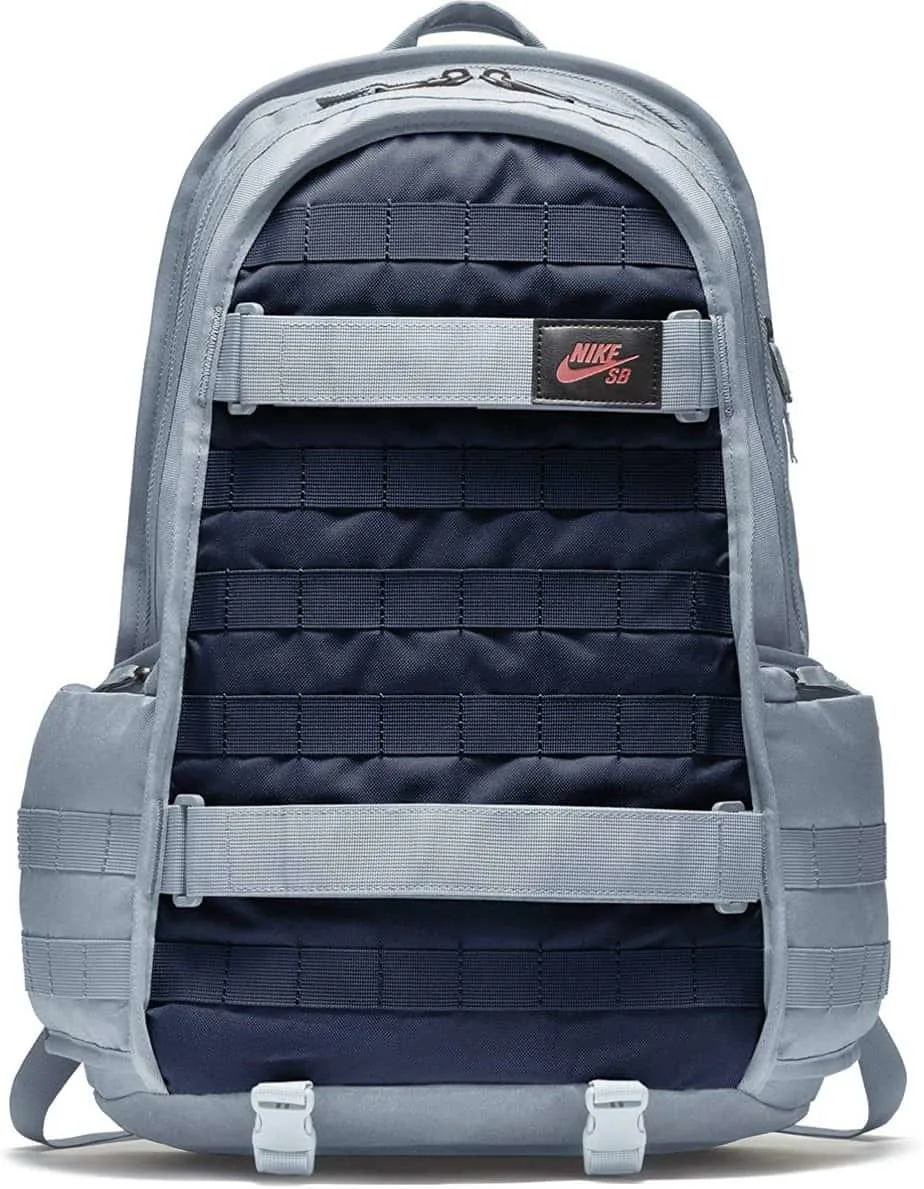 The back section and straps are lined with a breathable mesh for those hot summer days of skating, and the bottom is layered with textured polyester for added durability. If you need a lot of space in a backpack, the RPM has you covered with 2 huge compartments complete with a zippered net pocket for small items and zippered side pockets.
The only fault we could find with this bag is the high price. However, you get what you pay for with outstanding quality.
Pros
Made from water-resistant polyester
The entire back section and straps are lined with breathable mesh
Durable bottom with a textured polyester
Two massive storage compartments
Zippered side pockets
Cons
The Mohave from Element is a classic skateboarding backpack that has been around for a while and has become somewhat iconic among skateboarders. It has a 30-liter storage capacity with polyester lining and a breathable mesh-lined back section for hot skate sessions. The shoulder straps are also nice and wide for comfort with heavy loads.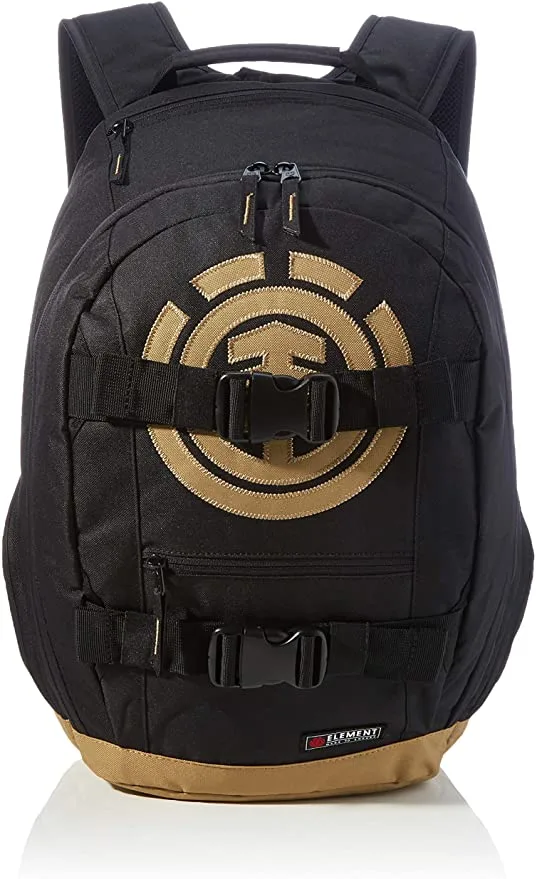 The Element Mohave has a large main compartment with diagonal-cut, zippered side pockets, a small zippered front pouch, and a separate sunglass pouch. The durable polyester at the bottom gives it added protection and make the pack long-lasting. All in all, an iconic and classic pack from Element.
We have no complaints about this pack when used as a backpack, but attaching your board presents an issue. The board strap buckles are not very strong and tend to break after a few months of heavy use. A disappointing addition to an otherwise faultless pack.
Pros
30-liter storage capacity
Durable polyester lining
Has a breathable mesh-lined back section
Wide shoulder straps
Zippered side and front pouches
Sunglass pouch
Cons
Board strap buckles are brittle
Vans is another brand infamous among skateboarders and non-skaters alike. Known for making some of the best and most iconic skate shoes on the planet, the brand's apparel and accessories are impressive too. The pack is made from 100% polyester and has a breathable padded mesh backing.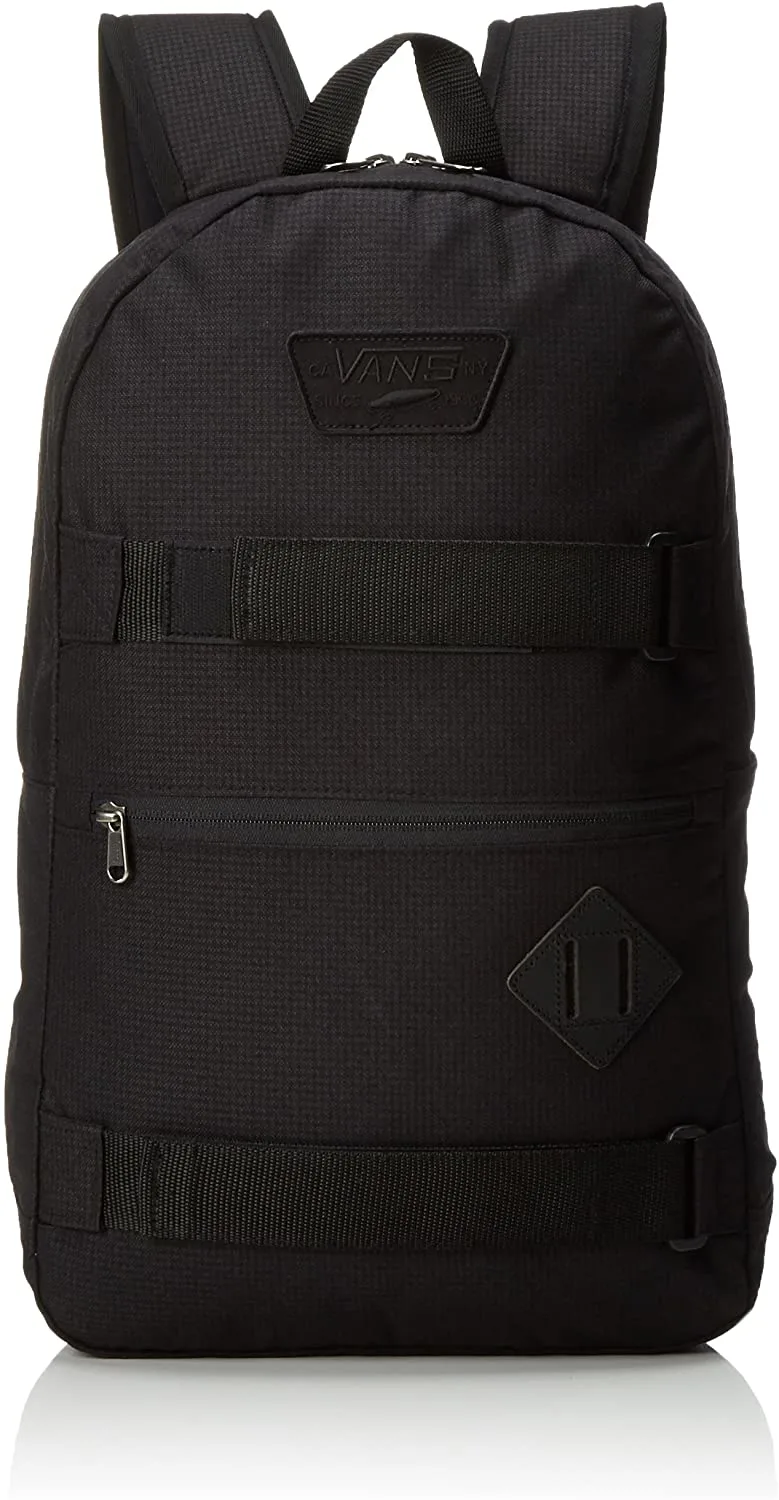 The shoulder straps are nice and wide and ergonomically designed for unsurpassed comfort, and the front board straps are made from durable Velcro and quick and easy to use. The pack has 2 large main compartments with inner pockets for stashing smaller items. On top of all this, this backpack is great-looking and high quality.
There is very little to fault on this backpack except the slightly higher than average price, and it is a bit smaller than some other packs on this list.
Pros
Made from 100% polyester
Features breathable padded mesh backing
Ergonomically designed shoulder straps
Velcro board straps
Two large main compartments with inner pockets
Cons
Comparatively expensive
Slightly smaller than other packs
Named after the legendary LA Courthouse skate spot, the Courthouse backpack from Nike SB is a simple pack from a legendary brand. It is on the smaller side with a 24-liter capacity but is made from durable 100% polyester with a water-resistant bottom. The padded and meshed back section will keep your back dry and comfortable and the thick shoulder straps are a great addition for added comfort.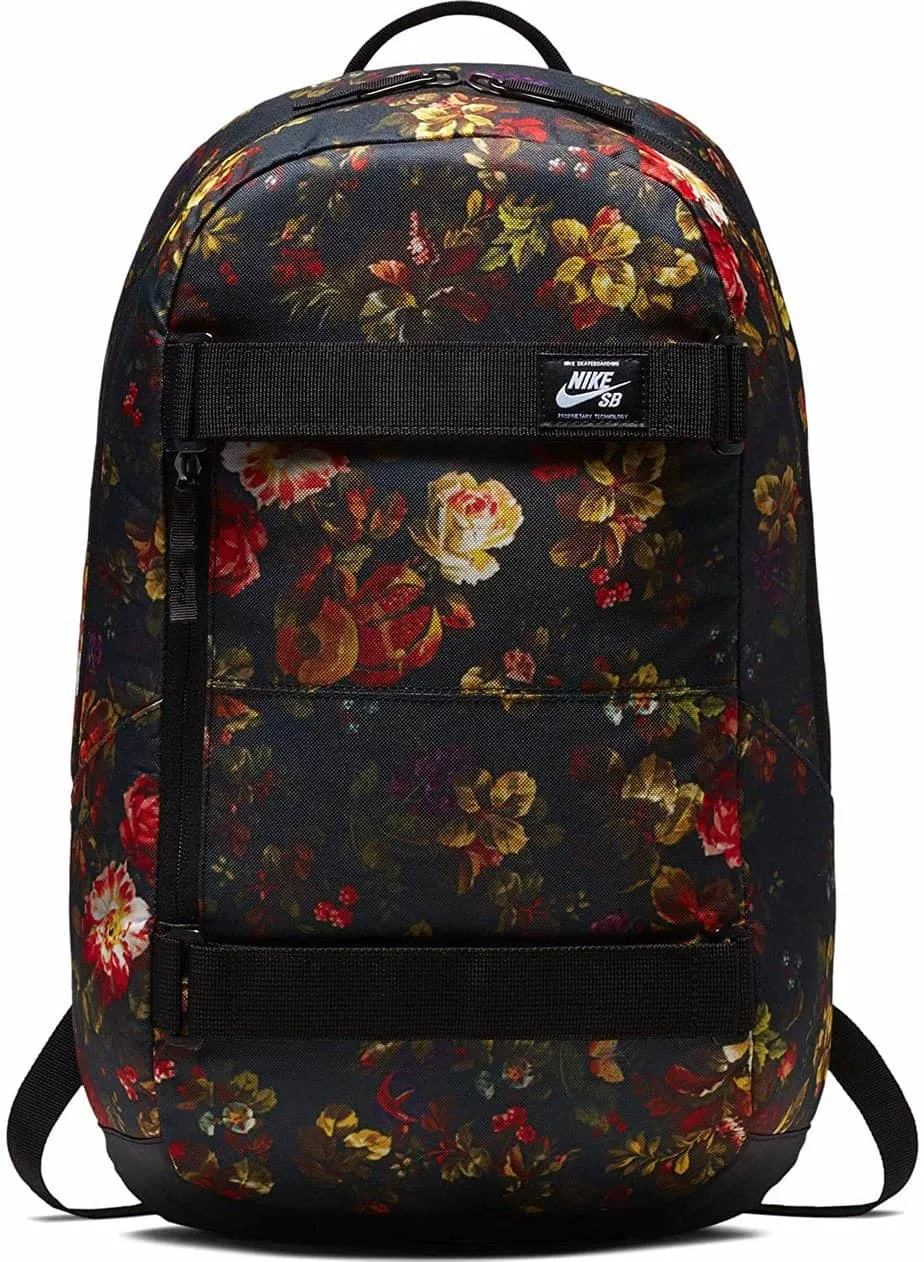 It has one large main compartment with a netted and zippered stash pouch, and easy to use Velcro straps to attach your board. If you are looking for a small and lightweight skate pack that is of great quality, the Courthouse is a great option.
The only complaint we have with this pack is the small capacity at a hefty price tag.
Pros
Made from durable 100% polyester
Water-resistant bottom
Padded and meshed back section
Thick, comfortable shoulder straps
Velcro board straps
Cons
Small 24-liter capacity
Expensive
Burton is a popular brand in the world of snowboarding, but its Kilo skateboarding backpack is a quality step into the skate world. The pack has a 27-liter capacity and is made from 100% polyester with ergonomic shoulder straps and an adjustable sternum strap.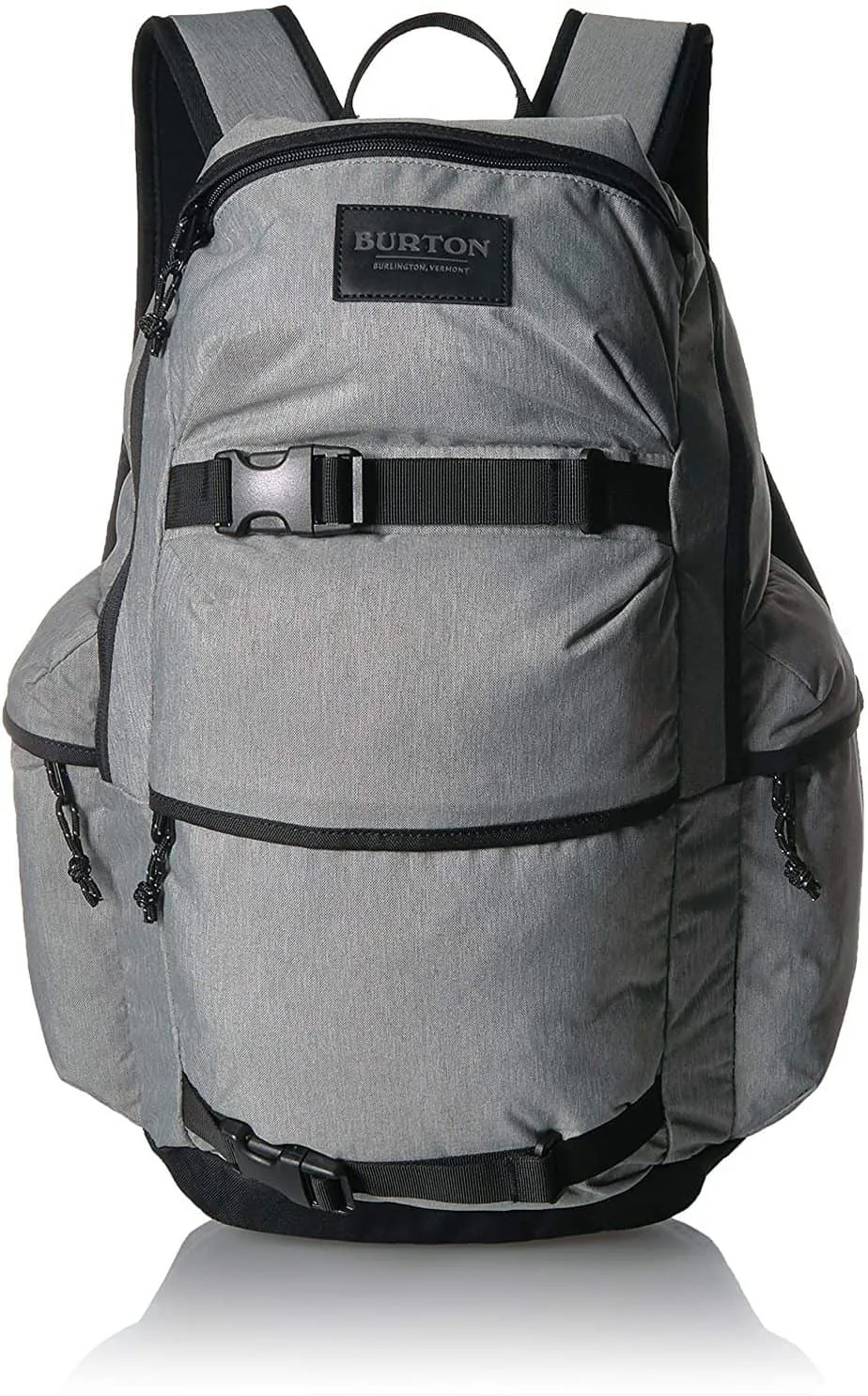 It is not short of compartments, featuring a padded laptop pocket, tablet sleeve, giant main compartment with internal stash pouches, and two zippered side pockets. The front webbing has durable clips for carrying your board and the pack has a premium and stylish look overall.
The pack has a unique shape with drop-down shoulder straps, making the capacity of the main compartment much smaller than it looks. Several customers have reported the zipper stitching coming apart, but Burton does offer a lifetime warranty.
Pros
27-liter capacity
100% polyester construction
Ergonomic shoulder straps with adjustable sternum strap
Padded laptop pocket and tablet sleeve
Various internal stash pouches and two zippered side pockets
Cons
Small carrying capacity
Poor zipper quality
Known for making some of the best trucks on the planet, Independent Truck's Transit backpack holds no punches either. The pack is unique among skate backpacks as it features horizontal board straps, a feature that some skaters may prefer.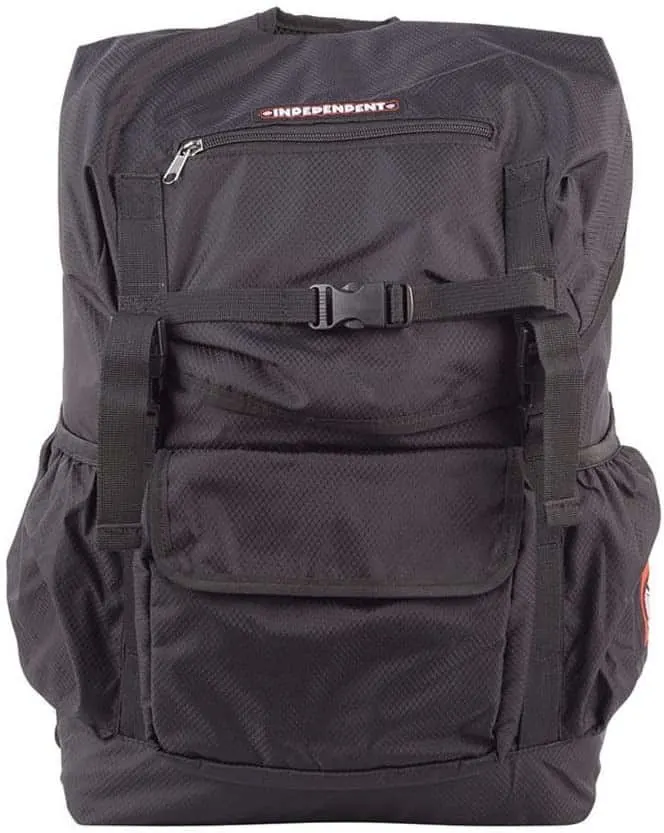 It also has a unique cinch closure mechanism with a flap as opposed to zippers, a front zippered pouch with magnetic closure, and an interior laptop compartment. The back panel is comfortably padded with wide, shaped shoulder straps and side stash pockets.
It's hard to fault this pack, but it is slightly smaller with a 25-liter capacity, and some skaters may find the horizontal board straps a bit awkward.
Pros
A unique cinch closure mechanism
Front zippered pouch with magnetic closure
Interior laptop compartment
Padded back panel
Side stash pockets
Cons
Small capacity
Horizontal board straps
DC shoes make some of the best skate shoes and accessories in the world, and "The Breed" backpack is no different and has become a classic among skaters. It is made from 100% durable polyester with a comfortable padded and meshed back panel.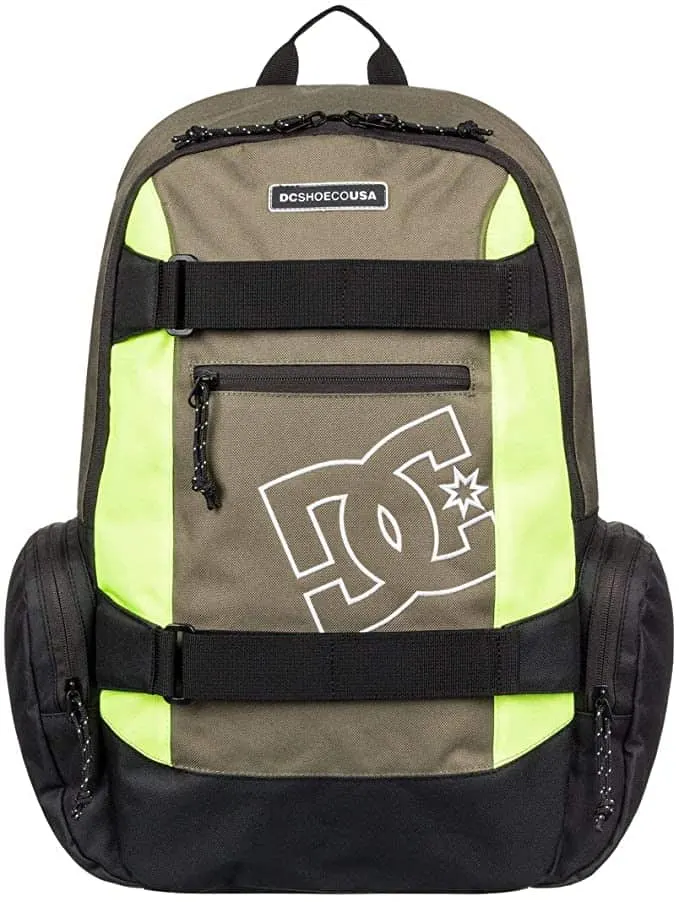 It has a 26-liter capacity with one large main compartment with zippered inner pockets inside, plus 2 zippered side pockets and a small zippered stash pocket on the front. The shoulder straps are nice and wide with padding, and the Velcro board straps make accessing your skateboard a breeze.
The only faults with this back are that the laptop sleeve inside is not padded, which is disappointing, and the overall feel of the bag is a bit flimsy.
Pros
Made from 100% durable polyester
26-liter capacity
Two zippered side pockets
Comfortable shoulder straps
Velcro board straps
Cons
The laptop compartment is not padded
Overall flimsy feel
10. Santa Cruz Plaza
Last but not least on our list is the Plaza backpack from Santa Cruz. Santa Cruz is a brand that is synonymous with skateboarding and has been around for almost as long as skating itself, so they know exactly what a skater needs from a backpack.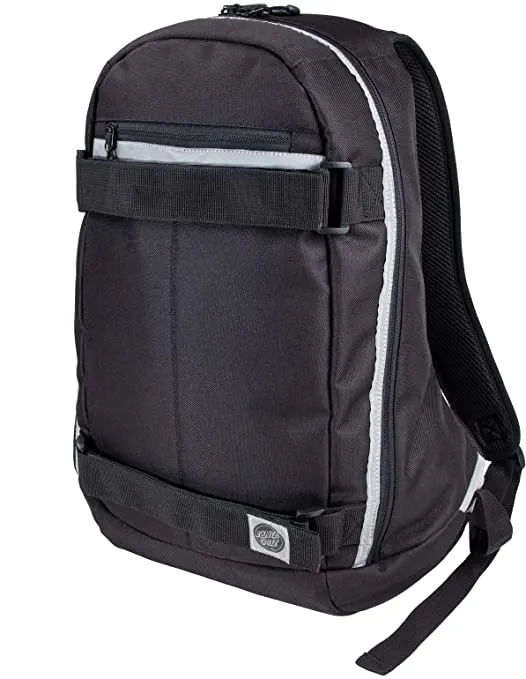 This backpack is a fairly simple design featuring a 17-liter main compartment plus one smaller front compartment and Velcro board straps. The back panel is padded and has a breathable mesh with comfortable shoulder straps.
This pack is of great quality but lacks many important features. It is a simple design with no internal or side pockets, no laptop or tablet sleeve, and a small carrying capacity. It is great for afternoon trips but crucially lacking in space.
Pros
One 17-liter main compartment
Padded back panel
Comfortable shoulder straps
Velcro board straps
Cons
Lacking in features
Small capacity
Only two compartments
Common Questions and Answers
What should I put in my skateboarding backpack?
This question is highly subjective, but we have a few essential items and recommendations to help you out:
•Water. An essential item for every skating session, ideally in a durable metal flask.
•Wax. Every serious street skater needs wax on hand to wax up some new-found ledges and rails.
•Skate tool. An essential item to tighten trucks, change wheels, and perform general maintenance on the go.
•Helmet and pads. If you are staking pools or transition, it's always a good idea to have protection!
•Brush. It may seem like a strange addition, but if you have space a small floor brush is an essential item for street skating. You may roll up to a perfect set of stairs or rail only to find tons of gravel or litter that needs to be swept away.
•Spare parts. Extra hardware like bushings, bearings, and mounting bolts have been the savior of many a skate session.
•Camera. Did you really land that new trick if no one saw it? Well, of course, but it's great to record it nonetheless! All phones have pretty decent cameras these days, but they can't really replace a decent dedicated camera, especially for filming.
•Snacks. Nuts, dried fruit, energy bars, anything to fill the void after a session.
•Hoodie. You never know when cold weather can pull in, and it's always a great idea to carry a hoodie if you have the space.
Can't I just use a normal backpack?
Well, yes of course you can — a normal backpack will carry your gear as well as a dedicated skateboard backpack can. However, a specially made skateboard backpack has straps to attach your board for hands-free carrying, plus are generally a lot more rugged and durable than most normal packs. Skateboard brands know what is needed from a backpack for skateboarding, and so their products are usually tailored specifically toward skating.
Are there any specific brands to look out for?
As mentioned above, brands that produce products for the world of skateboarding know what skaters need, and so they are the ones to go for. These include well-known names like Element, Volcom, Nike SB, DC Shoes, and Santa Cruz.
Conclusion
Our top choice for a skateboard backpack is the Jaywalker Backpack from Element. It has all the features you'd want from a skateboard backpack, including a large 30-liter capacity, stowable board straps, and highly durable polyester construction.
A backpack is a simple but essential skateboard accessory and needs to have the necessary space and features plus be able to take a beating. Hopefully, our reviews have helped you choose the best skateboard backpack to suit your unique needs.