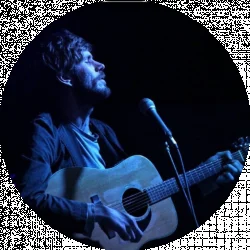 Latest posts by Kyle Baker
(see all)
Having the right type of wheels to suit your style of riding is essential. Your wheel size will affect your stability, speed, and performance, and so you need to choose wheels that compliment your aims.
When it comes to street skating, your wheel needs to be lightweight, on the small side, and tough. Having smaller wheels will help with ollies and flip tricks, make grind tricks a lot easier, and help you gain the correct amount of speed needed in a short space of time.
If you are on the lookout for a new set of wheels for your street skating setup, we've got you covered! In this article, we'll discuss our 10 favorite street skateboard wheels, along with what to look to when buying wheels for street.
Street Skating 101
Street skateboarding is fairly self-explanatory and involves the use of any obstacles in the street you can find, including steps, rails, and banks.
In this way, street skating is truly an art form, as skaters aim to turn anything and everything into a canvas on which they can paint in their unique way.
A small concrete bank becomes something to flip on, a set of stairs becomes the next ollie to conquer, and simple handrails become the canvas for hundreds of possible combinations.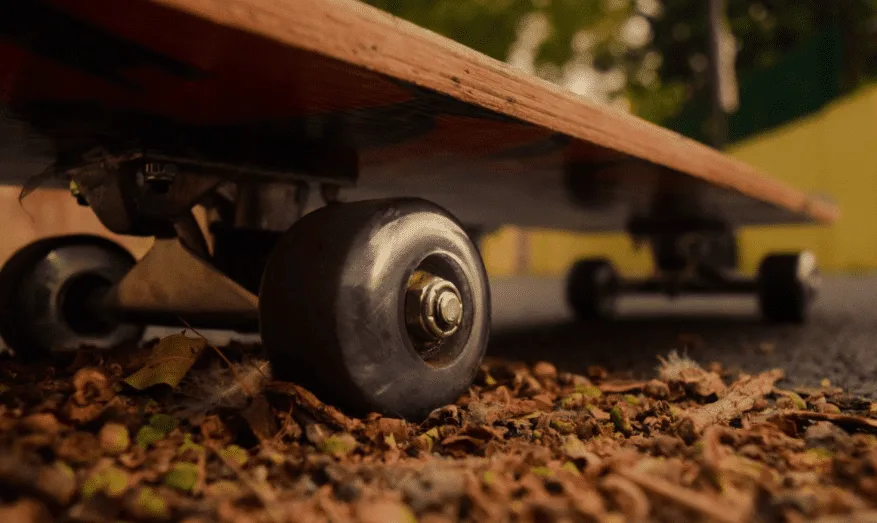 With the rising popularity of street skating in the last few decades, boards and their components have evolved massively. Decks have gotten thinner and lighter yet stronger and easier to "pop", trucks have also become stronger and lighter, and wheels have become smaller and faster to cater to the ever-evolving technical tricks that street skaters are performing.
The top 5 skateboard wheel brands
There are tons of different wheel manufactures to choose from these days, but some have stood the test of time. According to sales and the pro skateboards that ride them, these are some of the top 5 brands in the world today:
Spitfire
With over 30 years in the game, the Spitfire flame-head logo is one of the most recognizable brands in skateboarding. The company hails from San Francisco and has long been associated with some of the biggest names in skateboarding including Andrew Reynolds, Chris Cole, and Ishod Wair to name but a few.
Bones
Known more for their world-class bearings, Bones also make some of the best skateboard wheels around. The US-based company has been around for over 40 years and its team includes some of the best pro skateboarders on the planet, including Aaron "Jaws" Homoki, Tony Hawk, Rodney Mullen, and Ryan Decenzo.
Ricta
With a team that includes names like Nyjah Huston, Bob Burnquist, and Rune Glifberg, Ricta makes some of the best street skateboarding wheels in the business.
Ricta was founded in 2000 with the aim to provide skateboarders with wheels that could keep up with the punishment dished out by street skating, and they most definitely succeeded.
Powell Peralta
Founded by George Powell and Stacy Peralta in the late 1970s, Powell Peralta has had skin in the game for longer than almost any other wheel manufacturer.
The company also produces high-quality decks and accessories and is associated with pros like Kilian Martin, Steve Cabellero, and Andy Anderson.
Santa Cruz
Santa Cruz was founded in the early 1970s in Southern California and has long been a trusted name in the world of street skateboarding, producing high-quality decks, wheels, and clothing.
It is one of the oldest skateboard companies in the world, and the team currently includes names like Blake Johnson, Steve Alba, and Tom Asta.
What to look for
While a skateboard wheel may seem like a simple component, there are some important factors to look out for before purchasing a set. Skateboard wheels can vary widely in size, texture, and color, and even the slightest change in size can dramatically affect how your board feels.
It may take you some time and trial and error to find the exact right fit for your style, but here are some of the basic criteria to take into consideration.
Diameter
Wheel diameter will greatly affect your ability to perform tricks, your speed, and your turning ability. Wheel diameter is usually measured in millimeters and typically ranges from 49-75mm.
For street skating, you want to stick to the smaller end, and anything around 50mm is ideal, with a maximum of around 60mm. This size range is ideal as it is lower to the ground which will give you more board control, the wheels are lighter, and although they are slower overall, have much faster acceleration than big wheels.
Smaller wheels will not last as long as big wheels and are more susceptible to getting stuck on small stones and cracks, but for street, the smaller the better. Anything larger than 60mm will require you to add risers under your truck to prevent wheel bite when pulling sharp turns.
Durometer
The durometer or hardness of your wheels has a vital part to play in overall feel too. Almost all skateboard wheels are made from polyurethane and their hardness is measured in durometer.
Most wheels generally measure between 75a and 104a, the lower number being the softest. In essence, a softer wheel will compress slightly when pressure is added, giving it slightly more shock absorption while a harder wheel will have almost no compression and far less grip.
For street skating, you'll want wheels on the harder end, around 99a, and anything harder is more suited toward park and bowl skating. Softer wheels are great for cruising as they have more grip, while harder wheels are faster and will give you far more awareness of what you are rolling over.
Also, hard wheels will respond directly to your movements, applying all of the pressure you exert to your trucks and deck and, in theory, giving you more pop. For beginners, you may want to opt for something on the medium side, allowing you to roll over stones and give you slightly more control of your board.
Profile
The profile or shape of your wheel will also affect your riding experience. In general, wheels for street come in 2 shapes: a rounded profile will slide easier, deliver great stability, and grip better while turning.
Flat profile wheels have the most urethane in contact with the ground and are thus resistant to wear and have great stability, but less turning capability and more risk of wheel bite.
Best Skateboard Wheels for Street — Reviews 2020
Now that you have a better idea of what to look for, here are our top 10 choices of skateboard wheels for street (in no particular order).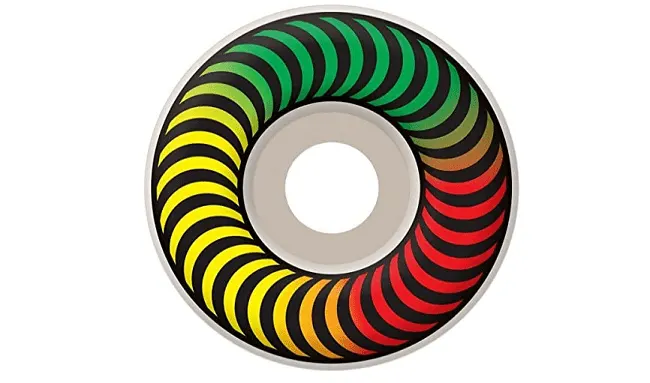 Our top choice overall for street skateboarding wheels are the Spitfire Classic Series. These wheels are a great place to begin your journey into choosing street wheels, as they are perfectly suited to most street situations, plus they are great for park and bowl skating too.
They have a smooth riding surface that is great for riders who like to slide, and the 54mm diameter and 99a durometer is a great middle-ground size and hardness. They are hand-poured and hand-shaped and crafted 100% in the USA.
It's difficult to fault these wheels, and the only downside may be the lack of tread — if you're not into power sliding or need more grip from a wheel, these are probably not for you.
Pros
Hand-poured and shaped
54mm diameter and 99a durometer
Smooth riding surface
Made in the USA
Cons
May be too smooth for some riders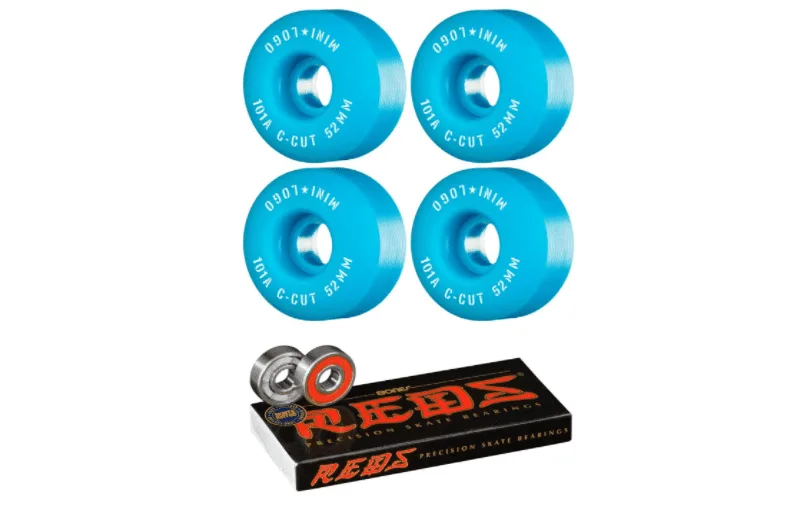 The A-cut Mini Logo skateboard wheels are our top choice if you're on a tight budget. With a 52mm diameter and a super hard durometer of 101a, they are fast and smooth and perfect for park skating too.
The A-cut shape has a side cut profile and wider contact area with the ground giving you more stability in a wide variety of situations. They are made with a unique Super-High Rebound formula that will outlast many other wheels on the market.
While these wheels are ideal for street, the narrow profile may be a bit difficult for beginners to learn on, and you may want to opt for something slightly wider.
Pros
52mm diameter
A-cut profile
Super-High rebound formula is long-lasting
Inexpensive
Cons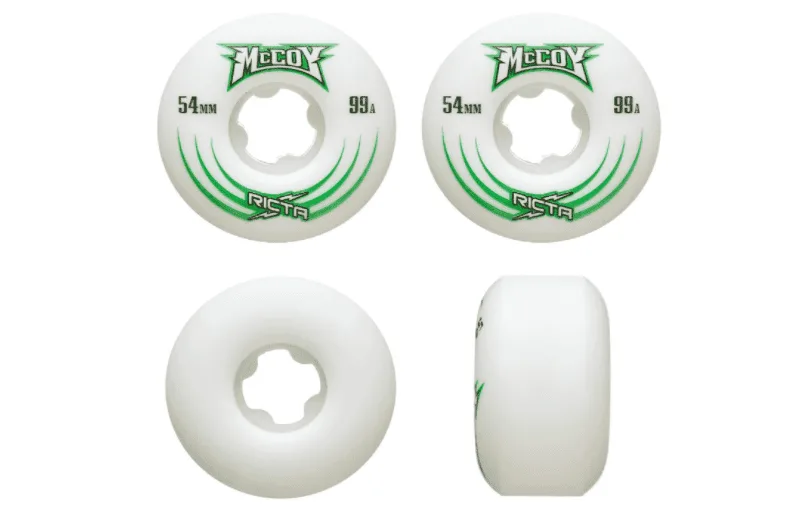 If you are looking for some of the best skateboard wheels for street out there, look no further than the Ricta McCoy Pro's, the signature wheel of pro skater Maurio McCoy.
These wheels have a diameter of 54mm and a durometer of 99a, the perfect size and hardness for street. They are crafted with Rapido urethane, a formula that Ricta describes as its most balanced for maximum speed and roll, and the longest-lasting urethane with fewer flat spots. Of course, this high quality comes with a high price tag.
Pros
54mm diameter and 99a durometer
Crafted with Rapido urethane
Long-lasting
Slim shape and profile
Cons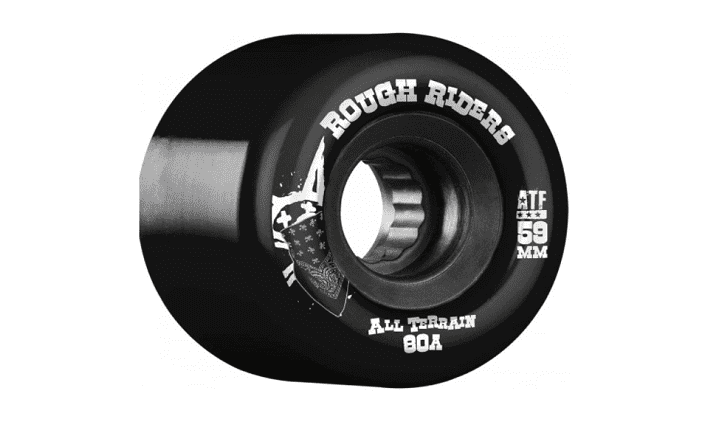 The Rough Riders from Bones Wheels are made with an all-terrain formula, making them able to go almost anywhere. They have a durometer of 80a and a diameter of 59mm, so offer great grip and size for cruising without having to worry about small sticks or cracks.
While these are not the traditional size or hardness for technical street skating, they are an ideal choice for beginners who are just starting to do tricks and want something grippy and easy to roll on — they are the perfect combo of harness for tricks and soft enough for rolling.
If you are strictly into street skating, these wheels will be both too big and too soft for big drops, grinds, and complicated flips.
Pros
Made with a specialized all-terrain formula
59mm diameter and 80a durometer
Ideal for cruising and street skating beginners
Classic Bones look and feel
Cons
Not ideal for street skating purists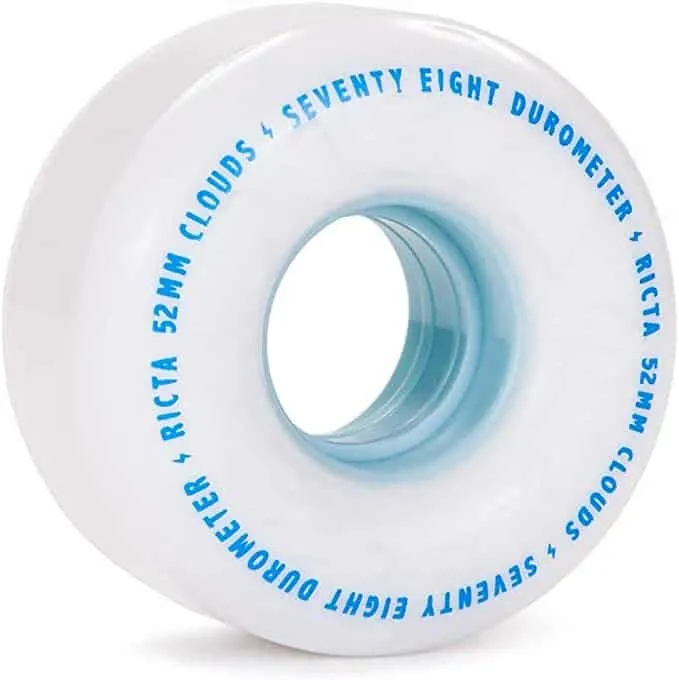 The Cloud series from Ricta is lightweight, has a classic shape and design, and has the quick acceleration needed for street. They are 54mm in diameter and have a durometer of 92a, soft enough to give you grip when you need it and absorb some shock, but hard enough to withstand the punishment of rough terrain.
They are crafted with an NRG Hi-Energy urethane formula by one of the best wheel manufacturers on the planet. There is little to fault with Ricta wheels, and the only downside may be the high price.
Pros
Lightweight
54mm diameter and 92a durometer
Crafted with an NRG Hi-Energy urethane formula
Great grip
Cons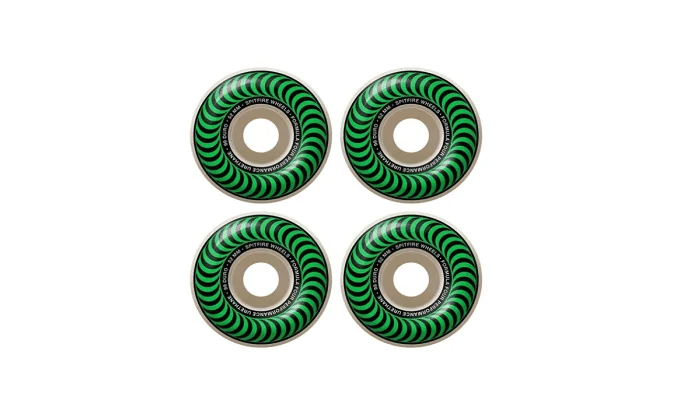 The Formula Four wheels from Spitfire feature a classic design with several color options to choose from. The formula four urethane is made to last and can withstand the abuse from street skating better than most other wheels on the market.
This 100% pure urethane compound construction means fewer flat spots and less wear. They are designed with an exclusive anti-stick compound that will give a fast and smooth ride, and the 54mm diameter and 101a durometer is the ideal blend for street.
The only drawback of these wheels is that they are expensive, although worth every penny.
Pros
Formula four urethane construction
Feature an anti-stick compound
54mm diameter and 101a durometer
Long-lasting
Cons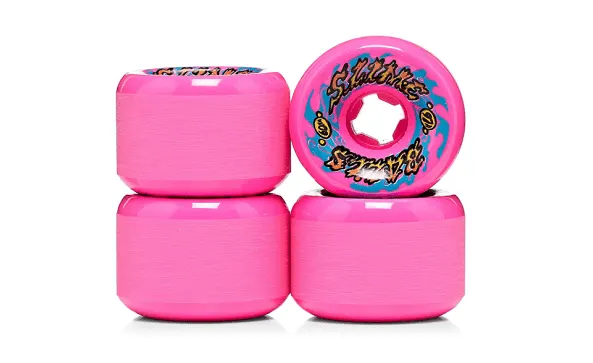 The Slime Balls from Santa Cruz are classic in skateboard history, and they have now been reissued from the original molds and with the original graphics that Santa Cruz first offered them in.
The Gooberz have a 97a durometer and 60mm diameter that is perfect for cruising the streets, bowls, and skateparks, with a no-flex radius lip design. They are fast and grippy, but hard enough to slide if needed too. While they are not 100% street skating wheels, they are great for beginners.
These wheels are a classic but may not be suited to modern technical street skating as they are heavy and difficult to flip and grind with.
Pros
Original classic design
60m diameter and 97a durometer
No-flex radius lip design
Great for beginners
Cons
A bit large for pure street skating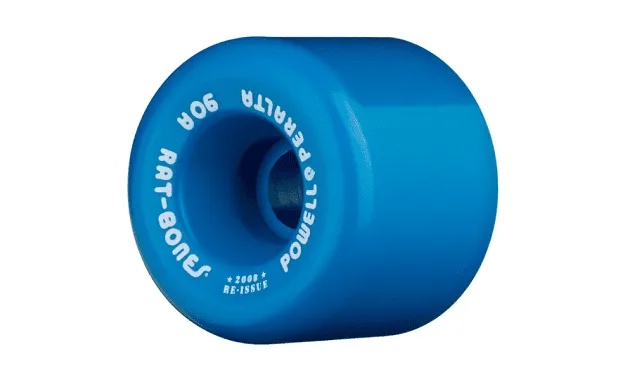 Another classic re-issue, the Rat Bones wheels from Powell Peralta harken back to the time when 60mm was the standard size for street wheels. The wheels come in a variety of colors, including black, white, and blue, and have a durometer of 90a.
This makes them soft enough for cruising but hard enough to break out some tricks too, and perfect for pool and park skating. The wider, 44mm width will give you ultimate stability at high speeds, just be sure to put some risers under your trucks to avoid wheel bite!
These wheels are fairly large and thus heavy, making them a bit tougher for flip tricks and grinds, and they won't give you the quick acceleration of smaller wheels.
Pros
Classic design
60mm diameter and 90a durometer
Ideal hybrid street wheel
Added stability and speed
Cons
Flip tricks may be more of a challenge
Fast, but slow acceleration compared to smaller wheels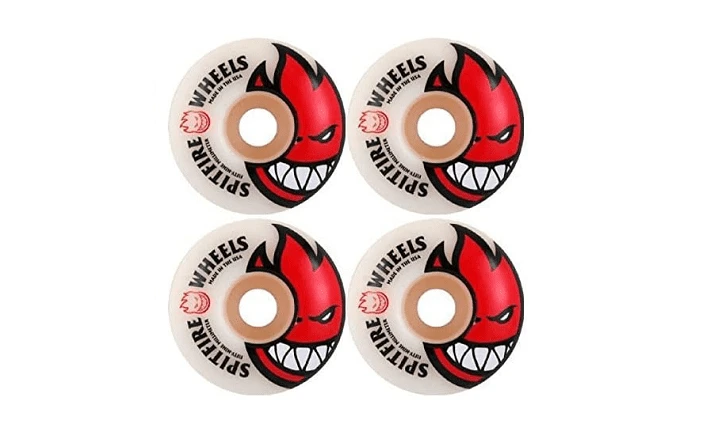 The Spitfire Bigheads come in a few different sizes, but the 52mm is in the perfect pocket for the street with the standard 99a durometer. Spitfire makes some of the best wheels on the planet, and these are no exception.
They are reliable, smooth, don't wear out or get flat spots easily, and ideal for street, parks, and even bowl skating. They are treaded for ultimate grip where you need it most, and once the tread wears, they are still smooth and natural feeling.
These wheels are almost impossible to fault, although may feel slightly unstable for riders used to bigger wheels.
Pros
Classic design
Ultra-Durable
Treaded for extra grip
99a durometer
Cons
Not ideal for bowls or vert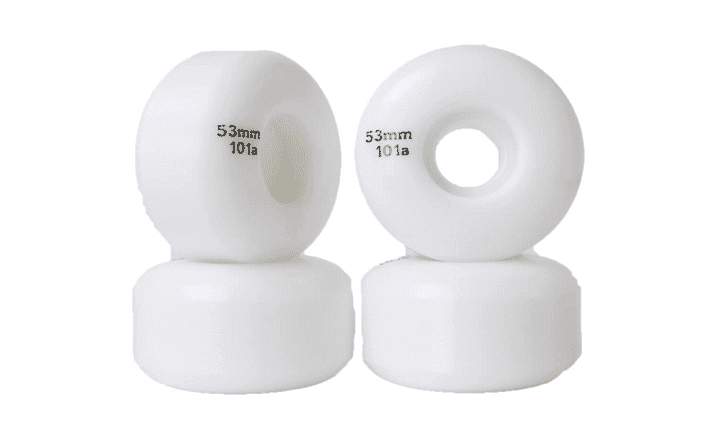 If you are on a budget and don't skate often, these Super Blanks may be a good choice. At 53mm in diameter and 101a durometer, they are a great middle-ground for a beginner or casual skaters.
These wheels are as simple as it gets, with no complicated graphics and plain white coloring — the perfect affordable, no-frills wheel that can hold their own with some of the bigger brands.
Some skaters report that the wheel feels more like a 90a rather than the stated 101a, and they definitely won't last as long as reputable brands.
Pros
Inexpensive
53mm diameter and 101a durometer
Plain white and no graphics
Cons
Wheels are softer than stated
Not long-lasting
FAQs
Can I use big wheels for street?
Technically, you can use any wheels you want for street — large, small, hard, soft, it's all about your personal preference. That being said, big wheels are heavier and bulkier, making it far more difficult to flip your board, do grinds, and you are far more likely to get wheel bite.

While big wheels are faster overall, small wheels have faster acceleration initially, ideal for street and park tricks. Big wheels are ideally used for longboards, pools, and vert, or cruising, and for street, the biggest you want to go is around 60mm.

This a great size for beginners as your less likely to get caught up on stones and they'll give you more stability, but once you start doing more complex tricks, you'll soon see the rationale behind smaller wheels.
When should I replace my wheels?
This is a highly subjective question, however, if you ride every day and are hard on your wheels (flipping a ton, doing a lot of stairs or gaps, etc.) you'll probably need to replace them every 4-6 months. Rotating your wheels regularly will help prolong their life and they'll wear out more evenly. Of course, if you have any chips or flat spots, it's high time for a new set!
When do I need risers?
With wheels that are the typical size for street, around 50-55mm, risers are not necessary. When you start putting bigger wheels, anything around 60mm and up, you'll need to fit risers as the smallest turn will likely result in wheel bite.
Conclusion
There is a lot that goes into the perfect skateboard wheels for the street, but in essence, you want a wheel that is the ideal size and softness for your personal style.
Street skating is a progressive art form, and every skater has their personal preference with their own unique style. The best way to find the right wheels for you is trial and error — you may get lucky and find wheels you dig almost instantly, for others it may take years.
Our top recommendation is the Spitfire Classics. This is a brand and wheel that you can't really go wrong with, and they are long-lasting too.
All in all, street wheels are typically small and hard, and as durable as possible. To find these qualities, we recommend sticking with the brands that have stood the test of time and make the best wheels on the planet. Hopefully, our reviews and guide have helped you find the best street skating wheels for your unique needs.