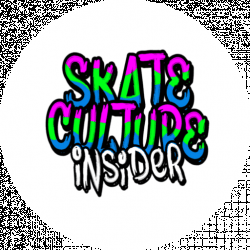 Latest posts by Skate Culture Insider Team
(see all)
As all skateboarders know, skating is tough on your shoes — from constant contact with the tar on the undersole, to the abuse from ollies, kickflips, and nollies, the shoes you choose need to be tough enough to withstand the constant attack from grip tape.
Not only do they need to be strong, but your shoes need to be comfortable and supportive too. Skateboarding is notoriously hard on your body, not least your feet, and you'll need all the support you can get. Lastly, the aesthetic of the shoe you choose needs to match your unique personality and style of skateboarding.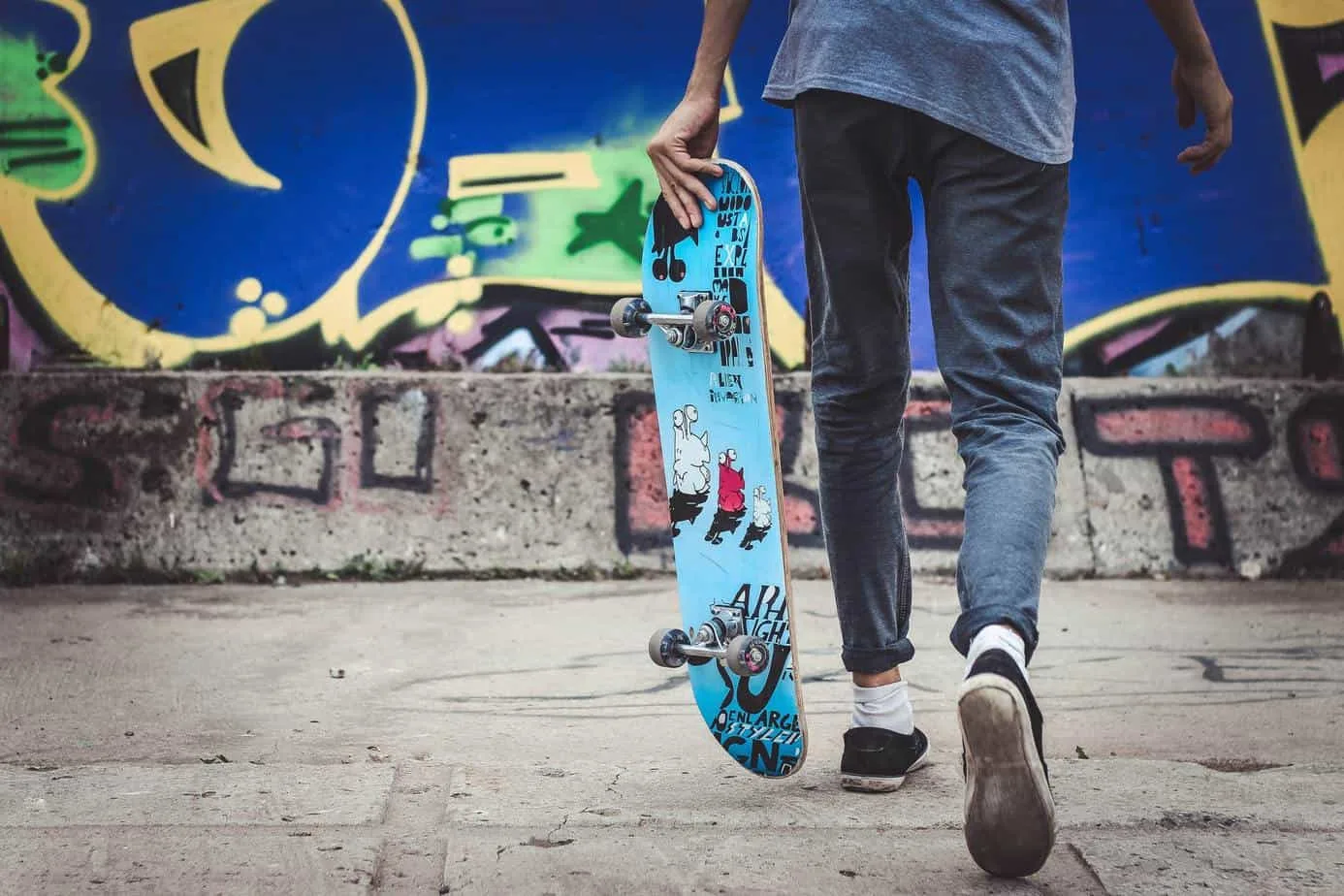 With the ever-growing popularity of skateboarding these days and the consequent explosion of products, it can be difficult to choose the right shoe to suit your unique needs. We've done all the heavy lifting and rounded up the best 21 skateboard shoes we could find so you can spend less time researching and more time shredding!
How to choose the right skateboard shoes
When choosing the right skateboarding shoes there are three critical points to consider: durability, comfort, and style. The right skateboard shoes will increase your grip and thus help you better perform tricks, absorb shock from big drops, and help prevent injuries.
While most skaters tend to fall back on classic brands like Etnies, DC, and Vans, there has been a huge uprising in shoes from brands like Nike, Adidas, and Converse wanting a piece of the fast-growing skateboard market. These industry newcomers have had a ton of catching up to do and have thus made some exciting and noteworthy innovations to the classic styles. They have also swept up some massive names in the skateboard industry to prove their worth, notably Nyjah Huston with Nike SB and Dennis Busenitz with Adidas both having signature brands with these companies.
Soles
One of the most important parts of any skateboard shoe is the sole. The soles will dictate how much grip you have, absorb shock and impact, and help effectively perform tricks. Some shoes come with extra heel support and extra insoles for adding shock absorbance, but then you are compromising on feel and connection with your board. When it comes to soles it's all about balance — they need to be cushioned enough to absorb impact but thin and flat enough for optimal freedom of movement.
Most skateboarding shoes are divided into two camps when it comes to soles: cup soles and vulcanized soles. In general, cup soles will offer more heel and foot protection and are more durable, but there is more space between your foot and your board and consequently less "boardfeel." Vulcanized soles are more flexible with a thinner sole and offer a lot more boardfeel but are less supportive and offer less impact absorption.
High tops or low tops?
High top skateboard shoes offer more padding and protection around the ankle. These are especially great for flat-ground tricks and protecting your ankles from a spinning board. However, high tops offer less freedom of movement and do not allow your feet to breathe as traditional low tops do.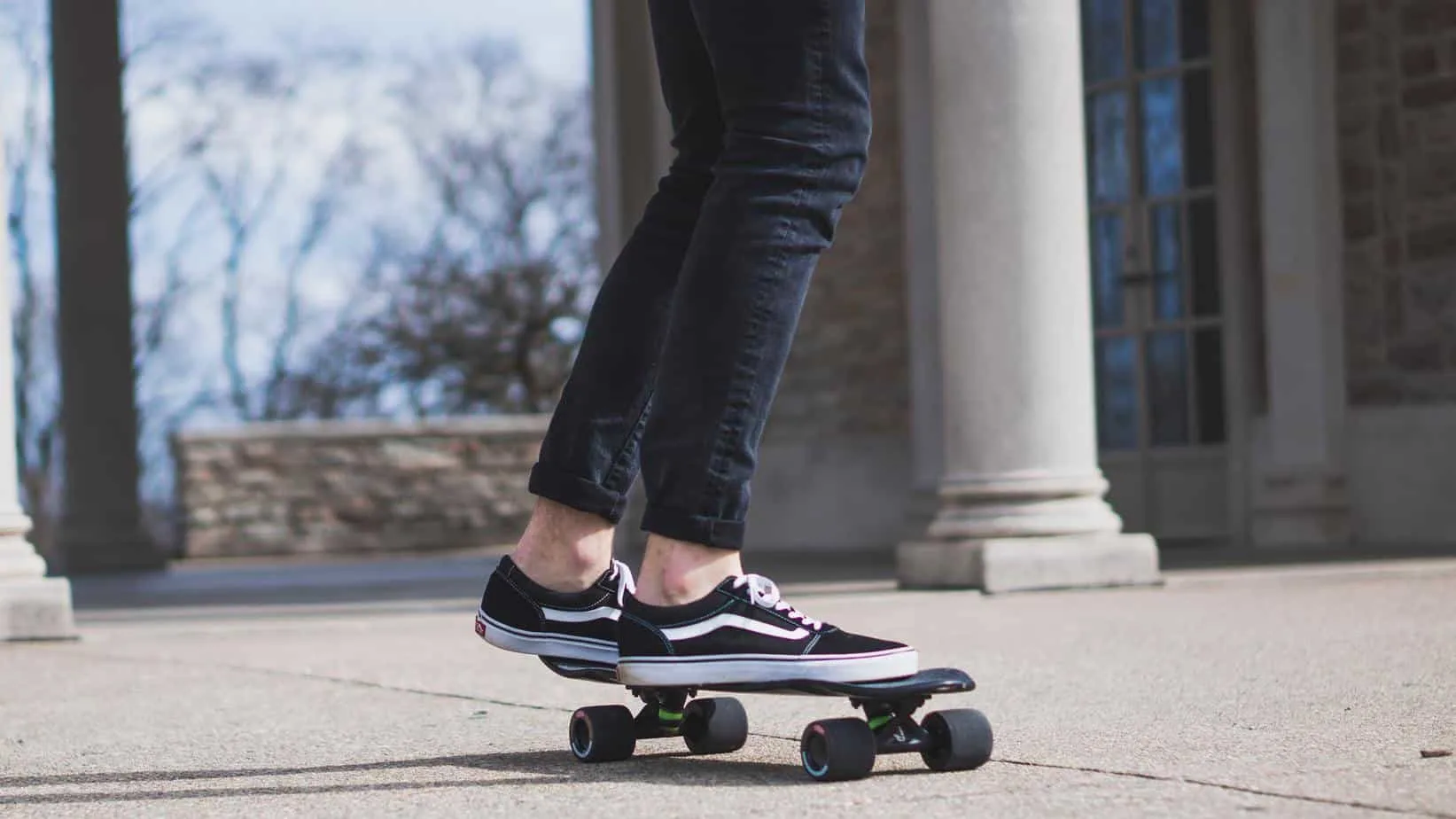 Low tops will allow for ultimate freedom of movement and ankle rotations, plus they are lighter than high top shoes. Unfortunately, with this freedom of movement, you are compromising the ankle protection offered by high tops.
If you are still unsure, there is a middle ground too! Mid tops will offer a reasonable amount of ankle protection while not fully compromising on freedom of movement.
Toe caps
Your skateboard's grip tape will eat through standard shoes in no time, and many skateboard shoes come with a rubber material wrapped around the toe to help them last longer. Ollies and kickflips are especially damaging to the toe of your shoes. Toe caps provide protection from grip tape and will definitely make your shoes last longer, but they will give you less board feel and will slide differently on your grip to the way traditional shoes do.
Suede or canvas?
These days most top shoe manufacturers use suede for their skate shoes. Suede is durable and long-lasting, lightweight, and offers the greatest amount of boardfeel over leather or canvas. Canvas shoes will wear out in no time against grip tape, and leather is bulky and heavy and will not allow you to feel your board like suede does. Unfortunately, suede does attract dirt and grime more easily, but there is no avoiding this in skateboarding anyway.
No matter the material you choose, all shoes will wear down eventually. If you skate for hours on end every day, even the best shoes will last you 5-6 months if you're lucky.
Style
The type of skateboarding you prefer will hugely dictate what type of shoes you should buy. Street skating is the hardest on shoes, as they are constantly in contact with grip tape. Vert or transition skating is similar, but you spend a lot of time sliding down the ramp and so shoes with rubber toe caps are ideal. If you prefer to just cruise down the street, a solid comfortable shoe with a good grip on the undersole is all you need.
The Top 5 Skateboard Shoe Brands
There are a ton of different brands of skateboard shoes to choose from these days, all of which have their Pros and Cons. However, there are a few names that have cemented their place as some of the best around, from their association with top skateboarders, attention to detail, and durability.
Nike SB
Nike SB (skateboarding) is a relative newcomer to the skateboard shoe scene but has been one of the top shoe brands in the world for decades. When the SB branch of Nike first appeared on the scene in the late 1990s, it was met with some trepidation and even disdain by the skating community due to Nike's long association with mainstream sports.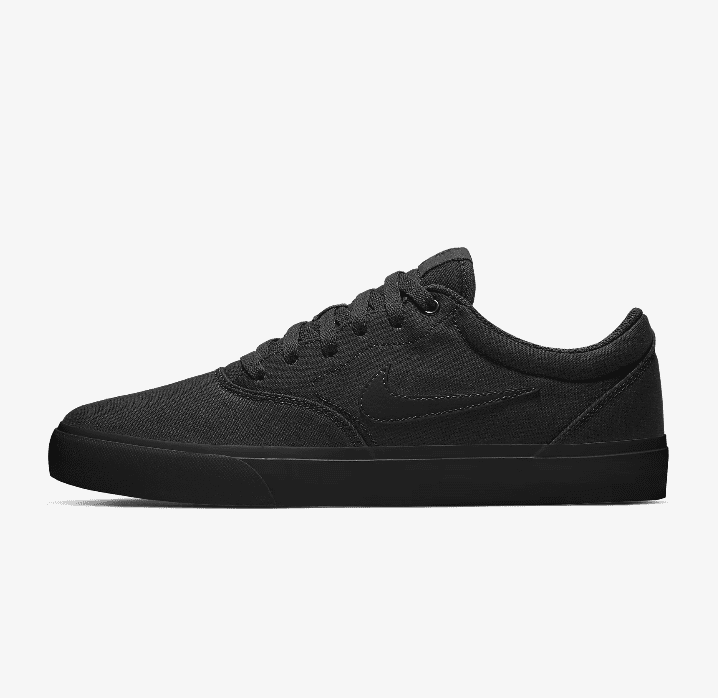 However, Nike has succeeded in bringing skateboarding to a wider audience and has proved it can make some of the best skate shoes on the planet. Nike's association with some of the best pros around including Nyjah Huston and Stafan Janoski doesn't hurt either!
Vans
It's impossible to think of skateboard shoes or skateboarding in general without Vans coming to mind. The Californian label has done more than almost any other company to elevate the status of skateboarding and practically invented the whole concept of a specialized skateboard shoe. Vans has also successfully crossed over into the wider fashion world, with styles like the Old Skool shoe becoming classics both in skating and contemporary culture.
adidas Skateboarding
Another company with a rich history of making some of the world's best shoes, adidas took its three stripes to the skateboarding world in the late 1980s. adidas make shoes that have the classic simplistic style of the company with a lightweight, comfortable, and highly durable twist. The company has a team of some of the best pros in the world, including Mark Gonzalez, Daewon Song, and Dennis Busenitz.
DC
Started by the iconic rally driver Ken Block, DC shoes has a long association with not only skateboarding but extreme sports in general. The company's claim to fame was the bulky skate shoe that became popular in the 1990s which became the blueprint of what a skate shoe should be for a long time.
Converse
Another popular sports brand that has crossed over into the skate world, Converse has been making some of the most iconic sneakers for well over 100 years. The Chuck Taylor All-Star is one of the most recognizable shoes around and has been updated for inclusion into skating. The brand has an impressive roster of skateboarding pros too, including Louie Lopez.
The 21 Best Skateboard Shoes 2020 (My Top Picks)
Best Overall
1. adidas Campus ADV
Our top choice overall for skateboard shoes, the Campus ADV from adidas blends a classic aesthetic with modern technology to make a shoe that is comfortable, lightweight, and supportive. Featuring protective and comfortable cup soles and a Geoflex outsole, these shoes offer a great amount of boardfeel without compromising on protection or heel support. The shoes feature a double-layer suede construction and are some of the toughest shoes on the market.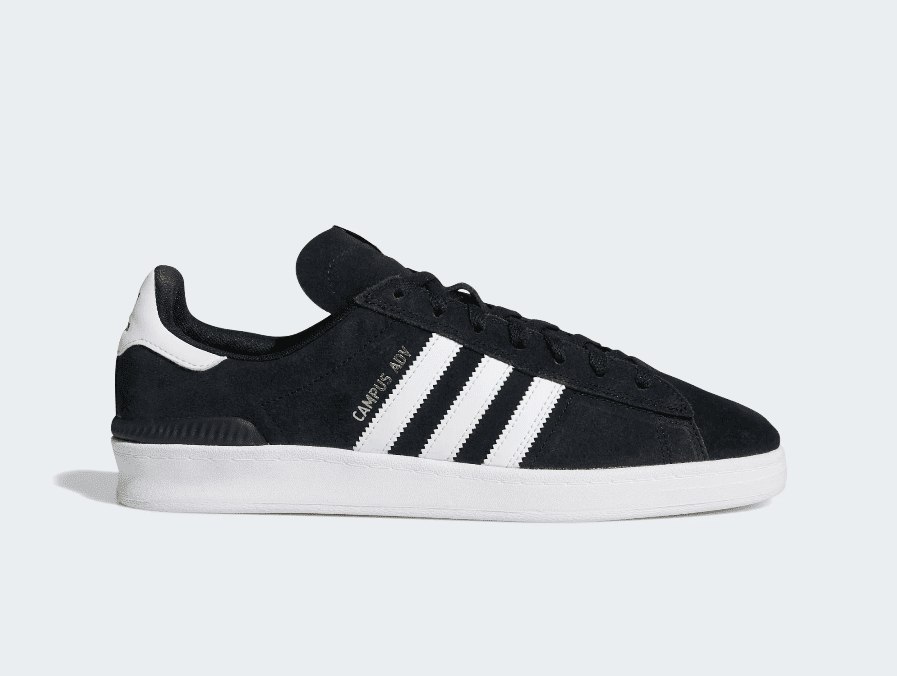 Unfortunately, these shoes are not cheap. That being said, they are incredibly comfortable and will outlast most other shoes at a similar price point.
Pros
Comfortable
Great boardfeel
Durable double suede construction
Great aesthetic
Cons
Most Durable Skateboard Shoes
Sick of holes in your shoes after only a month of skating? If you are looking for the longest-lasting skateboarding shoes money can buy without compromising on board feel, we put together the 5 toughest we could find.
2. Vans Gilbert Crockett Pro
The Gilbert Crockett Pro skateboarding shoes from Vans are our top choice for the most durable and long-lasting shoe on the market. The shoe is designed to put up with all the punishment that street skating can deliver. It is made with a combination of durable suede and canvas upper for a lightweight shoe that can still take a beating, and a solid, strong, and durable yet lightweight sole.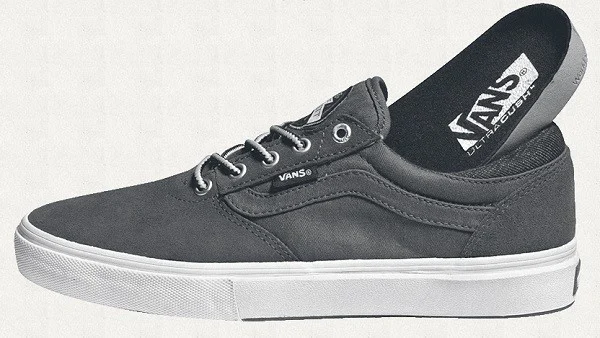 The shoe has a slim Ultracrush footbed that will give you great boardfeel yet sufficient comfort and protection.
Some skaters have found the stitching coming apart after only limited use in these shoes, but this is likely due to a faulty factory batch in which case Vans will gladly replace them. You can expect these shoes to last at least 5-6 months of casual skating.
Pros
Made from suede and canvas upper
Lightweight and comfortable soles
Slim "Ultracrush" footbed
Long-lasting
Cons
Some pairs have some stitching issues
3. DC Shoes Wes Kremer
The second iteration of the Thrasher's 2014 "Skateboarder of the year" Wes Kremer's DC signature model, this shoe is as stylish as it is durable. The low top vulcanized shoe can be laced up and easily slipped on according to your needs and is constructed from DC's super suede upper.
The toe cap features an abrasion-resistant screening that is perfect for flip tricks and the extra layer creates a stylish aesthetic too. Board grip is no issue with this shoe — DC's classic pill-patterning provides a comfortable grip throughout the sole of the shoe.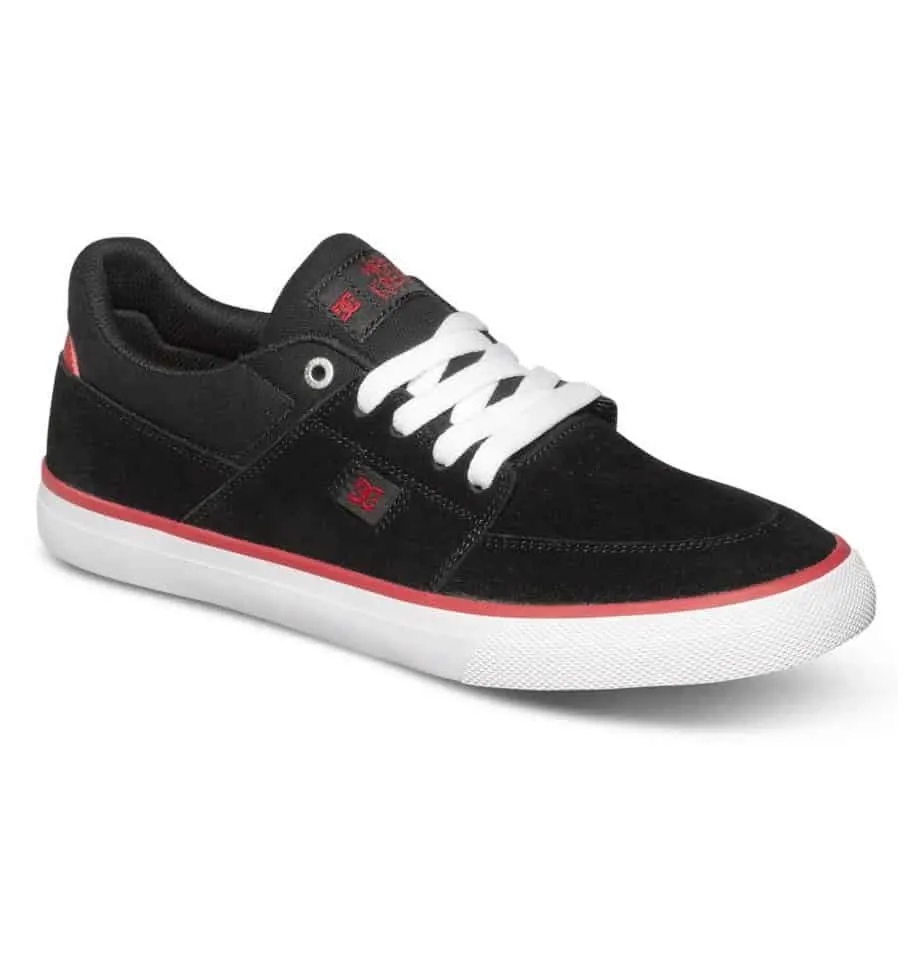 While these shoes are durable, the thin-line design may be uncomfortable for skaters with wide feet, and they don't provide the support of a cup sole design.
Pros
Vulcanized sole
Can be laced up or slipped on
Abrasion-resistant toe cap screening
Classic DC pill-patterned sole
Cons
May be too thin for skaters with wide feet
Very little heel support
4. Nike SB Dunk Pro
The Nike SB Dunk Pro was initially designed as a basketball shoe — hence the name — but they were quickly adopted by skaters due to their comfort and durability. Nike SB adapted the classic design for skateboarding and the SB Dunk Pro shoe was born. It has a cupsole design for heel support and mid-top design for added ankle support, plus a padded tongue. Made from a combination of suede and leather uppers, these shoes have become iconic due to their long-lasting capability.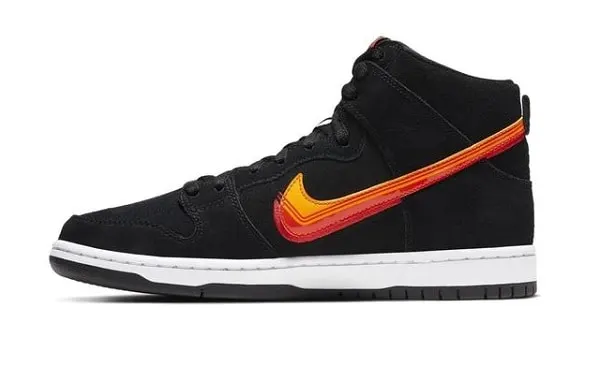 While most will agree that you get what you pay for, these shoes are expensive. Additionally, the stiff leather design tends to crease quickly making the shoe appear old after only a few sessions. Appearances aside, these shoes will last longer than almost any other model.
Pros
Supportive cupsole design
Padded tongue
Made from strong leather and durable suede
Flexible rubber outsole
Cons
Expensive
The stiff leather creases quickly
5. Converse Chuck Taylor All Star Pro
Featuring a classic look and aesthetic recognizable the world over, the Converse Chuck Taylor All Star Pro's classic design has been slightly updated and modified to make it one of the most durable skate shoes around. The shoe has CX foam insoles for optimum comfort and vulcanized construction for flexibility and unsurpassed boardfeel.
The upper material is backed with rubber for enhanced durability, and the toe features a rubber layer right where you need it most. These shoes are affordable, have a classic aesthetic, and are about as tough as they come.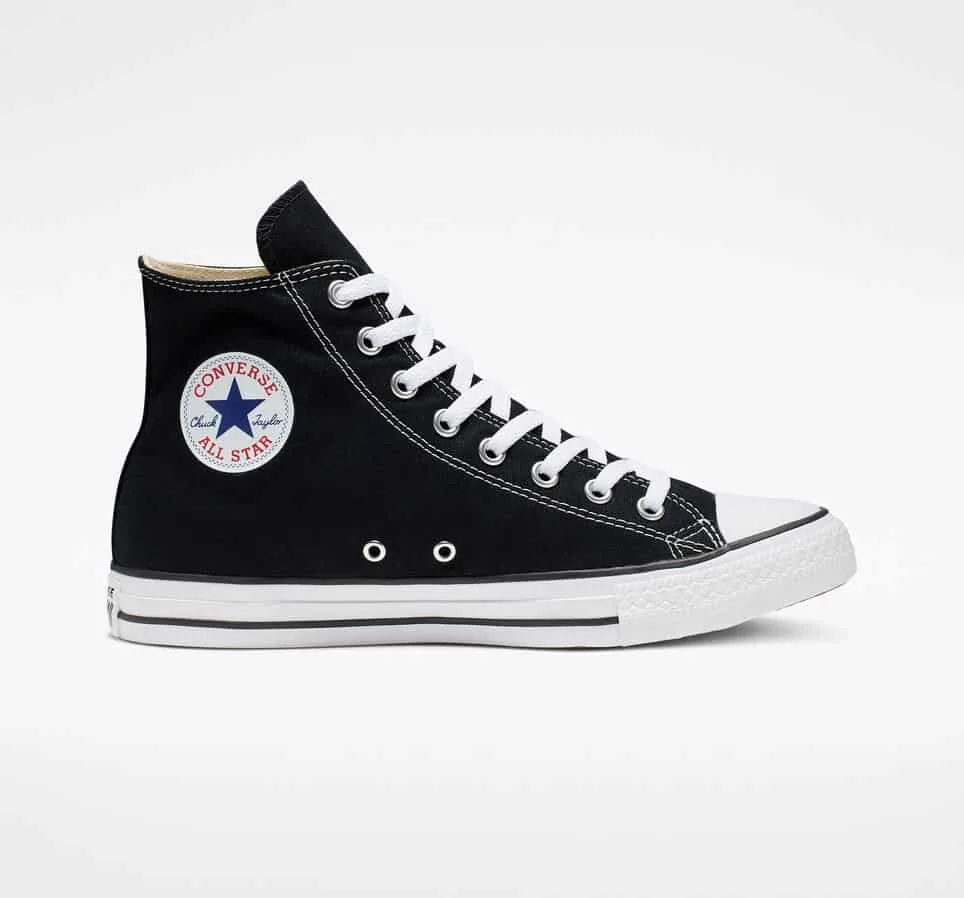 All Stars don't offer much in the way of support, though, and many skaters complain of blisters after using these shoes for extended periods.
Pros
Classic look
CX foam insoles
Vulcanized construction
Rubber-backed uppers
Rubber toe cap
Cons
Not very supportive or padded
May cause blisters after extended use
6. adidas Superstar Skate Shoes
An instantly recognizable classic design from adidas, the Superstar was born from basketball and one of the first adidas shoes adapted to skateboarding. The shell-toe design is about as durable as it gets, ideal for flip tricks and vert skating. The cupsole design offers optimum heel support and the classic herringbone design on the undersole will keep you glued to your board. The durable upper is made from leather with the classic 3-strip adidas design.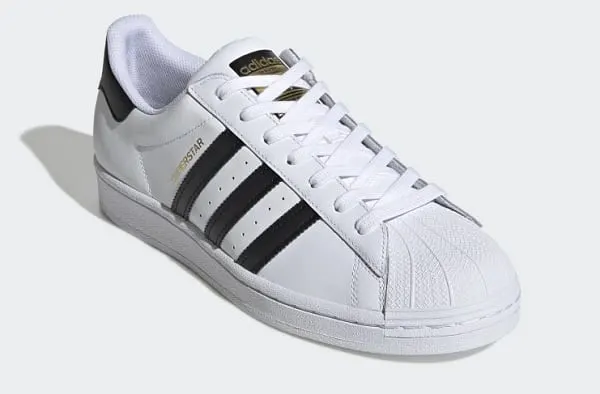 The cupsole design and shell toe may be durable, but aren't very flexible and don't offer much boardfeel. The leather uppers make the shoe a bit heavy for some skaters too.
Pros
Durable shell-toe design
Classic aesthetic
Supportive cupsole design
Herringbone patterned undersole
Cons
Not very flexible
Limited boardfeel
Comparatively heavy
Best Price
Skateboarders the world over know how hard skating is on your shoes, and you can rip through a pair in a matter of months. If you don't want to compromise on quality but still have a budget to stick too, check out our selection of the most affordable yet high-quality skateboarding shoes below.
7. Emerica G6 Provider
If you are looking for a durable and comfortable skate shoe but don't want to break the bank, the G6 Provider from Emerica is the best skateboard shoe for the money. These shoes feature a drop-in footbed that is both lighter and has higher memory retention than the previous model's foam, giving it optimum impact protection without losing precious boardfeel.
The soles are vulcanized for ultimate protection and flexibility and feature a classic triangle tread pattern for grip where you need it most.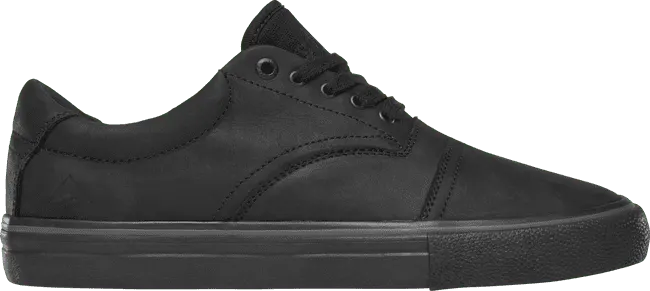 Bear in mind that these shoes are fairly thin and so may cause some pain if you have wide feet, and they also stain very easily.
Pros
Inexpensive
Light memory foam footbed
Vulcanized soles
Triangle tread pattern
Cons
Fairly thin profile
Stain easily
8. Nike SB Team Classic
Whether for skateboarding or other sports, Nike shoes are not cheap. The SB Team Classic aims to change that though, and this shoe gives the well-known Nike quality at an affordable price.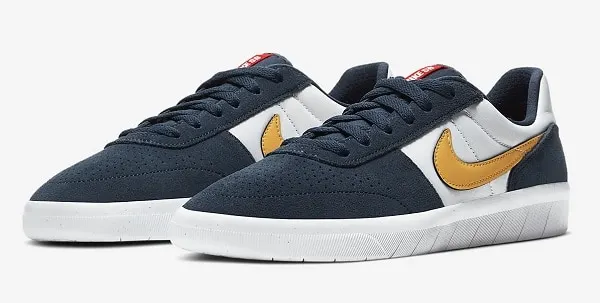 The uppers are made from tough suede with a reinforced toe for added durability, and the classic design and one-piece seamless liner offers supreme comfort. The cupsole design will give you great heel support and impact absorption, and the outsole features decreased rubber for less weight and thus more flexibility.
These shoes are difficult to fault, and the only downfall may be the lack of boardfeel from the cupsole design.
Pros
Great brand at an affordable price
Tough suede uppers
Reinforced one-piece toe box
One-piece seamless liner
Cupsole design
Decreased rubber in outsoles
Cons
Less flexibility and boardfeel from the cupsole design
9. Emerica Romero Americana
The Emerica Romero Americana features a classic skateboard shoe design, which is what pro skater Leo Romero wanted to bring to his signature model shoe. Featuring Emerica's G6 insoles and a cupsole design, this shoe perfectly walks the thin line between durability and boardfeel. The shoe also features a unique heel anchor system and an arc-shaped foam padding that wraps around your ankle to keep your shoes locked on and comfortable.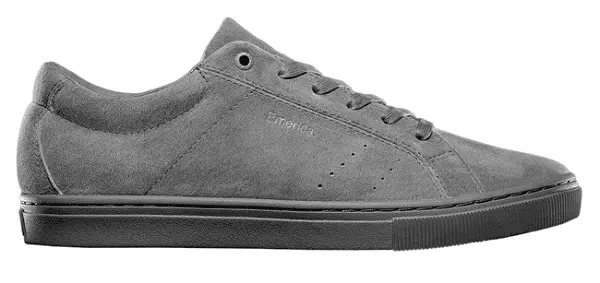 Some skaters complain that the inside padding of this shoe is sparse and gets worn down quickly. The cupsole design takes some breaking in before feeling really comfortable, and there is little in the way of toe protection too.
Pros
G6 insoles
Cupsole design
Unique heel anchor system
Cons
Little interior padding
Padding wears down quickly
No toecap protection
10. Vans Era Pro
The classic design of the Vans Era Pro has been updated to cater for the rigors of skating, creating a lightweight and affordable shoe that can still hold its own. The shoe can be easily slipped on or strapped in tight with the limited lacing, and the vulcanized design will offer great board feel and flexibility. Plus, the shoe has a padded tongue and collar for added comfort and a Duracap toebox for protection during ollies and flips.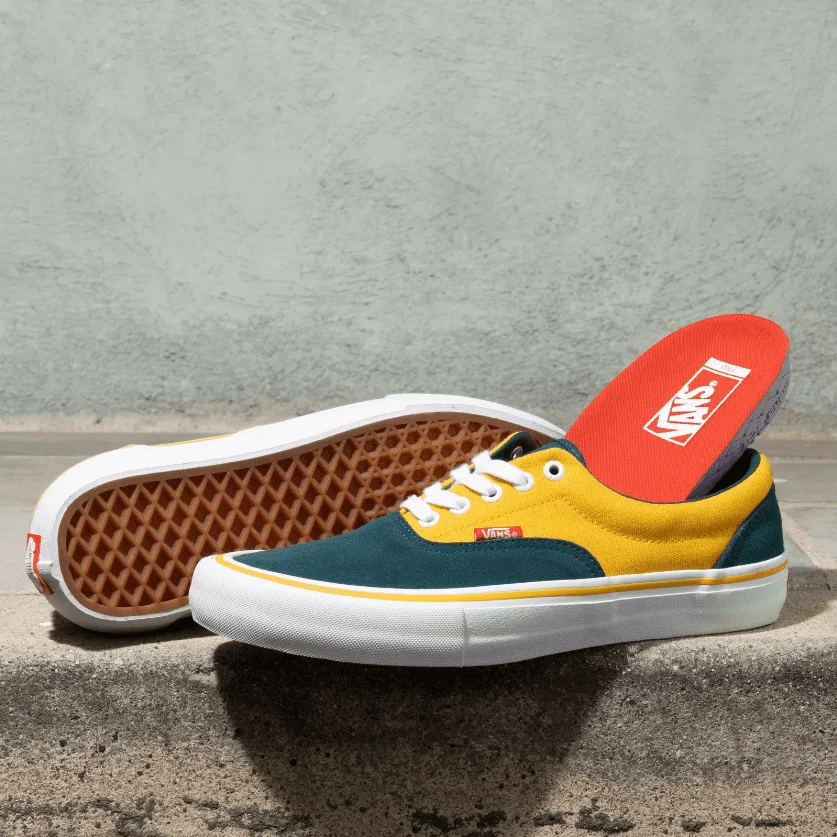 The vulcanized shoe design doesn't offer much in the way of heel and ankle protection, and the toebox and sole may not last very long with a lot of skating. That being said, this is one of the best-selling skateboard shoes on the market, and for good reason.
Pros
Lightweight and affordable
Slip-on or lace-up
Vulcanized design
Padded tongue and collar
Duracap toebox
Cons
Cupsole design is not very supportive
Not as durable as other skateboarding shoes
11. DC Kalis LE
The signature shoe of pro skateboarder Josh Kalis, The DC Kalis LE features a limited-edition color combination while sticking to the classic design and feel of the shoe that made it so popular. It features a single piece, stitch-free toe design for even and consistent wear, and an abrasion-resistant outsole for long-lasting durability. A cupsole design provides the ultimate impact protection, and the unique OrthoLite insoles are specially designed to absorb impact too.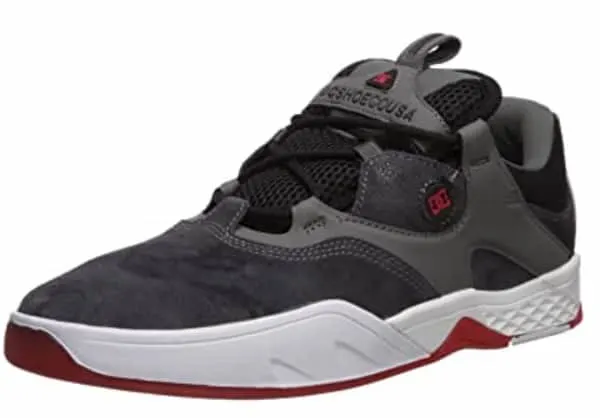 Some skaters feel the toe is a bit thin in the upper section, which can cause pain after a long session. The shoe also takes a while to break-in, and the cupsole design has limited boardfeel and flexibility.
Pros
Single-piece, stitch-free toe design
Abrasion-resistant outsole
Cupsole design
OrthoLite insoles
Cons
Maybe a bit thin for some skaters
Takes a while to break-in
Limited boardfeel
Best Boardfeel
Is boardfeel important to you? If you don't want to lose the precious connection to your skateboard while doing tricks, the following are the shoes with the most boardfeel we could find, perfect for technical tricks yet still comfortable and stylish.
12. DC Hyde S
Moving away from the bulky look that made DC's so popular, the Hyde S shoe gives you durability with sacrificing on boardfeel. The Hyde S is made with DC's unique Supersuede uppers, a single piece toebox, and a durable ghille lacing system to provide protection for your laces and make them last longer. The vulcanized sole will give you ultimate boardfeel and the outsole is fitted with DC's Impact-I inverted cone technology to absorb heavy impact.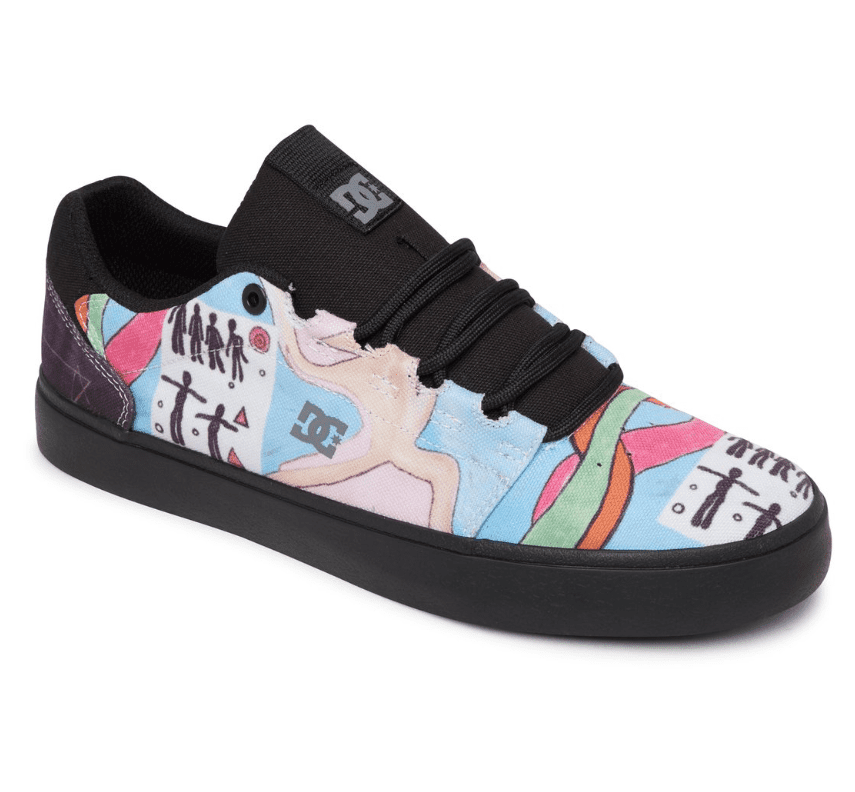 This shoe is a great choice of vulcanized shoe and is difficult to fault. The only downside may be the lack of protection and impact absorption from the vulcanized sole
Pros
Supersuede uppers
Single piece toebox
Ghille lacing system
Vulcanized sole design
Impact-I inverted cone outsole
Cons
Lack of protection and impact absorption
13. Emerica Dickson G6
The lightweight Dickson G6 from Emerica is pro skater Jon Dickinson's first signature shoe. It has a vulcanized sole for ultimate boardfeel and double-wrapped foxing tape for grippy flick when doing tricks. A classic triangle tread will ensure you stick to your board and the G6 insole and padded collar will provide ultimate comfort. The upper features a Slick Shield underlay for added protection during flips and ollies and a one-piece toe construction.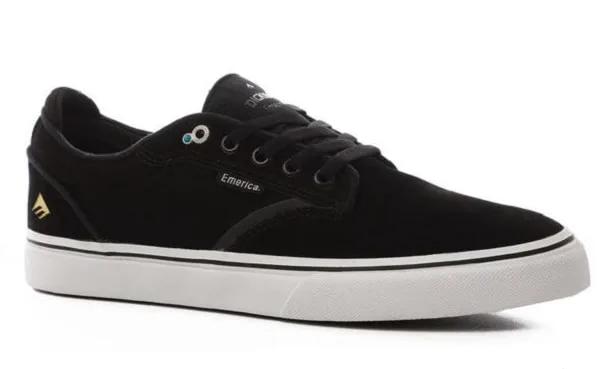 Some skaters have reported that this shoe starts to fall apart quickly after heavy use, and while it offers great boardfeel it may not last as long as you'd like.
Pros
Vulcanized sole
Double-wrapped foxing tape sole
Triangle tread
G6 insole and padded collar
One-piece toecap
Cons
14. Etnies Joslin Vulc
The Joslin Vulc from Etnies features a vulcanized sole and Michelin outsole — a custom outsole design from the tire manufacturer than is reported to last 3 times longer than traditional soles. The toe upper features a rubber underlay that will allow you to keep skating even after wearing through the toebox, and the Pro Foam insole provides both comfort and impact protection.
The one-piece toebox will wear evenly and is stitchless to make it last longer, plus the rubber heel bumper adds extra heel stability and protection during heel tricks. These shoes are made to last!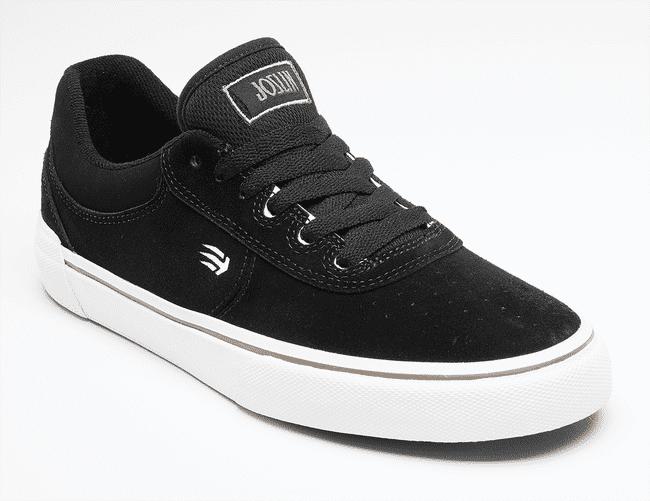 The walls of these shoes are very thin and don't offer much ankle and foot protection, and the heel feels hard and abrasive. The top edge of the opening will likely fall apart quickly as it is cut and not curled in or padded.
Pros
Vulcanized sole
Michelin outsole
Rubber underlay toebox
Pro Foam insole
One-piece toebox
Rubber heel bumper
Cons
Very thin walls
Hard heel due to the added bumper
Cut-top opening
15. adidas Busenitz Vulc II
The second iteration of the legendary signature model adidas shoe from Dennis Busenitz, the Vulc II keeps its classic aesthetic while being updated with performance-enhancing features. The outsole is now equipped with a Geoflex tread to provide more flexibility and lasting grip, and the abrasion-resistant one-piece upper is reinforced with adidas's unique AdiTUFF underlay for extended use, even after breaking through the upper.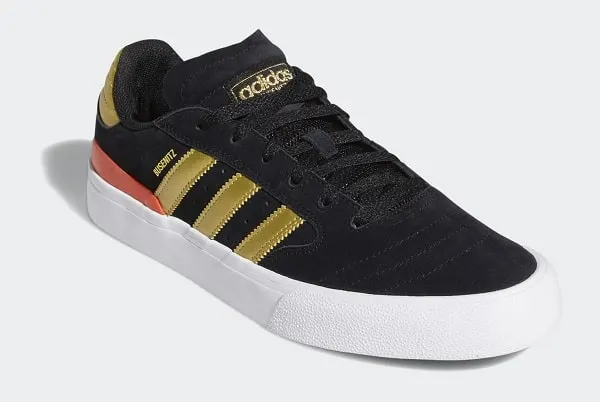 The Geofit lining on the collar and the AdiPRENE sock liner makes the shoe comfortable for all-day skating. It's almost impossible to fault these shoes, and the only drawback may be the higher than average price tag.
Pros
Geoflex tread outsole
Abrasion-resistant one-piece upper
AdiTUFF underlay toebox
Geofit collar lining
AdiPRENE sock liner
Cons
16. Nike SB Zoom Blazer Mid
The Nike SB Zoom offers great boardfeel and classic style. The mid-top design offers ankle support and protection and the vulcanized sole provides optimal boardfeel. The unique Nike Zoom Air sock liner has unsurpassed responsive cushioning and the outsole features a tacky rubber construction that is flexible and provides grippy traction.
The classic herringbone tread ensures you'll stick to your board and the elastic gusseted tongue allows you to wear the shoe like a slip-on when the laces are removed.
These shoes are expensive, and the vulcanized design may offer great boardfeel but won't last as long as some of the other shoes out there.
Pros
Vulcanized sole
Mid-top design for ankle support
Nike Zoom Air sock liner
Tacky rubber outsole
Herringbone tread
Elastic gusseted tongue
Cons
Expensive
Not very durable
Best Support
If you are a heavy skater or like dropping down massive ledges and steps, you'll need all the support you can get. These shoes may take a bit longer to break-in, but the comfort and support are well worth it.
17. Vans AVE Pro
The signature shoe from Anthony Van Engelen, the Vans AVE Pro is designed with Vans' unique Ultimate Waffle construction. This unique design will give you a superior grip, built-in impact cushioning, and ultimate support.
The shoe has a cupsole design that will provide the ultimate impact protection. The Duracap rubber underlays in the toebox and double-thick waffle outsole offer long-lasting durability and support.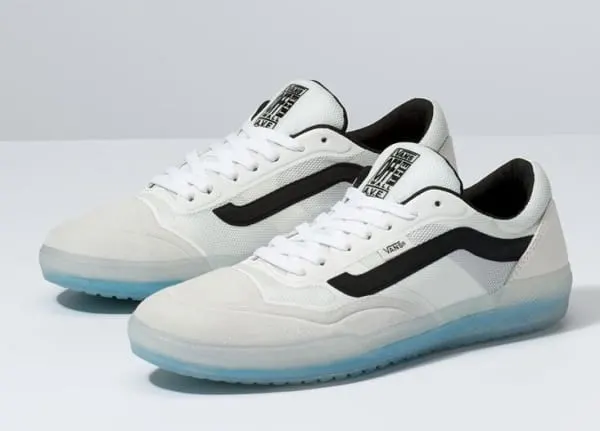 These shoes are expensive, and the cupsole design will not provide the flexibility and boardfeel of vulcanized shoes.
Pros
Ultimate Waffle construction
Cupsole design
Duracap rubber underlays in the toebox
Double-thick waffle outsole
Cons
Expensive
Decreased flexibility and boardfeel
18. Nike SB Nyjah Free 2.0
The signature model from skateboarding superstar Nyjah Huston, the Nike SB Nyjah Free 2.0 shoe is a blend of classic aesthetic combined with modern features. The cupsole design features a 360-degree breathable mesh panel upper and the ghille loop lacing protects your laces from the assault of your grip tape.
The rubber outsole features deep grooves that expand and contract as you make contact with the ground and your board, making this shoe one of the most supportive models available.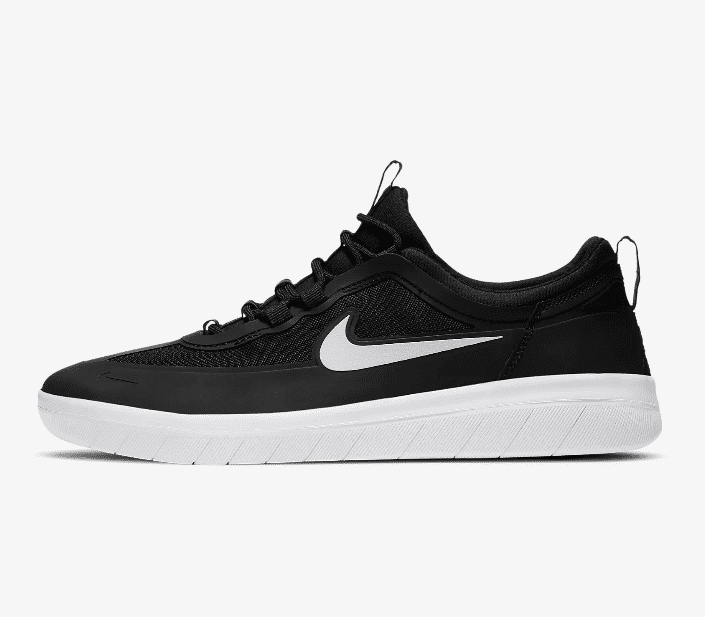 The shoe is fairly slim-fitting and not ideally suited for skaters with wide feet. The cupsole design is great for protection but may take a while to break in.
Pros
360-degree breathable mesh panel upper
Ghille loop lacing design
Grooved rubber outsole
Cupsole design
Cons
Slim-fitting design
May take some time to break-in
19. Converse Fastbreak
The Converse Fastbreak was originally one of the best basketball shoes available but has been updated and redesigned to take the beating that skateboarding can dish out. The CX foam insoles and cupsole design make for optimum comfort and protection, and the rubber-backed nylon uppers are made to withstand the assault from flip tricks and ollies.
The Cons traction rubber outsole is springy, grippy, and supportive. This shoe is a redesign of a classic that maintains its legendary features.
The bulky design will definitely result in a lack of boardfeel, and the tongue is reported by skaters to dig into the top of their feet. Also, the included laces are fairly short and difficult to tie effectively.
Pros
CX foam insoles
Cupsole design
Rubber-backed nylon uppers
Cons traction rubber outsole
Cons
Lack of boardfeel
Uncomfortable tongue
Short included laces
Best for Girls
20. Vans Unisex Old Skool Classic
These Old Skool Classic Unisex shoes from Vans have and old school aesthetic but are still one of the best-selling skateboard shoes on the market. The shoe has an extra-thick rubber sole for added comfort and extra height — ideal for both men and women. The shoe's upper is made from canvas and are thus lightweight, plus they have vulcanized soles for added flexibility and more boardfeel. The classic black and light blue coloring is a great look too.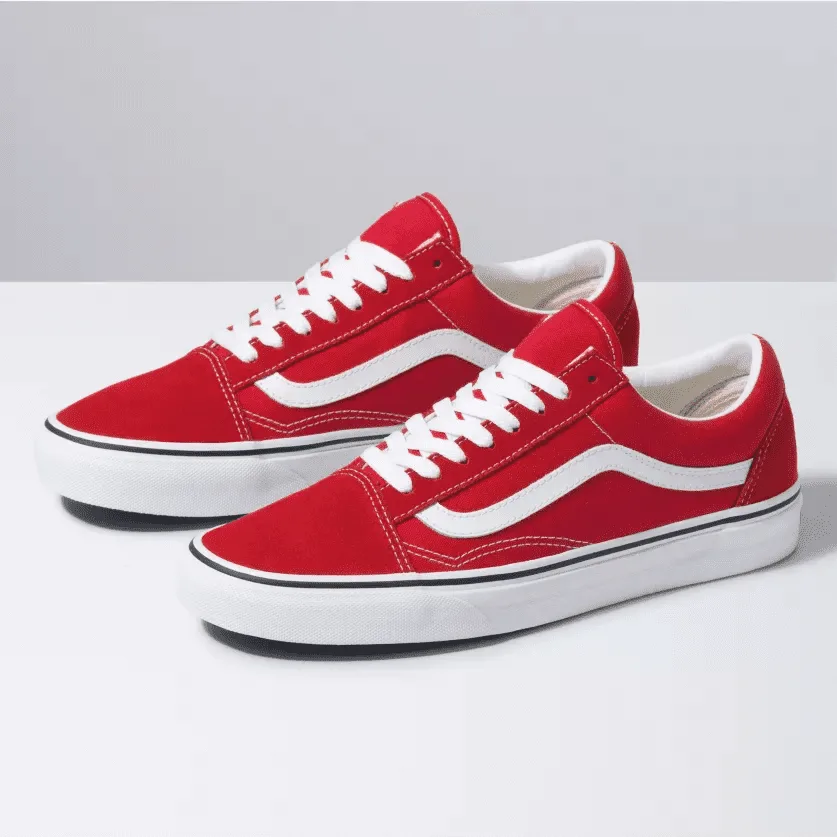 Some skaters have said the shoes are fairly narrow which is great for girls but may be an issue for men. They also get dirty easily and are difficult to clean, plus they are comparatively heavy.
Pros
Extra-thick rubber sole
Unisex — great for males and females
Lightweight canvas construction
Vulcanized soles
Cons
Narrow profile
Fairly heavy
Gets dirty easily
Best for Kids
21. Supra Vaider Kids Skate Shoe
The Supra Vaider Kids skate shoe offers both style and premium support for growing feet. They have a high-top design for ankle support and protection with a strong and comfortable leather upper and flexible vulcanized outsole.
The toe is double stitched for extra strength during skating and the shoes feature Supra tread for optimum traction. The shoes also feature a padded insole for added comfort plus a padded high-top collar and tongue.
These shoes may be too narrow for some kids, and some customers reported the stitching coming apart easily during heavy skating.
Pros
Inexpensive
High top design
Vulcanized sole
Double-stitched toe
Padded insole, collar, and tongue.
Cons
Maybe too narrow for some kids
Stitching comes apart easily
21 Best Skate Shoes: The Full List Compared
| | | | |
| --- | --- | --- | --- |
| Name | Brand | Type | Best for |
| Campus ADV | adidas | Low top | All-round skating |
| Gilbert Crockett Pro | Vans | Low top | Street |
| Wes Kremer Pro | DC Shoes | Low top/slip on | Street |
| Dunk Pro | Nike SB | Mid top | Street and vert |
| Chuck Taylor All Star Pro | Converse | Hi top, mid top, and low top | Street and vert |
| Superstar | adidas | Low top | All-round skating |
| G6 Provider | Emerica | Low top | All-round skating |
| Team Classic | Nike SB | Low top | Street |
| Romero Americana | Emerica | Low top | All-round skating |
| Era Pro | Vans | Low top/slip-on | All-round skating |
| Kalis LE | DC Shoes | Low top | Street |
| Hyde S | DC Shoes | Low top | Street |
| Dickson G6 | Emerica | Low top | Street |
| Joslin Vulc | Etnies | Low top | Street |
| Busenitz Vulc II | adidas | Low top | All-round skating |
| Zoom Blazer Mid | Nike SB | Mid top | Street and vert |
| AVE Pro | Vans | Low top | Street |
| Nyjah Free 2.0 | Nike SB | Low top | Street |
| Fastbreak | Converse | Low top | All-round skating |
| Unisex Old Skool Classic | Vans | Low top | Street/woman |
| Vaider Kids Skate Shoe | Supra | High top | Kids |
Q and A: Some tips
Do shoes matter when skateboarding?
Yes! Technically, you can skate in almost any shoes you like, although tricks will be far more difficult to perform, you'll have less grip, and they will often wear down very quickly. Skateboard shoes are specially designed to be both stronger and more durable, plus provide protection against the impact of skateboarding on your feet and ankles.
Are skateboard shoes good for casual wear?
For casual wear, skateboard shoes are perfectly fine and comfortable, possibly more so than regular sneakers. That being said, due to their specialized design and durability skateboard shoes are expensive, and don't have the arch support of regular shoes. Consequently, some may find them uncomfortable for all-day use.
Why are skateboard shoes flat?
Skateboard shoes are flat in order to create more surface area to make contact with your skateboard, and thus more grip. This also helps boardfeel and makes it easier to perform tricks.
Should skateboard shoes be tight?
Generally, the tighter your shoes are the better. They need to offer support for your feet and if they are too loose can quickly cause injury. Plus, you don't want your shoes flying off while you are grinding down a step rail!
Do you need to "break-in" skateboard shoes?
Depending on the type of skateboarding you do, you should wear your shoes for a day or two to break them in and help them mold to the shape of your foot. Alternatively, take it easy while skating with them for a few hours. Some skaters use hairdryers or even microwave their shoes to help them mold to their feet, but we'll leave that decision up to you!
Conclusion: My Final Recommendations
The best skateboard shoes are durable, long-lasting, comfortable, and supportive. Depending on your unique style of skating, you may need stronger shoes that sacrifice flexibility, or flexible shoes that sacrifice on strength, or maybe somewhere in the middle. Skateboarding is a highly individual sport and the gear you prefer is much the same.
Overall, we recommend the Campus ADV from adidas as the ultimate choice of skateboarding shoe for 2020, as this shoe ticks all the above boxes.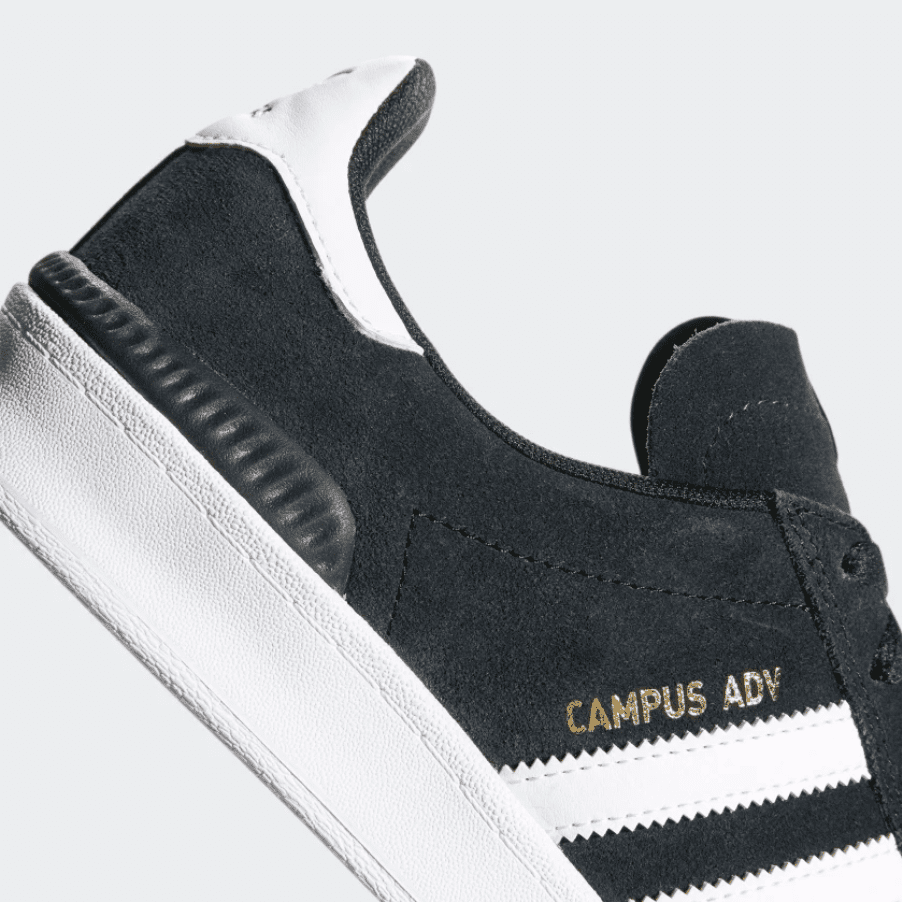 It can be difficult to pick the right shoe for skateboarding from the wide variety of available options. Hopefully, our reviews have given you a better idea, so you can find the ideal shoe for your unique needs and style and get skating!