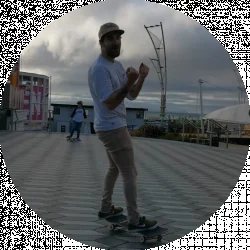 Latest posts by Callum Marshall
(see all)
From the outside looking in, you may believe that owning a skateboard means that ultimately, you will skate it into oblivion. Now, don't get us wrong, in most cases, you will. However, skateboards are more than just a vehicle for travel, tricks and general enjoyment.
They are also of cultural significance and what's more, they also give bear incredible artistic logos and graphics that are just as bespoke as canvas paintings and other art forms. Meaning that if you find one that is particularly striking, you'll want to hang it on your wall.
However, hanging a skateboard isn't quite as simple as hammering a nail into a wall and calling it a day. To display your skateboard on the wall you will need to fit a skateboard wall mount.
It might sound quite technical but we assure you, it's much easier than it sounds. So long as you know what you are doing. As different types of wall mounts offer different things and as a result, require different installation methods.
So with that in mind, we want to run you through all there is to know about skateboard wall mounts, take a look at all the different options out there, discuss why this is a great option for sprucing up your home/office/mancave and we want to give you our pick of the best products out there for the job.
So sit back and relax as we take you through our essential guide for understanding skateboard wall mounts.
What is a Skateboard Wall Mount?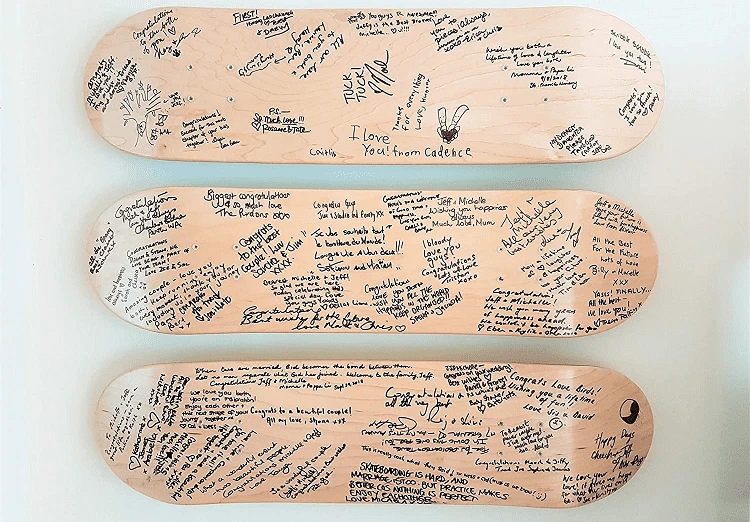 A skateboard wall mount is a piece of apparatus that allows you to display your skateboard on a wall or other surface. These tend to be long bolts that run through the holes that the trucks would usually be screwed in.
However, these can also come in the form of hooks or a rack, however, these tend to be aimed more at skaters that want a place to store their board rather than display it as a piece of art.
Why Would You Want a Skateboard Wall Mount?
There are several reasons that someone might want to make use of a skateboard wall mount. Even if you aren't a skater, these boards have cultural significance, they often look fantastic and they tend to be endorsed by some of the coolest sporting personalities out there.
Not to mention that a lot of bands, influencers and other entities will bring out skateboards along with other merch, so there are plenty of options beyond the obvious. That being said, you may still be wondering why this is such a good option. Well, here are the reasons why you need to invest in a skateboard wall mount:
To Display Works of Art
We can not stress this enough, skateboards usually have graphics on them that are visually stunning. Whether you like something vibrant, something that's gritty, something that has a profound message or something that's just plain silly.
There is a skateboard company out there that produces a design that you will resonate with, we guarantee it. Plus, if it's a display board, you don't even have to worry about build quality. All you need to do is find something you like the look of, so it's even less stressful than buying a board to shred.
They May Be Endorsed/Produced By Celebrities/Skaters
Unless you are buying a skate shop board, a board brandishing a logo or a factory standard board. Then chances are that you will be purchasing a pro board.
This means that the board will have the name of one of the most popular skaters in the world on it. So if you want to put a board on your wall in support of your favourite skater, this is a great option.
It's Eye-Catching And Nostalgic
Even if you have no interest in skateboarding, you can't deny that skating is cool and skateboards are an extension of that. They are eye-catching, they represent many important eras in history for different people such as the early seventies or the nineties as a whole.
Plus, they act as a signature piece that can tie a room together. It's hard to picture a skateboard as an essential piece of decor but we assure you, these planks of wood can double as a striking decoration.
You May Have a Signed Piece of Memorabilia
If you are a huge fan of skating, you frequent parks on the regular and you attend contests. Then there is a chance that you have a board knocking around that has been signed by a local hero or a very famous skater, depending on how lucky you are.
If this is the case, it would be criminal to keep this stored away or gathering dust in your attic. So instead, get that important piece of skating memorabilia up on your wall and display it with pride.
You May Want to Retire a Board
Sadly, there comes a time in any boards life when it must finally call it quits. Now, in most cases, the board will be shredded to pieces and the graphic will be barely legible.
However, if you happen to crack the board or you happen to somehow keep it in a respectable condition, you could hang it on the wall. Even if you focused a board, hanging it in two pieces can look super cool if done right. So play around and experiment with this.
What Makes a Good Skateboard Wall Mount?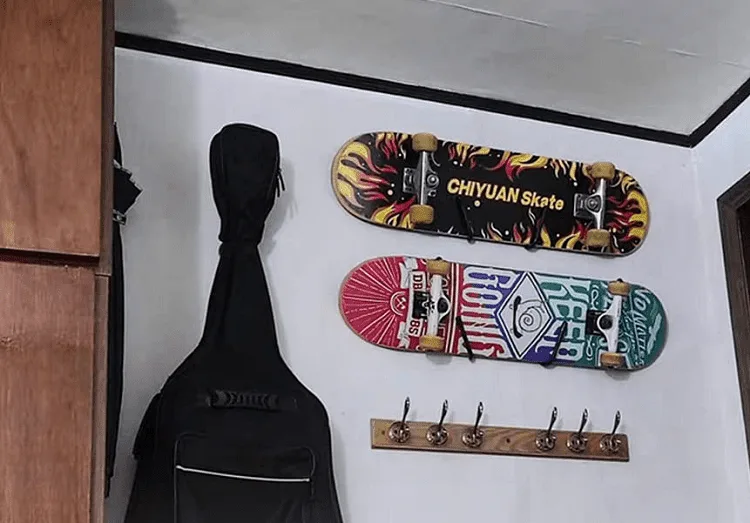 Now that you understand why someone might want to invest in a skateboard wall mount and display their beautiful boards, you'll need to know what makes a good wall mount.
There are a variety of different qualities to look out for, so allow us to fill you in. Here is what makes a good skateboard wall mount:
Material
The first thing you will want to consider is what material the mount is made from. The board has to hang on this mount and depending on the type of mount, you may be taking it on and off the wall. So you'll want something sturdy and durable.
We would suggest metal as the best option as this won't show signs of wear and tear. However, there are some worthwhile wood and plastic options that perhaps offer a more aesthetic style.
Purpose
While displaying the board is always going to be what you want to use the mount for. There is the small matter of whether you want the board to be a permanent fixture.
A lot of skaters use rack mounts as a way to store multiple boards, then when they need them, this style gives them the freedom to take the board when they need it. All without the hassle of unscrewing and reattaching. So it's really a question of storage or style.
Style
Then speaking of style, there are the design features of the mount itself. Do you want something that is vibrant and colourful? What about something subdued like a light wood? Or maybe you want a clear plastic that doesn't draw attention to the mount and allows you to focus purely on the board.
Visibility
Then with regards to bringing focus to the board rather than the mount. There is the option to purchase a floating mount. These allow you to hide all of the fixtures behind the hanging board. It's not to everyone's taste but it certainly is more clean and minimalist.
What Types of Boards Are Great To Display?
So if you have decided on what sort of attributes your mount should have, it's time to decide what you want to hang. The good news about this is that there are tonnes of different board types that you could go for, each with its own quirks and aesthetic traits.
However, you may be drawing a blank so let us do the work for you. Here are some board types you should consider:
Popsicle Boards
This is the most recognizable design of a skateboard. This is a board with a tail on both sides and is shaped like a popsicle stick, hence the name. These boards come with all kinds of cool graphics, there are countless pro boards to choose from and their symmetrical shape mean that you can hang them just about anywhere.
Penny Boards
If you are trying to make a cramped space pop you might be limited with wall space. However, this doesn't mean you can't mount a board.
If you like the look of penny boards, you could absolutely hang one on the wall. The downside is that aside from a pop of color, these boards are limited in terms of design generally speaking. That being said though, they still look great regardless.
Long Boards
If you are more of a laid back longboarder and you want to showcase this, the good news is that most floating mounts will accommodate longboards.
These boards can give your room a So-Cal feel, these boards often come with vintage style designs and because they are so long and striking, they make a wonderful signature decoration for any room.
Custom Boards
We would only advise this one if you know someone that is great at art or you fancy yourself to be that person. Custom boards are essentially boards that began as a blank wooden canvas.
Then with some wood paint, you will change them into modern works of art. You can also buy these on websites like Etsy from talented professionals, so if you don't think you are up to it, support an artist online.
Complete Boards
If you go for one of the hook mounts, you'll be able to hang completes on your wall. These are boards that are fully set up with trucks, wheels, bearings, grip tape etc.
Meaning that if you ever want to grab the board and tear it up, you don't have to spend an age setting it up. However, we would argue that this functionality comes at the cost of the aesthetic bliss that a plain board can offer.
What Are The Best Skateboard Wall Mounts On the Market?
So now that you are well versed on wall mounts and what to use them for, you may still be asking what mounts would be best to use.
What brands can you trust and what mounts are the most popular? Well, these are all valid questions and ones that we aim to answer right here, right now. Here are the best wall mounts on the market:
The Best Floating Wall Mount – Deck Dock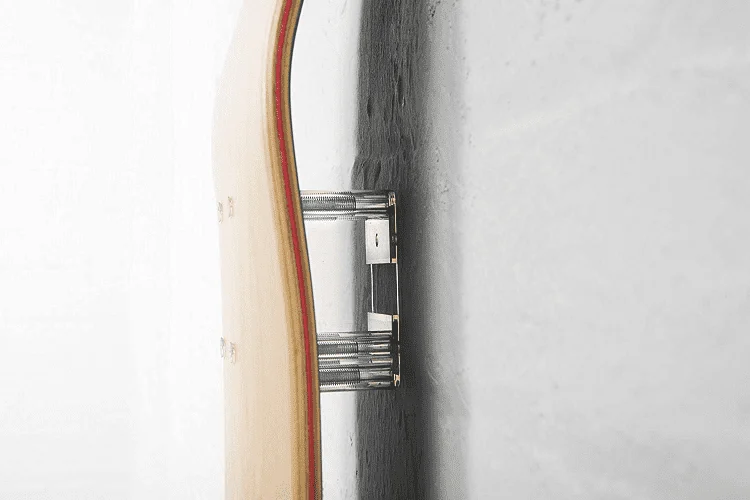 This inconspicuous wall mount is a sturdy, clear plastic option for anyone that wants to hang their board without anybody seeing any of the wall fixtures while they browse.
It's got a simple setup with just two screws and it comes in a two-pack, meaning if you want to hang your board vertically, you have the freedom to do so.
Plus, this fixture is versatile as you can use tape to stick to the wall if you don't want to cause any damage. For all these reasons, this product is our pick for the best floating wall mount.
Pros
Quick setup time
A temporary or permanent fixture
Hides the fixtures well
Two fixtures in one set
Cons
Plastic fixtures will only last a few years
The Best Rack Wall Mount: StoreYourBoard Naked Wall Mount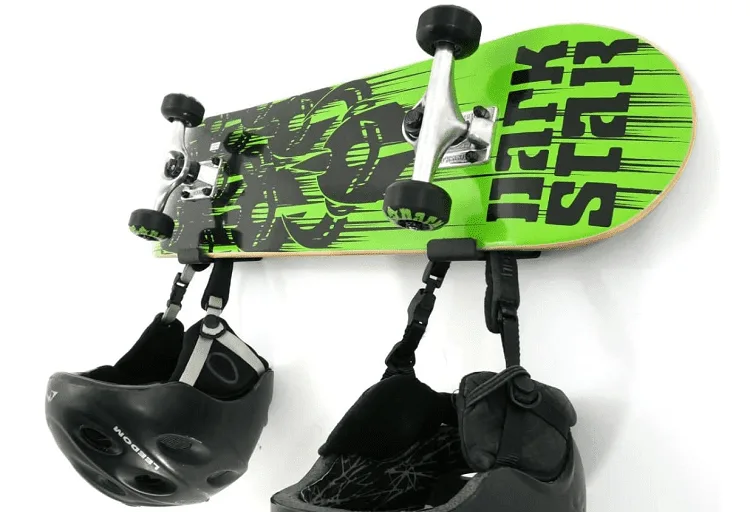 The reason why we think this one is the pick of the bunch is simple, it offers unrivalled versatility. Most rack options are mainly used for storage but don't display the board. However, with this subtle naked rack, you can display your board in full view, but you still have the freedom to keep the board set up.
It offers an excellent view of the graphic, it's a sturdy metal option and the construction is simple to boot. So in our book, this is the best rack mount option.
Pros
Relatively simple setup
Offers storage without sacrificing style and visibility of the board
Made of strong, durable metal
Cons
Not as inconspicuous as floating mounts
Can scratch the board over time
The Best Hook Wall Mount – KKSTY 4 Pack Skateboard Wall Mount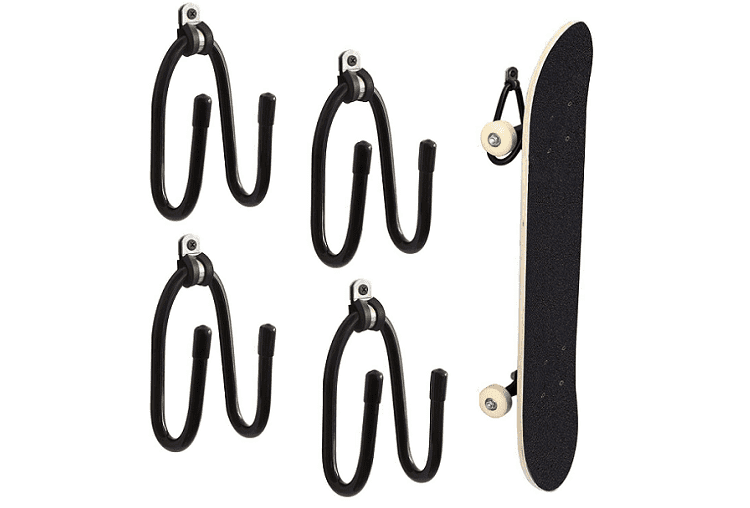 Then lastly, we have the best hook wall mount. These hooks are specifically made for complete setups and tend to rely on a durable build more so than the above mount types. So for that reason, we have went with the KKSTY four-pack. Not only is it great value for four hooks.
You also get a product that is made from strong and sturdy metal capable of supporting 5KG. Plus, you can adjust the hangars to support just about any board regardless of the setup you have. It's a one screw setup, it looks great and for all these reasons, this is our choice in this category.
Pros
Great Value
Sturdy material
Adjustable hook
One screw setup
Cons
Draws attention from the board's graphic
Five Board Designs For You To Consider
Now that you know exactly what skateboard wall mount you should invest in. Why don't we give you some helpful pointers on which boards would make great, eye-catching displays?
Now, we understand that there are thousands of boards that are just as valid of an option as the ones we are about to list. However, what kind of guide would this be if we didn't give you a helpful nudge in the right direction. So here are five boards that we would personally love to hang on our walls:
Powell Peralta Vallely Board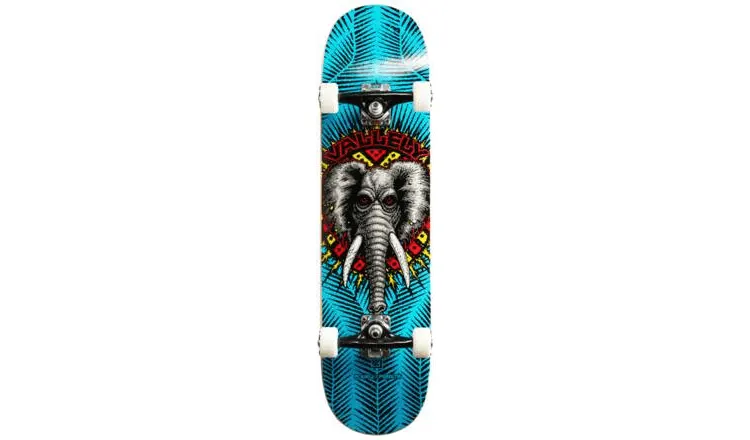 Now, we could have listed just about any of the Bones Brigade's Powell Peralta boards. We love Tony Hawk's Bird skull and Caballero's Dragon but of them all, Vallely's Elephant is our pick of the bunch.
We love the retro feel that this board has, the elephant graphic is incredible and Mike Vallely is a legend in the world of skating, so it isn't a bad name to be displayed on your wall. It's an all-around masterpiece and a great piece to display if you get the chance.
Nyjah Huston Disorder Boards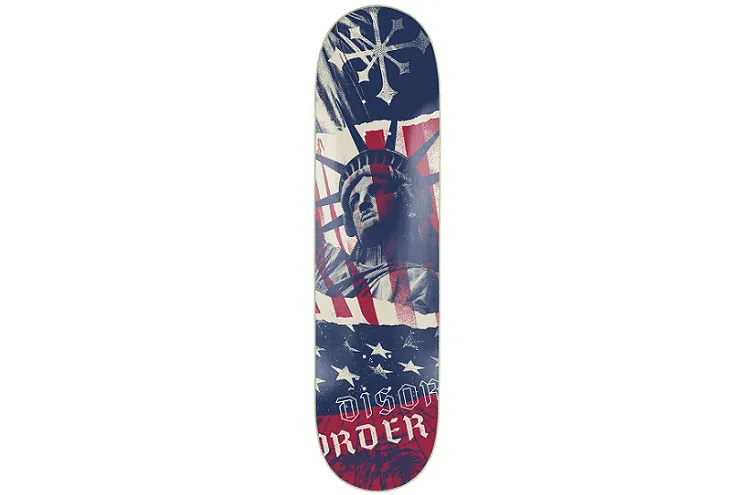 If you want something that is a little more modern and you happen to be in the camp that is pro-Nyjah. Then it's likely that you have seen his new board collection and we are sure you wouldn't mind sticking one right up on your wall.
At the moment, there is a design that showcases his school report card and one that has a yellow and pink contrasting design with a large eye.
However, our pick of the trilogy is the stars and stripes design complete with ol' lady liberty on the design. It's a cool one and perfect if you are a US citizen that wants to be patriotic through the power of skating.
Bam Margera Heartagram Board

If you love Jackass, Viva La Bam, or were just a fan of how great of a skater Bam Margera was, then the Heartagram collection is a great display option. These boards have the iconic symbol plastered all over them and tend to be quite vibrant colours like pink and purple.
So if that is a colour palette that you can marry together with your current decor, we would urge you to grab one of these. Just a heads up though, these boards are quite rare and can be quite expensive too.
Magenta Power Plant Deck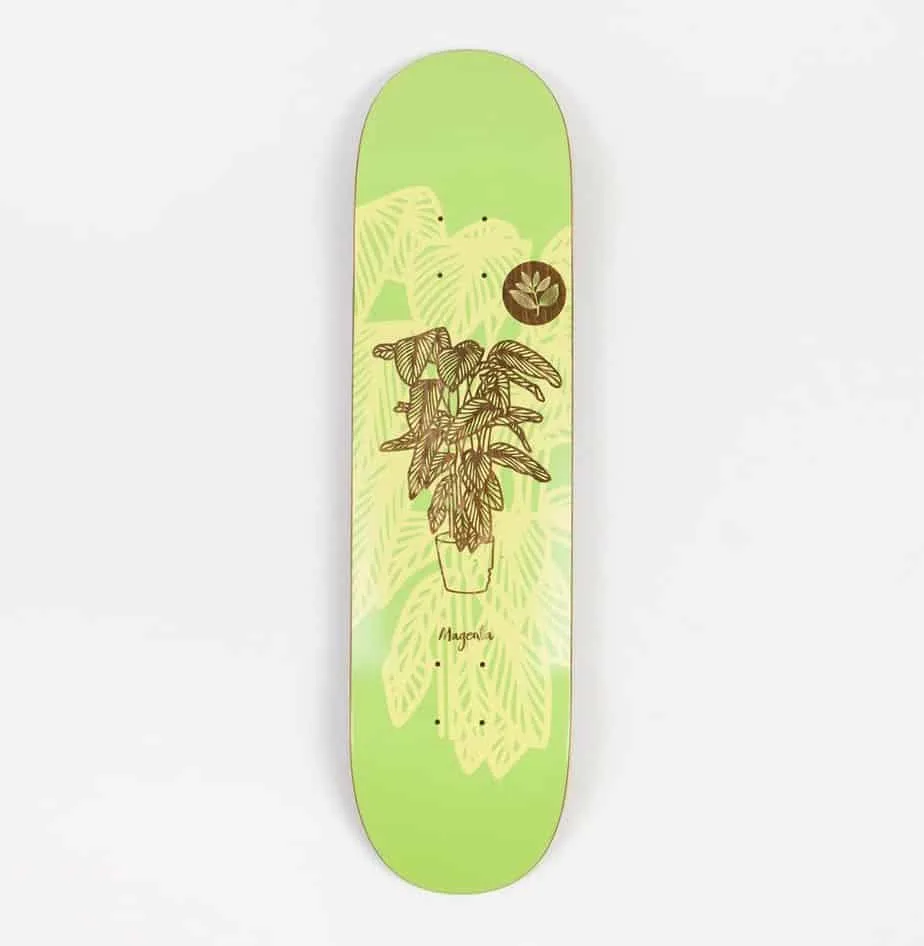 Magenta Power Plant By G. Fox Deck – 8.25″
Now for a deck that I personally have plastered all over the wall. You see, we have a very bohemian, plant-heavy decor in our house. So to marry my love of house plants and skating, there was only one option, a board with some foliage.
The Magenta Power Plant deck is a superb option in this respect with a classy, minimalist design and it's also a lovely bright shade of green. So if you are like me and you love adding to your plant collection, why not make this your next addition?
Leticia Bufoni Monarch Project Deck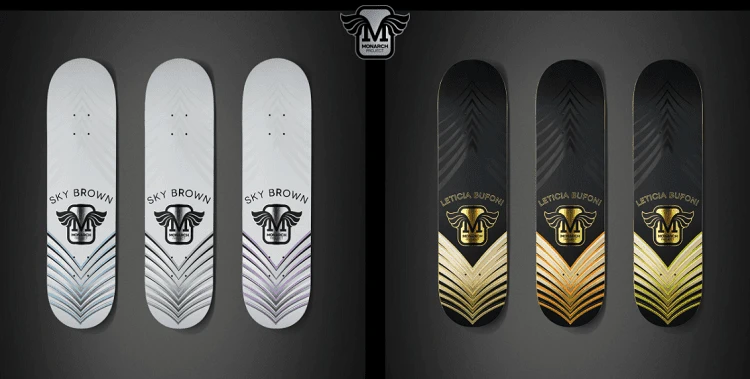 Then lastly, we have Leticia Bufoni's Monarch Project deck. Not only does this deck look decadent, with a black backdrop and a classy gold trim. It also has the endorsement from the Brazilian queen of skating and it's supporting a new, growing company that aims to provide more exposure for female skaters within the industry.
Plus, if you don't want Leticia's board, you could always buy the high flying teenager, Sky Brown's pro board which looks exactly the same. So if you are an advocate for the growth of ladies' skating, this is a great one to have.
What Other Ways Can You Display Your Boards?
As much as we love the idea of mounting a board on the wall, it isn't the only way that you can display your decks. There are some other products out there that do the job and there are some creative souls out there that go the extra mile to display their boards. So here are a few alternatives if you feel like shaking things up:
A Skateboard Chair
If you fancy yourself as a bit of a carpenter and go through boards like they were skittles. Then you might be able to repurpose those broken boards into a classy looking armchair, bench or deck chair.
We aren't saying that this is easy by any means, but if you can pull it off, you'll have one of the most unique and downright awesome pieces of furniture for miles. So if you have the tools and the skill, give it a try.
A Skateboard Stand
There are several products out there that allow you to display your board in an upright, vertical position without the need to use any screws or fit any racks.
Instead, you can use products like the Skate Trainer Origami Skateboard Stand to store and display your board. It's a portable option with zero stress and zero construction required.
A Skateboard Ring
Another product personal to my own heart. You see, I didn't want a conventional wedding band that would cost thousands. The idea of wearing that much money on my finger unsettles me.
So instead, I sent a broken board away to Boardthing and what was sent back was a gorgeous wooden ring that allows me to wear an eco-friendly, recycled and stylish ring which I adore.
You can either have your own board converted into a piece of jewellery or pick from their sizable stock. It's a great way to display your board and a great way to clear your home of broken and battered skateboards.
Skating Meets Modern Art
As you can see from the information above, skateboards are more than just a means of getting around and doing sick tricks. They are a means of displaying grand and striking pieces of art and skatebaord wall mounts allow us to do this with ease.
Of all the choices we offered, we would personally go with the floating Deck Dock option, as visually it looks the cleanest and doesn't draw attention away from the board.
We hope that this guide has given you some inspiration and we hope that you gather together a board collection to adorn your walls that you can be proud of.
FAQ Section
Question: What Are The Most Popular Board Brands?
Answer: In terms of figures and sales, there isn't a lot of literature out there that will give you a clearcut answer. However, if we weigh up factors such as popularity, pros on the team, the years spent in the business and the quality of the boards, there are some brands that we can endorse here. Check them out below:
• Alien Workshop
• Blind
• Creature
• Death wish
• Enjoy
• Element
• Plan B
• Santa Cruz
• Zero
Question: Can You Build Your Own Skateboard Mount?
Answer: The simple answer is yes and it would be rather simple and inexpensive to do so. However, you would need to have the tools for the job and access to the right resources. The easiest option would be a metal structure that is shaped like a Z-shaped bracket.
Then you would simply need to screw in some holes, attach them to the wall and you have a mount rather like the naked mount listed above. However, as these ready-made mounts are quite inexpensive, we don't really see the need to make this a DIY project.
Question: Can't I Just Use Long Nails To Hang the Board?
Answer: In theory, we suppose you could. However, the problem is that very few nails will stretch from the truck bolt holes to the wall, even fewer won't slip out on the other side, chances are the board will slide up and down the nails as it isn't held in place, much like a picture frame precariously balanced on a single nail.
Plus, this will most likely damage your wall, so we would advise against this completely.
So that is our guide detailing all there is to know about skateboard wall mounts. What do you make of this guide? Was this helpful and informative for you?
What other skating guides would you like to see from us in the future? Let us know in the comments section below and as always, thank you for reading Skate Culture Insider.
Looking for more interesting readings? Check out: