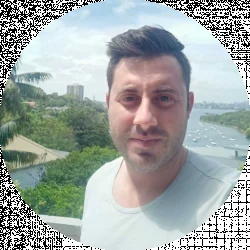 Latest posts by David Borgogni
(see all)
If your kid is starting to get interested in skateboarding and skateboarding culture, you have landed in the right place.
My guide on how to find the best skateboard for 7-year-olds has all the information you need to purchase a cool board, so your kid can start learning the basics and pulling off some tricks.
I will list the top six skateboards for 7-year-olds and show you what you should think about before making a purchase.
Bottom Line Up Front: The Alien Workshop Abduction is my recommendation for a skateboard for your 7-year-old. This skateboard has everything your kids need to learn how to balance and start pulling off some cool tricks. While the Alien Workshop Abduction won't pick up great speeds, it is an ideal board for using in skateparks and to begin getting technical.
At a Glance: 6 of the Best Skateboards for 7-Year-Olds
Things to Consider Before Buying a Skateboard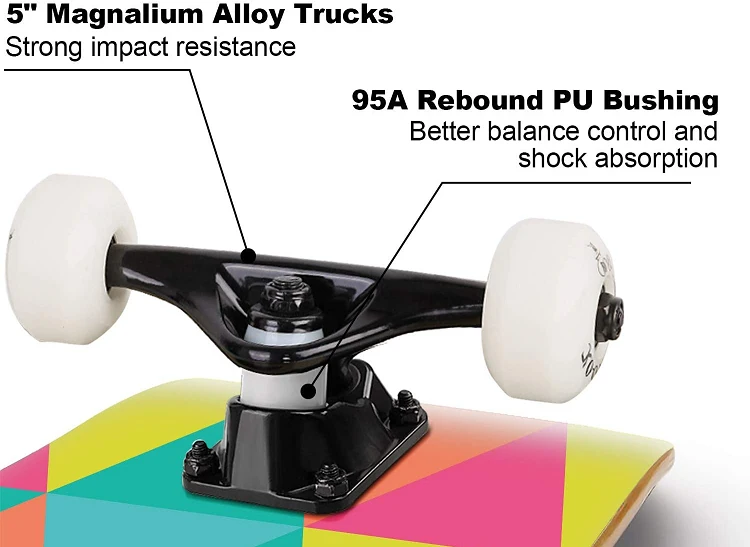 There are a few things to think about before you jump in and purchase a new skateboard for your 7-year-old. Skateboards come in many different sizes and materials, so here are some aspects to consider before you buy.
Material
The deck material is an essential feature to look at when buying a new skateboard. Generally, skateboards, especially those for kids, will come in either maple or aluminum, or you can find some made from plastic.
Maple wood is one of the most common materials due to its toughness and durability. Maple is an incredibly hard-wearing wood, and it is perfect for absorbing impacts and bumps and remaining in good condition. Maple is also ideal for pulling off tricks as it provides more flexibility.
Some skateboards have a combination of maple and aluminum, or you can find boards made solely from aluminum or plastic. These skateboards aren't as flexible, so performing some tricks can be harder; however, plastic skateboards are generally cheaper, so they are a good choice if you are on a tight budget.
I always recommend opting for a skateboard manufactured with maple, as this is by far the best material.
Width
When purchasing a skateboard for a specific age group, in this case for a 7-year-old, the deck width is vital.
Learning to balance correctly and then moving on to pulling off some tricks will be impacted by the width of the skateboard deck. Too narrow or too wide, and your kid is going to have trouble balancing and performing stunts.
For a 7-year-old, the deck width should be between 7 and 8 inches. What specific width is comfortable will depend on their height, and their shoe size can also play a part. If you don't want to spend hours testing out loads of different skateboards, look for models between 7 and 8 inches, as they will usually be the perfect size for this age group.
Experience level
Some skateboards are made for rookies or beginners, while others will have some features aimed at more experienced skateboarders.
The good thing is that most skateboards designed for children will say what level they are aimed at. You will find words such as rookie and beginner for skateboards created for kids that are just starting off, while if your child has some experience skateboarding and good balance, a more advanced model will be a bitter fit.
Design
Skateboards and skateboarding gear are as much about style as functionality.
Like BMX, skateboarding has its own subculture, and the board's design is essential. Skateboards made for 7-year-olds usually have an aesthetic that is tailored to that age group, so you can find many quirky and wacky styles.
However, if your kid wants something plain, you can find this as many skateboards have a no-frills or understated style. The more extravagant the style, the higher the price is likely to be; however, many models have a plain aesthetic if you only have a small budget to work with.
Cost
Lastly, the cost is something else to think about.
Kids' skateboards tend to be a bit cheaper than adult boards as they are usually designed to help kids get to grips with balance and pull off some basic tricks. Some things that can help to bring the cost down of a new skateboard include opting for a plain style, as some of the more outlandish designs will add to the price.
Also, the material will impact how much a new skateboard is. Maple skateboards can get quite expensive as this is the best material due to its flexibility and toughness. If you want to save money, you can go for a plastic or aluminum board as they generally cost a bit less.
Selection Criteria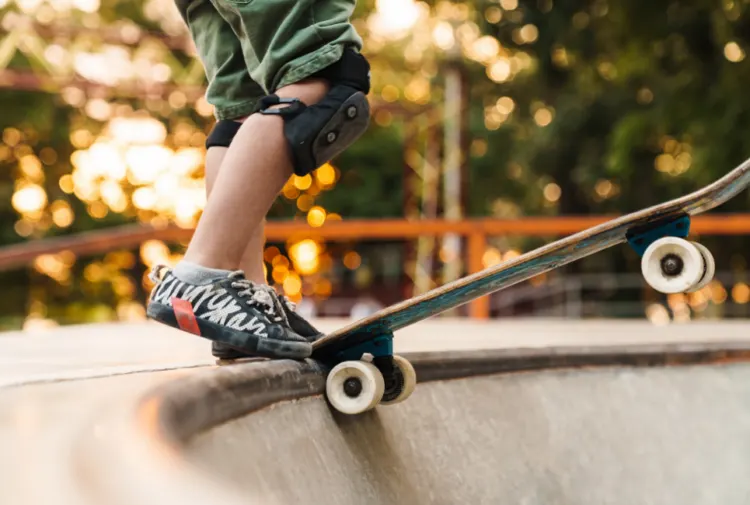 Choosing a skateboard for a 7-year-old is harder than you think, and amongst all the different options out there, I had to whittle my list down to the top six choices. This means that I used some criteria to ensure only the best skateboards for 7-year-olds made my list. This included:
Width – The ideal deck width for a 7-year-old is between 7 and 8 inches, so I have primarily included skateboards within these diameters.
Cost – Parents don't always have a ton of money to splash out on a new skateboard, so I tried to keep the cost of these skateboards low, and I have included one budget option.
Durability – All the skateboards I have chosen are highly durable, and they are made from Canadian maple wood, which is highly durable.
Design – The aesthetics of a 7-year-old is different from an adult, so all the skateboards on my list have styles that will appeal to this age category.
5 Best Skateboards for 7-Year-Olds
Alien Workshop Abduction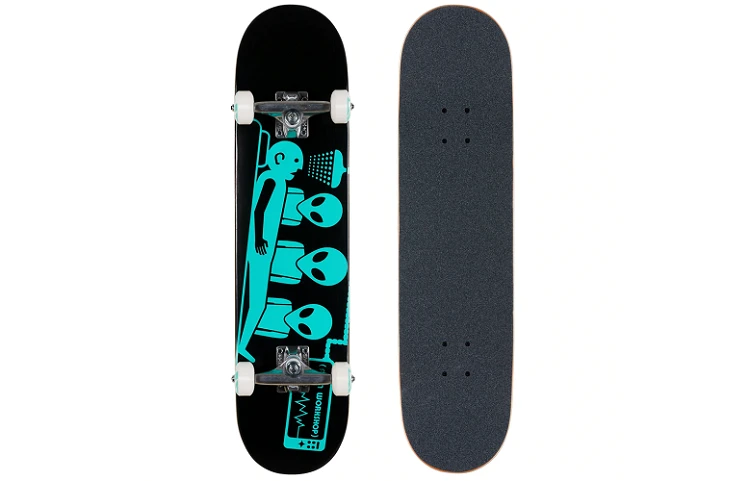 The Alien Workshop Abduction skateboard is a highly durable model made from 7-ply Canadian maple. It also offers an ideal design for kids to get to grips with skateboarding and start pulling off some stunts.
The skateboard is perfect for performing tricks in skate parks and urban environments due to the double kick-tail deck, and this also lets you try tricks with both ends of the skateboard. I like the paranormal-themed style of the Alien Workshops boards, and their Adduction model is one of the best in their range.
The hangers allow for tight turns with great response and control, while the 7.5 width is a good size for 7-year-olds. You can buy this skateboard in several different widths if you want a bigger surface area, but the 7,5, and 7.75 models are ideal for this age range.
I don't think there is a lot wrong with the Alien Workshop Abduction skateboard. It offers everything your kid will need to get the basics of a skateboard and move on to some advanced tricks and stunts.
The price might put some people off if you want a budget model; however, spending a few extra dollars for this mid-range skateboard will provide the perfect platform for your 7-year-old to pull off some neat tricks.
Pros
All-round excellent skateboard
Made from 7-ply Canadian maple
Has a double kick-tail deck
Available in several widths with a cool design
Cons
This skateboard does cost a little extra money
Tactics Icon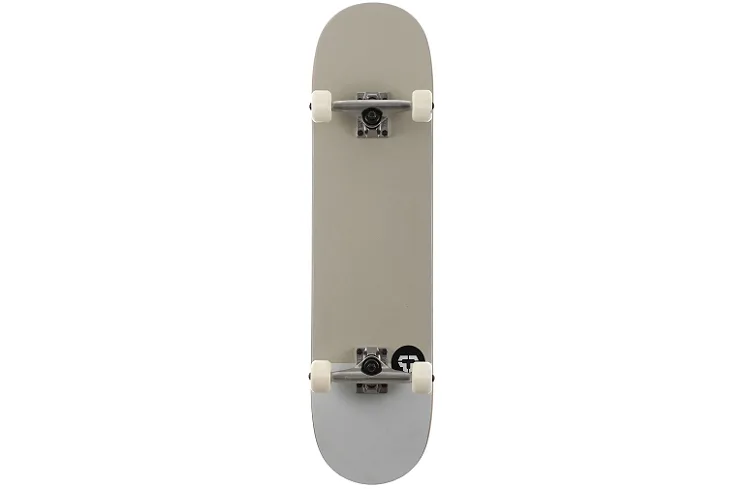 The TACTICS Icon skateboard is a great choice if your kid wants a plain design.
This skateboard has a solid 7-ply maple wood construction, so the Icon can withstand a lot of heavy use and absorb impacts well without breaking. The tensor trucks are lightweight and responsive, while a lowered kingpin also provides extra grind clearance.
The Tactics Icon is available at a mid-range price, and you won't need to spend a tremendous amount of money on a new skateboard for your kid. For 7-year-olds, the 7.75 deck width is spot on for what they need. This is enough to learn to balance, and the surface area is ideal to start pulling off some tricks and stunts.
I would have liked to have more color and design options, as the Icon is quite plain. Although, the teal finish does give off a lovely aesthetic.
Overall, this skateboard is a solid choice for a 7-year-old who wants a highly functional skateboard without too much fuss about how it looks.
Pros
Highly durable Canadian maple skateboard
Good choice for helping kids to learn the basics
Lightweight and responsive tensor trucks
The lowered kingpin helps with grind clearance
Cons
This skateboard design is a bit plain, which might not appeal to some kids
FOUNDATION STAR & MOON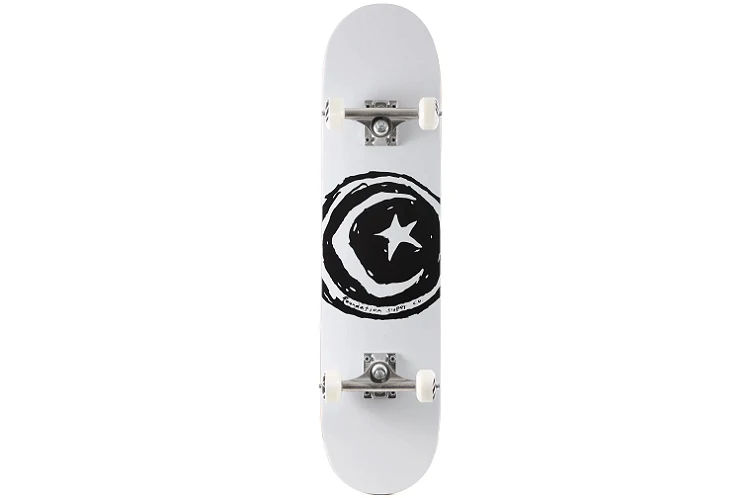 The FOUNDATION STAR & MOON skateboard costs slightly more than the Icon, putting this skateboard into a higher-priced category.
The Foundation has a traditional 7-ply Canadian maple construction that provides good durability and also a high degree of flexibility for pulling off some neat tricks. Like the Icon, this skateboard doesn't have an overly fancy or in-your-face design; however, it offers more aesthetic appeal than the Icon skateboard.
This skateboard is designed for beginners and more advanced 7-year-olds who want to hone their skills. If your kid is still getting to grips with the basics of skateboarding, the Foundation is a good choice. Similarly, if they want to move on to more technical stunts, this skateboard is also designed for this.
The higher price might not appeal to some people, but it is far from the most expensive skateboard you will find.
If you want a nicely designed skateboard that offers all the functionality your 7-year-old needs, the Foundation Star & Moon should be on your radar.
Pros
Good for beginners and more advanced 7-year-olds
Nice and subtle design
Durable with enough flexibility for pulling off tricks
Cons
Higher price than the Icon skateboard
KO-ON Skateboard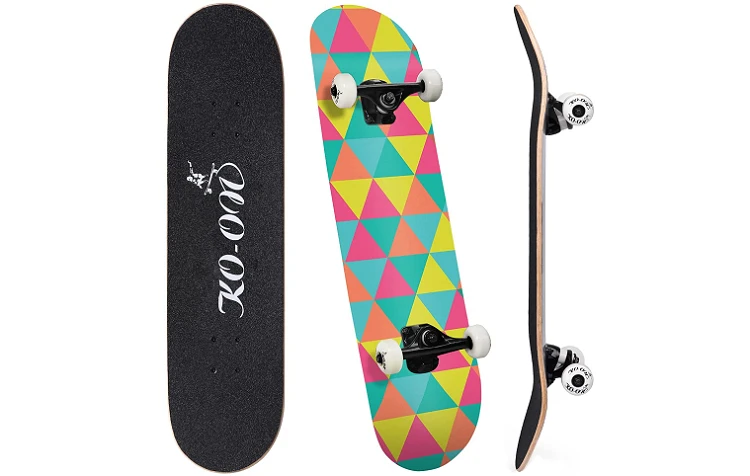 The KO-ON Skateboard has a high-end feel to it without the huge price tag of the Magneto Mini Cruiser.
The maple wood construction of this board gives it an impressive weight capacity of 330lbs, and the deck width is perfect for 7-year-olds, especially if they are rookies. You get a good amount of control and grip with this board, and if your kid is still learning to balance correctly, the design of the KO-ON Skateboard will help with this and move them on pulling off some tricks and stunts.
I love the aesthetics of this board as it has a colorful underside with a modern and striking deck. There isn't a tremendous amount of style choices available with this skateboard, but the designs on offer do stick out.
While this isn't a premium skateboard, it isn't the cheapest either, and it sits at a mid-market price point. It does have a premium feel to it, although there are a few parts that I would expect to be of better quality given the slightly higher price.
Aside from that, there isn't much wrong with the KO-ON Skateboard, especially if you are buying your 7-year-old a board to start practicing their balance and a few basic stunts.
Pros
Good weight capacity
It offers stability, control, and grip and is ideal for beginners
Nice aesthetics and a colorful design
Cons
Some parts don't feel as durable as they should be
Almost Pixel Pusher Resin
The last skateboard on my list is the Almost Pixel Pusher Resin.
The Almost brand was started by two professional skateboarders – Daewon Song and Rodney Mullen – with the idea being to provide highly durable and functional skateboards.
One of the defining features of this brand is the eco-friendly resin they use when manufacturing their boards, and the Canadian maple wood further helps to create a long-lasting and flexible skateboard.
The Almost Pixel Pusher Resin stands out due to its multi-colored design. The underside of the deck is awash with color, and it certainly has a vibrant style. The width of 7.75 inches is ideal for younger kids, especially to get them used to balance and have a good surface area to pull off some tricks. The narrow width allows for better foot placement too.
This is one of the more expensive models on my list; however, if you want an eco-friendly skateboard from a brand that commits itself to high-quality products, this is an excellent choice.
Pros
Made from a popular skateboarding company
Well-built skateboard from Canadian maple
Vibrant multicolored design
Cons
Costs a bit more money than some other models
Frequently Asked Questions
Question: Are Skateboards Safe for 7-Year-Olds?
Answer: Yes. Skateboarding is safe for 7-year-olds, provided they wear adequate safety gear, and beginners will need adult supervision before they are confident enough to skateboard on their own.
Question: Is the width of a skateboard important?
Answer: The width of the skateboard is one of the most important things to consider when buying a new board for kids. For a 7-year-old, the width should usually be between 7 and 8 inches, and this ensures that they can ride the board safely.
Question: Are Children's Skateboards Expensive?
Answer: Kids' skateboards are usually cheaper than adult boards; however, some things will impact the price. This includes the material of the deck, how extravagant the design is, and the brand that the board is from.
Question: Are all Kids' Skateboards the Same?
Answer: No. Skateboards aimed at children are very diverse, as some are designed for beginners or rookies and have safety features, while others are made for more advanced riders.
Question: What is the Best Material for a Skateboard?
Answer: Maple is generally the best material for a skateboard as it is highly durable but flexible enough to pull off tricks. If you want to save money, you can opt for a plastic skateboard, especially if your kid is just starting off.
My Verdict: What is the Best Skateboard for 7-year-Olds?
My top pick, if you are buying a skateboard for your 7-year-old, is the Alien Workshop Abduction.
This skateboard has everything they will need to get started with learning how to balance and then advancing onto more technical tricks. The strong 7 ply Canadian Maple construction ensures that this skateboard is highly durable, while the double kick-tail deck allows for grinding and pulling off tricks from both ends.
While this skateboard isn't designed for speed, it is an excellent choice for use in skateparks. With a quirky aesthetic and reasonably priced, it is my top choice.
Looking for more interesting readings? Check out: