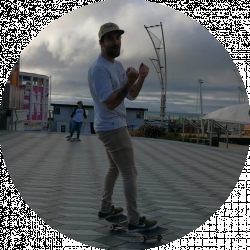 Latest posts by Callum Marshall
(see all)
If you are someone that just has a passing interest in skating, someone that enjoys watching the big competitions, or simply hang out with skaters and like to watch them do their thing. You may not be aware of the more technical side of skateboard tech.
You probably aren't aware of how many decisions a skater will have to make before they have a setup that they can be proud of, or how much in-depth knowledge and experience is required to put a board together well.
What we are saying is, it doesn't just happen like magic (unless you buy a complete). This means you will need the proper tools for your job.
Skate tools are essential for putting together a setup that is up to the challenge of shredding up the local streets and skate parks. These items allow you to put on your trucks, keep your hardware tight, keep your wheels in place, stick on your grip tape and do proper maintenance when needed.
However, it can be tricky to decipher which tools are the best for the job and which ones warrant forking over your hard earned cash for. Well, that's where we come in.
We have done the necessary research and come up with a guide that will give you all the info you need about skate tools on the market today. We will break down the best items for the job, giving you all the tools needed to create a setup you can be proud of. Without further delay, here is our guide to the best skate tools around.
What Are Skateboarding Tools?
You could go one of two ways with this question. As I would personally argue that a skateboarding tool is someone who wears head to toe Thrasher gear and still has a clean set of wheels on their board.
However, if we reserve the term 'poser' for them instead, a skate tool in our books is any form of skateboarding accessory that allows you to build or maintain your skateboard setup.
There is a particular tool out there often referred to as a 'skate tool', which is a three-way spanner with a specialized Allen key. However, we aren't going to leave you in the dark on all the other handy tools which will help you set up the perfect board.
Why Do You Need Skateboarding Tools?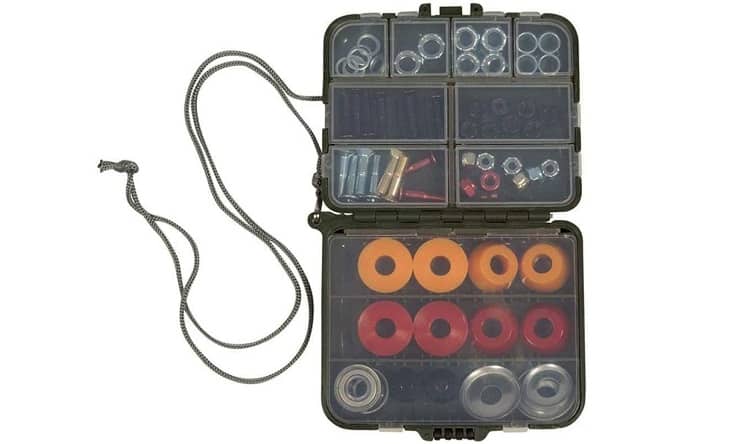 There are three things that skateboarding tools are used for. The first is to put together the board itself, secondly, to make changes and maintain the condition of the board and then thirdly, to make performance adjustments. Here is a quick list of the most common things that you will use skateboard tools for:
Adjusting trucks
Fitting/replacing wheels
Replacing bushings
Cleaning/fitting bearings
applying/Cleaning grip tape
Tightening/loosening hardware
Skateboard tools are an essential thing to have on your person at all times. So before you leave for the skate park, be sure to pop your various tools in your rucksack before you set off. You never know what might happen.
What Types of Skate Tools Are Out There?
There are a variety of things that you can find in your local skate shop or online that will make building and maintaining a board a piece of cake. However, you may not be aware of what is out there. Well, allow us to clear things up. Here is a quick guide below:
Skate Tool
First up we have the skate tool many refer to as just that. This is a three-way spanner that allows the skater to adjust their hardware, their wheel nuts, and their kingpin nut. Then it also has a specialist Allen key that allows you to hold the hardware in place while you unscrew the nut.
The hardware can either be a T-fit bolt or one that can be held by a Phillips head screwdriver fit. So these multi-faceted Allen keys are essential so you can buy whatever hardware you like without any worries.
Bearing Cleaner
Next up, we have a bearing cleaner. This is a specialist coil that will allow you to get inside your bearing, clear any unwanted residue and then you can add lubricant to the bearings. This allows you to keep bearings going for much longer and save money on bearings in the long run. Plus, if you spring for expensive ceramic bearings, this is an essential part of skate maintenance.
Spares Box
Then we have a spares box. This is basically a handy toolbox full of spares. This box will contain components like spacers, bearings, bushings, hardware, kingpins, wheel nuts and various other handy essentials.
You wouldn't believe how easy it is to lose thread on a bearing or see just one bearing bite the dust. So be sure to invest in one of these bad boys.
Grip Tape Cleaner
This one is something that can seem a little overzealous for some. Especially if you skate hard and go through boards before the grip tape even looks slightly dog eared.
However, if you skate in regions where the weather is unfavourable, and you can't rely on dry weather, you need a decent grip tape cleaner. This is a hard block that dyes and exfoliates your skateboard grip tape for a lack of a better word. Lifting away the grime and dirt and leaving behind a fantastic, good as new grip.
Grip Tape Tool/Knife
Then lastly, we have a tool that is for applying grip tape easily. This is a specialist knife tool that allows skaters to cut around the edges of the board when you apply grip tape.
This means that the tape has a clean and crisp finish. This can be done with Stanley knives and the like. However, with these tools, you will find that the process is made even easier.
What Are The Best Skate Tools on The Market?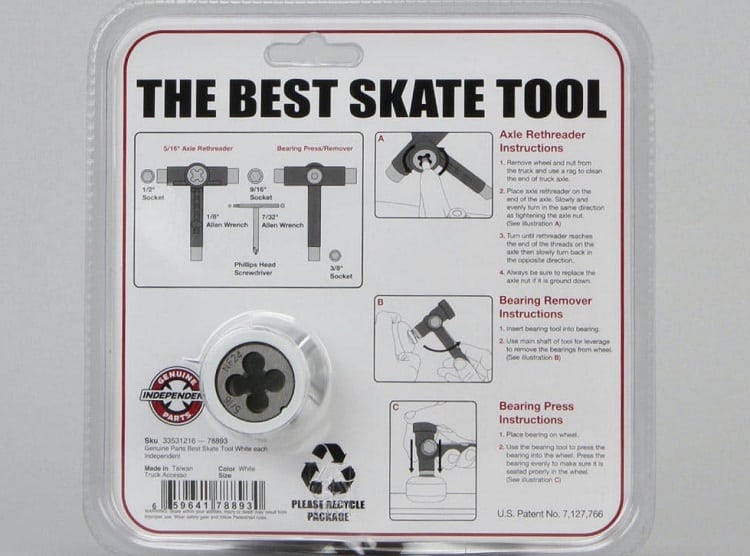 Okay, so now that you know what is on the market and what these handy tools are used for. It's now time to explore which of these tools are the cream of the crop. So let's get right into it. Here are the best skate tools that money can buy:
The Best Skate Tools
Now, before we get into the skate tools section. Let's make one thing clear about these particular tools. As much as there are several brands out there that produce skate tools, they are basically all the same. So out of respect for you, the reader.
We aren't going to list a wide range of these tools and waste your time. Instead, we are going to streamline the process.
So below, we have listed the best budget option, the best option if you are looking for something that looks cool but remains functional and then we have the best skate tool that money can buy, complete with all the bells and whistles. Check it out:
Best Budget Option: SkateHut All-in-One Skate Tool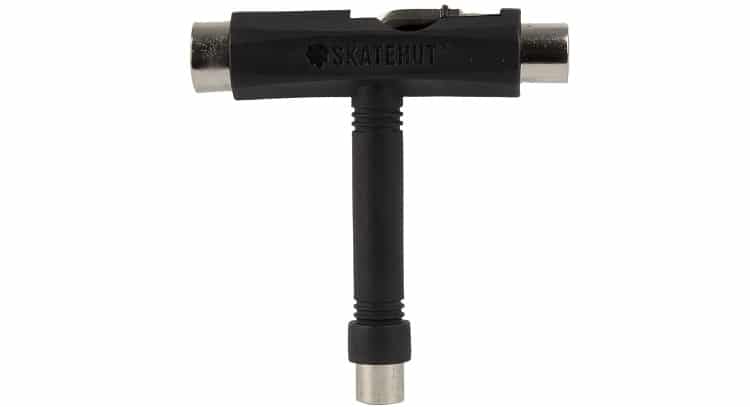 First up, we have the Skatehut all-in-one skate tool. This is about as basic as it gets but quite frankly, it's all you need. The skate tool offers the three necessary fittings and also has a specialist Allen key that slides in and out of an easy-to-access slot on the tool.
The downsides of this tool are that the Allen key slot is pretty loose, so the Allen key will fall out fairly easily. Plus, the design is pretty plain. However, for the low, low price of £4, you can't really complain.
Pros
Has all the necessary components and fittings
Is a standard T-shape design to make tightening and loosening bolts easy
Allen key slot included in the design
Super cheap
Cons
Design is plain
Skatehut logo is plastered over the tool
Allen Key falls out rather easily
Best Style Option: SkateXS Skate Tool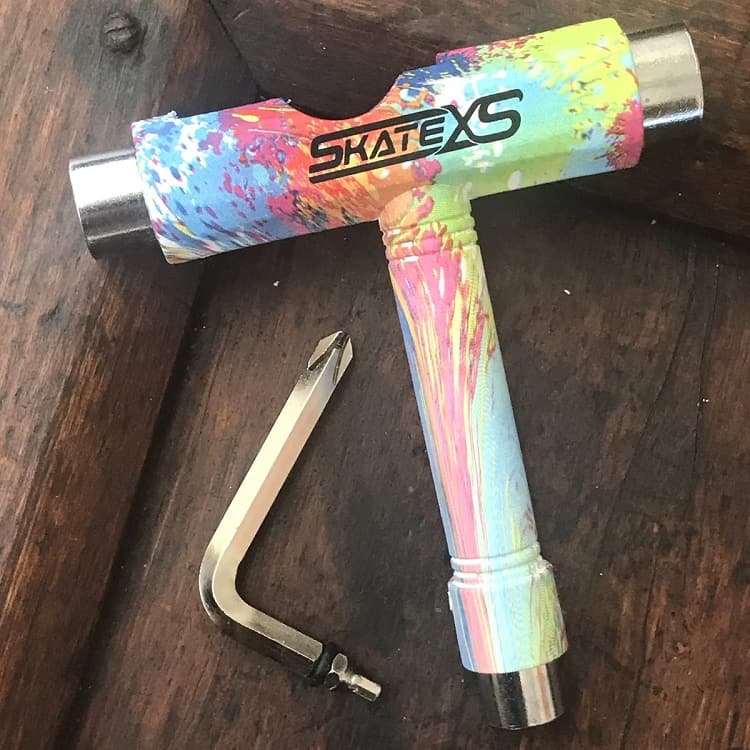 We could have gone several ways with this, as, after all, style is very subjective. So I went with my own preference, and I'm a sucker for something that is loud and bursting with colour. So the SkateXS tool is right up my alley.
The design of this tool is the standard T-shape, and it has a rainbow paint splatter finish. This tool has all the necessary fittings, has an Allen key slot, and it's a durable design too.
However, much like the tool above, the Allen key does fall out a little too easily. However, if you can get past this, this can be a great way to add a pop of colour to your toolbox.
Pros
An insane pop of colour
All the necessary fittings
Allen key slot included
Strong and durable
Cons
SkateXS logo is on the design
Allen key can all out a little to easily
Best Luxury Option: Independent Skate Tool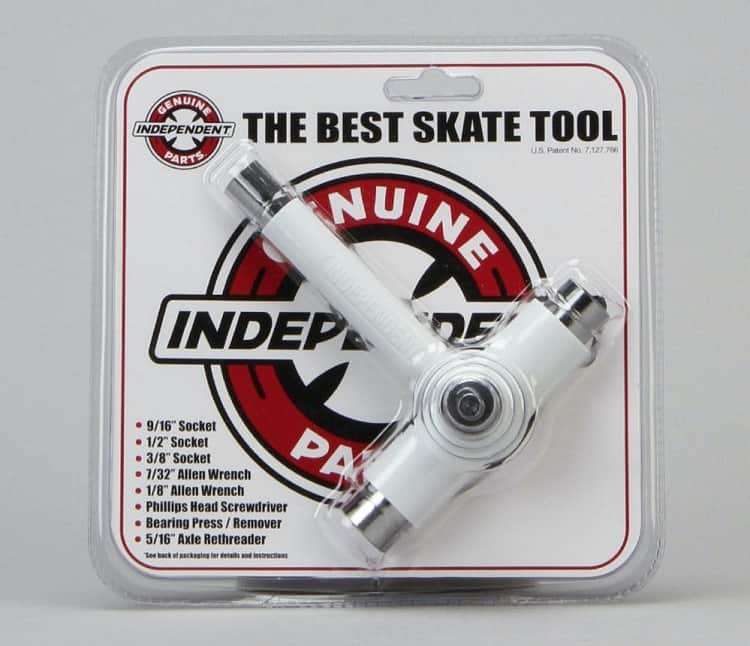 Then we have the option that is the most complete skate tool on the market. It's no surprise that it comes from Independent and it's also no surprise that it oozes quality. The design is a neat, white T-shape design. The tool comes with the standard fittings and an Allen key fitting (which holds the key in place).
However, the tool sets itself apart by offering an axle rethreader, so you don't need new bolts as often and can get them out without stress or the need for drilling.
Then it also has a bearing press, so you won't need to lean your entire weight on your trucks to get them in anymore. This tool may be expensive, but you pay for quality here.
Pros
Beautiful, clean white design
Classic T-shape
All the standard fittings
Allen key slot that actually holds the key in place
Added features like an axle threader and a bearing press
Cons
Very expensive (about £30)
The Best Spare Kit: Independent Genuine Spare Parts Kit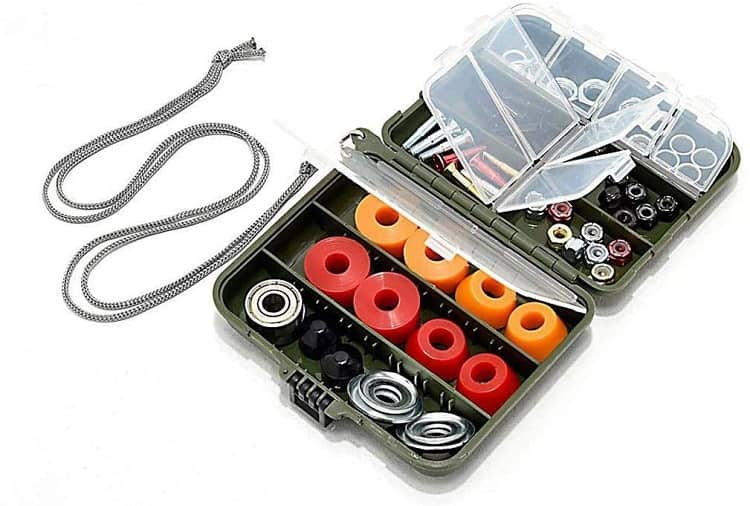 Next up, we have the best spare parts kit, and again, unsurprisingly, Independent take the top spot. This is because across the board, Independent offer quality components in all areas. You might find nicer hardware or bushings elsewhere.
However, if you want quality in all areas with one simple purchase, you can't go wrong with this spare box. You'll get spacers, bushings, bearings, assorted hardware bolts and nuts, washers, pivot cups, speedrings, axle nuts, and kingpin nuts.
Basically, this kit has everything you could ever need when your skateboard breaks down. So if you want to avoid multiple trips to the skate shop, add this one to your arsenal.
Pros
All the components you need in one neat package
All components are of the highest quality
Some colour options available
The case is durable and has a nice design
Cons
Relatively expensive for a one time purchase (£25)
Can get more specialised, quality components elsewhere
The Best Bearing Cleaner: Bones Bearing Cleaner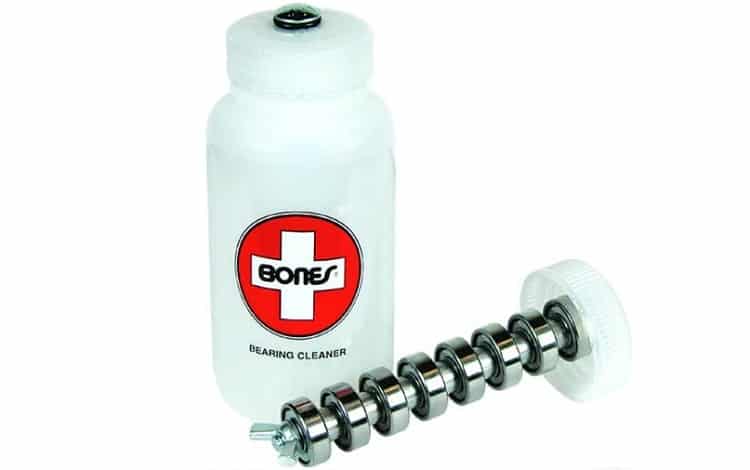 When you think skate bearings, you think Bones. So it's no surprise that they have your best interests at heart when it comes to bearing maintenance. The Bones bearing cleaner has a coil design that allows you to get right into the bearing to get out all the residue.
It allows you to add lubrication to your ball bearings with ease and the lubricant provided is of the highest quality too.
Not to mention, the cleaner can be used on all bearings, so even if you skate Bronson's, Zealous, Andale or whatever, you can maintain your bearings with this product. So if you want to lengthen the life of your bearings, give this product a try.
Pros
Easy use and application
Quality design and lubricant
Can use on all bearings
Includes spacers for equal lubrication
Cons
Does require some expertise to clean bearings
Cheaper options are out there
The Best Grip Tape Cleaner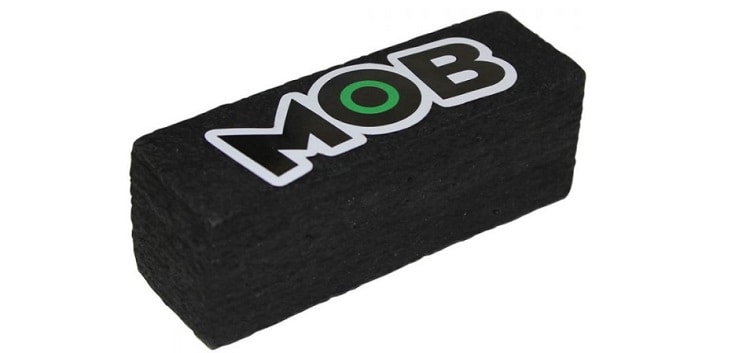 Now we have grip tape cleaner and the cream of the crop here is the MOB grip cleaner block. This is a rough block that allows you to exfoliate your board, scraping away any dirt and residue that builds up on the grip over time. Now, while this is an inexpensive purchase and one that can help bring some life into a board.
We have to admit, the product isn't exactly great as a whole, but that is across the board for grip cleaners. They make a little difference but overall, if you wreck your grip, it's usually better to carefully peel and replace, or simply live with it.
Pros
Inexpensive
Improves look of grip slightly
Easy application
Cons
Improvements are pretty minute
Can take a long time scrubbing to see a difference
The Best Grip Tape Knife
Then lastly, we have a specialist grip tape tool that includes a handy knife, making your grip tape as neat as it possibly can be. The best in class for this type of tool in our opinion is the Grizzly grip knife. This handy switchblade design allows you to cut your grip tape with precision.
Then, when you have everything stuck down, there is a nifty edging tool that makes sure things stay where they should. The design is a classic dark wood and metal mesh and overall, we can't really fault this one in terms of quality. If there was a small file equipped that would be nice but you can't have it all we guess.
Pros
Classic design
Strong and durable
Comfortable hand fit for precision cuts
Edging tool is a handy inclusion
Cons
You'll have to buy a file separately if you want one.
FAQ Section
If you have reached the end of this article and you are still a little in the dark, have no fear. Our FAQ section will shine a light into those dark corners and give you the clarity you need. Check it out below:
Question: Why Ride Loose/Tight Trucks?
Answer: This is purely a matter of preference. Skaters will tend to ride trucks loose if they enjoy the ease of movement that comes with loose trucks. Whereas others will prefer the stability that comes with tighter setups. Ultimately, there is no correct or incorrect way to set up your trucks.
However, if you are a beginner, we would advise that you start off relatively tight to make learning the basics easier. Then as time rolls on, loosen them up and become more comfortable with a more loosy-goosy setup.
Question: Can't You Use Spanners and Screwdrivers Instead of a Skate Tool?
Answer: Yes, you can. Some hardware kits even come with little miniature spanners and Allen keys for the job. In fact, I prefer to carry around a magnetic fitting screwdriver with a Phillips fit and a T-fit as I consistently lose Allen keys.
It's a matter of preference but most skaters tend to stick with the all in one approach as it's more convenient.
Question: What do Bushings Do?
Answer: Bushings are the little rounded rubber cushions that sit below your kingpin nut. These allow your trucks to pivot in place and give skaters the ability to turn simply by leaning their weight on their toes or their heels.
Without this, you would always have to pop the tail and swivel to turn and that would be a nightmare with the high demands of modern skating.
So that is our article outlining the best skate tools on the market. What did you make of this article? Do you agree with the choices that we have made? Are there any great products that we left out? Be sure to let us know in the comments section below and as always, thank you for reading Skate Culture Insider.
The Tools of the Trade
As you can see from the information above, there are tonnes of tools that can help you build, dismantle and maintain your skateboard. Some of these are more essential than others but overall, if your wallet can take the strain, it never hurts to have a full set of tools on hand.
Our pick of the bunch is a toss-up between the Independent spare parts kit and the Independent skate tool. With just these two tools in your arsenal, there isn't much you can't do. So be sure to grab these if you get a chance.
For more interesting readings check out: