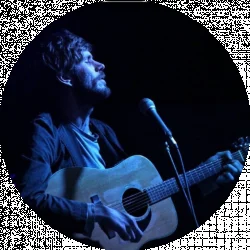 Latest posts by Kyle Baker
(see all)
In the sport of skateboarding, it's not about if you are going to fall, it's about when — and when you do, you want to have the best protection possible. This is especially true in transition skating, and pads and helmets can mean the difference between a bruise or months of recovery. Often times when you fall, the first thing your body instinctively does is to put your hands between you and the ground, putting massive pressure on your wrists.
Over time, this constant falling onto your wrists can cause some serious issues, not to mention the impact on your hands. With good quality wrist guards, the chances of injury can be greatly reduced and even completely prevented 90% of the time.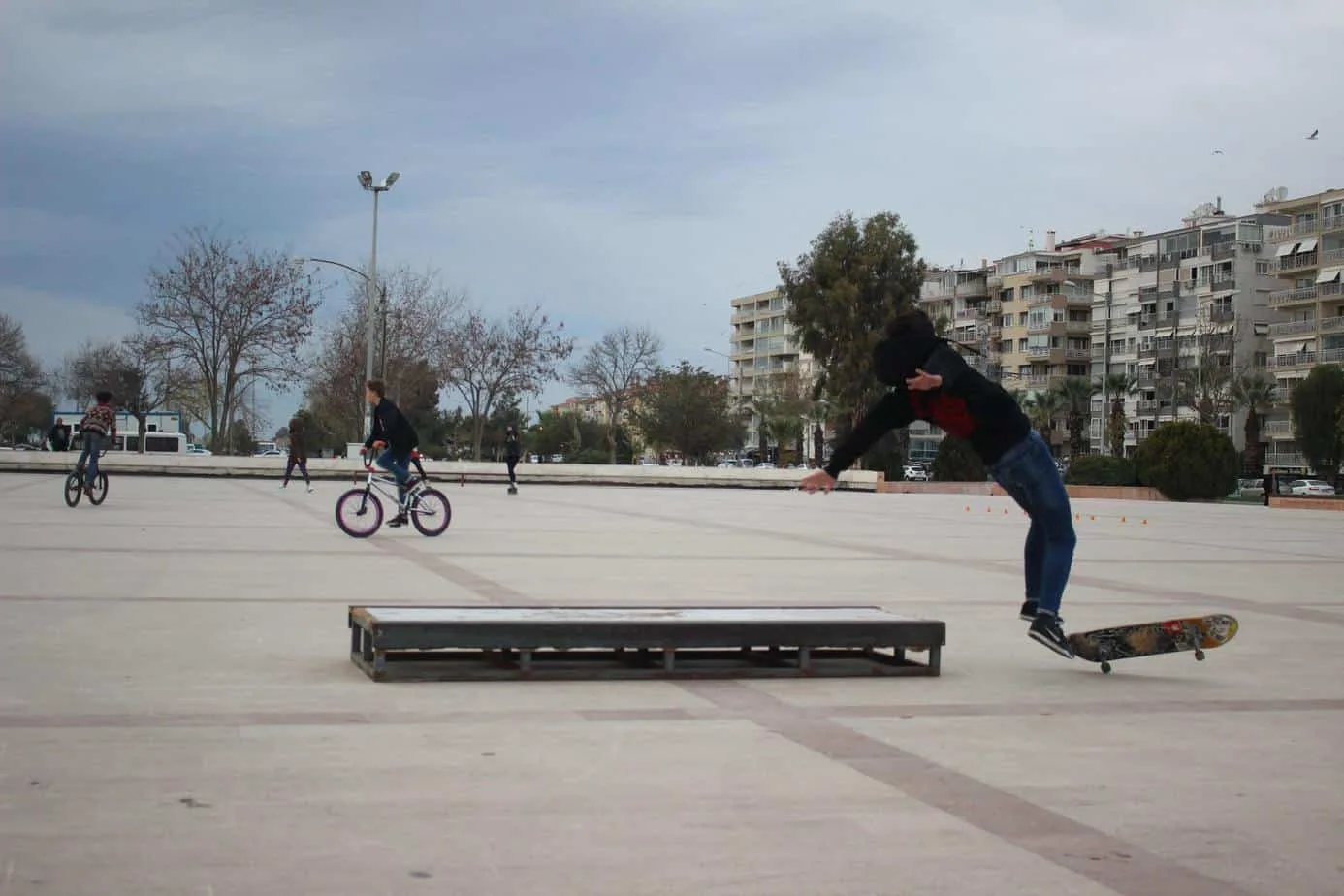 There are a ton of different wrist guards available today, and it can quickly become confusing. In this article, we'll look at some of the best wrist guards on the market to help you cut through the confusion and find the perfect pair for your unique needs. Let's get started!
Some important factors to consider
Freedom of movement
Depending on the type of skating you are doing, freedom of movement in your hands and wrists is vital. If you are speeding down hills on a longboard, freedom of movement may not be high on your priority list, but if you are a technical street skater who is grabbing your board a lot, this is a vital aspect. It's a fine line to balance protection versus freedom of movement, and this has a lot to do with the materials your wrist guard is constructed from.
You don't want a wrist guard that is made from an abrasive, irritating material that's rubbing against your skin all day, nor one that has protective plates that are too large and obtrusive. You ideally want a breathable, flexible mesh that allows you some freedom of movement and doesn't get too hot and sweaty.
Style
Wrist guards come in a variety of different styles, one of the most common being fingerless glove styles. These of course are great in winter but can be really uncomfortable in hot weather.
Other wrist guards are made with the bare minimum of material but with large plates made specially for wrist and palm protection. It comes down to personal preference though, and you may need to try a few different types to see what works best for you.
Safety
Of course, the entire point of wearing wrist guards is for the protection of your wrist. The best wrist guards offer padding as well as a tough splint that extends through your palm and wrist to protect from twisting.
The splint should ideally be cambered to absorb shock on impact, as well as large enough to prevent your wrist from dramatically bending. These splints are usually made from hard plastic, which may break easily. This is why guards with removable, replaceable splints are the best.
The Best Skateboard Wrist Guards – Reviews 2022
1. 187 Killer Pads Derby Wrist Guards – Our Top Pick Overall
Known amongst skateboarders, longboarders, and roller skaters for making some of the best protective gear companies around, these wrist guards from 187 Killer Pads will protect your hands and wrists while still giving you vital freedom of movement in your fingers.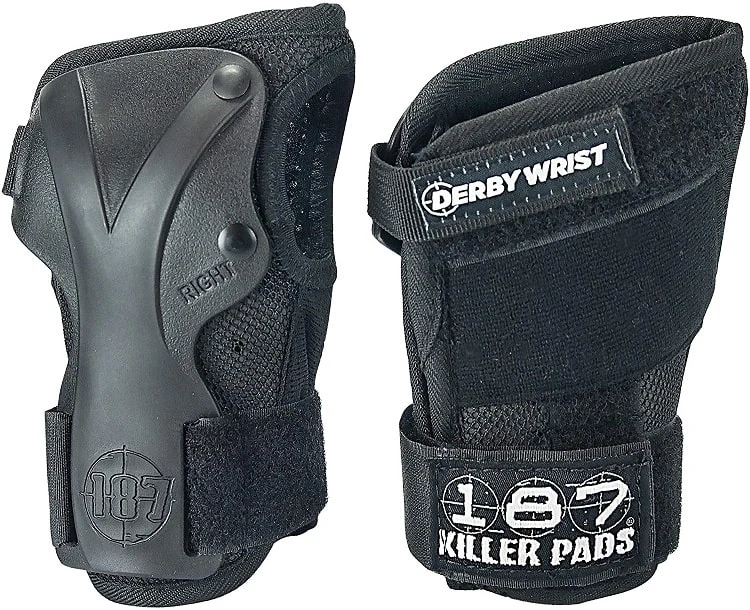 These pads are built to last with double stitching and ballistic nylon construction, a cupped and contoured protective plate that covers both the palm and wrist, plus a conveniently located sweatband. These wrist guards are arguably some of the best on the market and will last you years to come.
Be sure to purchase the correct size, as the size guide is not very accurate.
Pros
Double stitching construction
Cupped and contoured protective plate
Wrist and palm protection
Included sweatband
Protection plus freedom of movement
Cons
Expensive
Smaller than advertised
2. TXJ Sports Wrist Guards – Best Budget Choice
If you are looking for wrist protection on a budget, look no further than these wrist guards from TXJ sports. They are made with an impact-resistant PE support plate for wrist and palm protection, with high-quality EVA padding for shock absorption, and a breathable elastic netting mesh to keep your hands cool.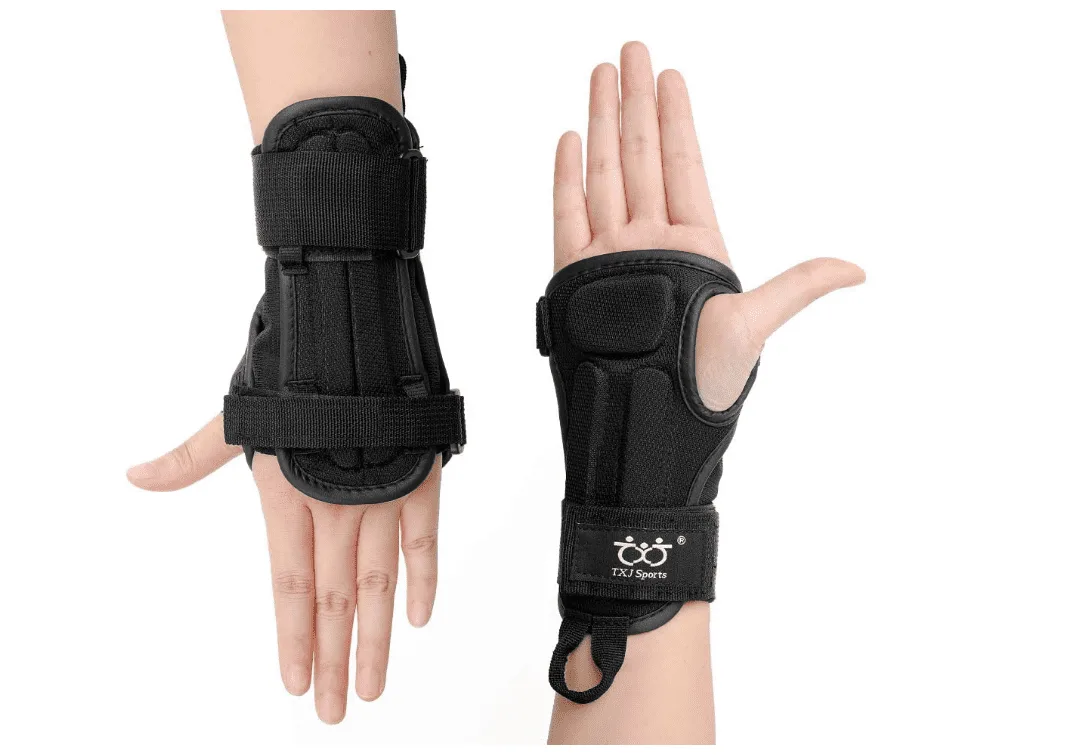 They also feature two adjustable Velcro straps for a comfortable, perfect fit, with a flexible thumb hole to give your hands superior freedom of movement.
These wrist pads offer great protection but may not last the rigors of street skating very long. After repeated falls onto concrete they will quickly start falling apart.
Pros
Impact-resistant PE support plate
EVA padding
Breathable elastic mesh
Two adjustable Velcro straps
Inexpensive
Cons
Poorly constructed
Not very long-lasting
3. Burton Kids Protective Wrist Guards – Best for Kids
Burton makes some of the best protective gear in the business, and these protective wrist guards designed especially for kids are no different. They have an ergonomic, low profile design that makes them super comfortable, and therefore far more likely that your child will want to wear them!
They also have adjustable Velcro closures for a snug fit, sturdy, tapered top splints, a soft and comfortable palm pad, plus are machine washable!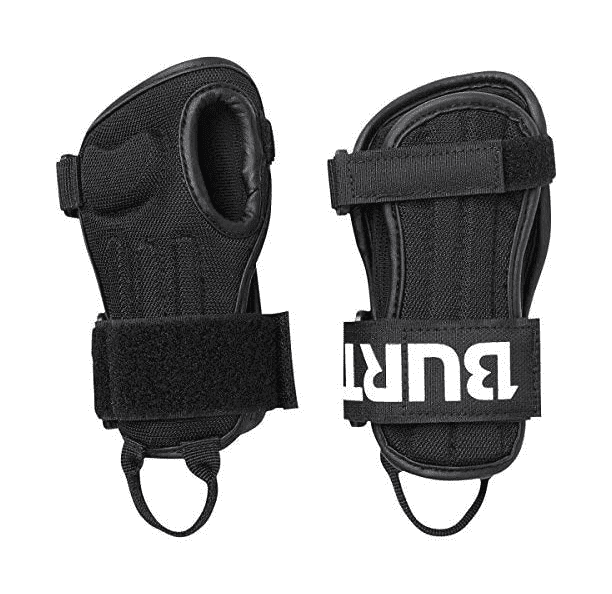 These wrist guards are made for snowboarding, and so while they'll definitely protect your wrist, they will tear up fairly quickly on concrete. The tapered splints and soft palm padding are ideal for park and vert skating, though.
Pros
Low profile design
Adjustable Velcro closures
Tapered top splints
Soft palm pad
Cons
Not very palm protective
Not ideal for use with concrete
4. Triple Eight Hired Hands Wrist Guards – Premium Choice
If you are looking for a top of the line, premium hand and wrist protection, look no further than the Hired Hands wrist guards from Triple Eight. These gloves are made from top-grain leather, with a thick neoprene support strap to ensure a tight and comfortable fit, and a convenient EZ pull-on loop.
They feature impact-resistant ABS splints on the top and bottom which are removable and replaceable, with EVA shock-absorbing foam layers with double stitching for long-lasting durability. These are arguably some of the best wrist guards on the market, and while they are expensive, they will last you through some heavy use too.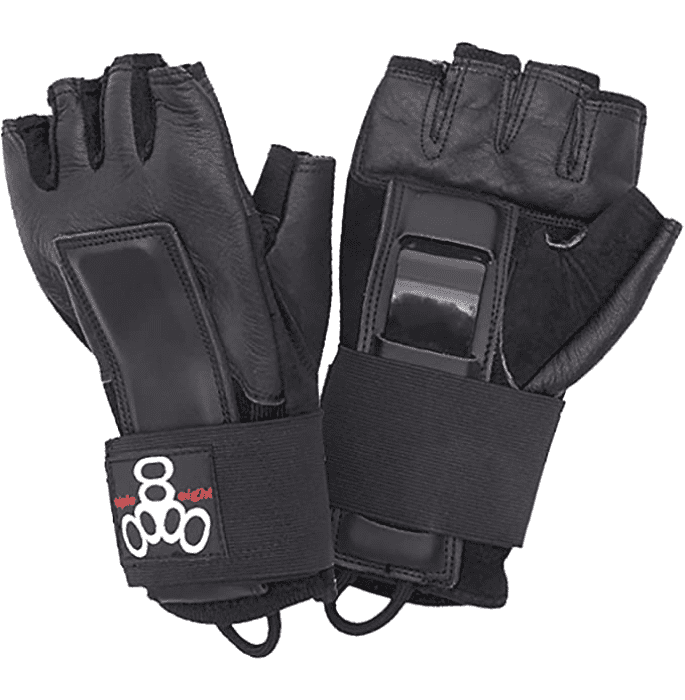 Because these wrist guards are in glove form, they do make for limited freedom of movement, a point that will not go down well with technical skaters. Also, after a few hours of skating with these in the hot sun, they will get smelly! Although, this is common with most skating gloves.
Pros
Made from top-grain leather
Neoprene support strap
EZ pull-on loop
EVA shock-absorbing foam layers
Double stitching construction
Cons
Expensive
Limited freedom of movement
Get smelly and sweaty quickly
5. CTHOPER Wrist Guards – Best Protection
When it comes to functionality and comfort combined with protection, these wrist guards from CTHOPER are our favorite choice. They have durable, hard shells to protect your palms from sliding on concrete that extends down through the wrist for ultimate wrist protection too.
They are made from breathable mesh that offers both comfort and ideal freedom of movement, ticking all three boxes for a wrist guard; protection, comfort, and freedom of movement. They also have strong adjustable Velcro straps and come in 3 different sizes.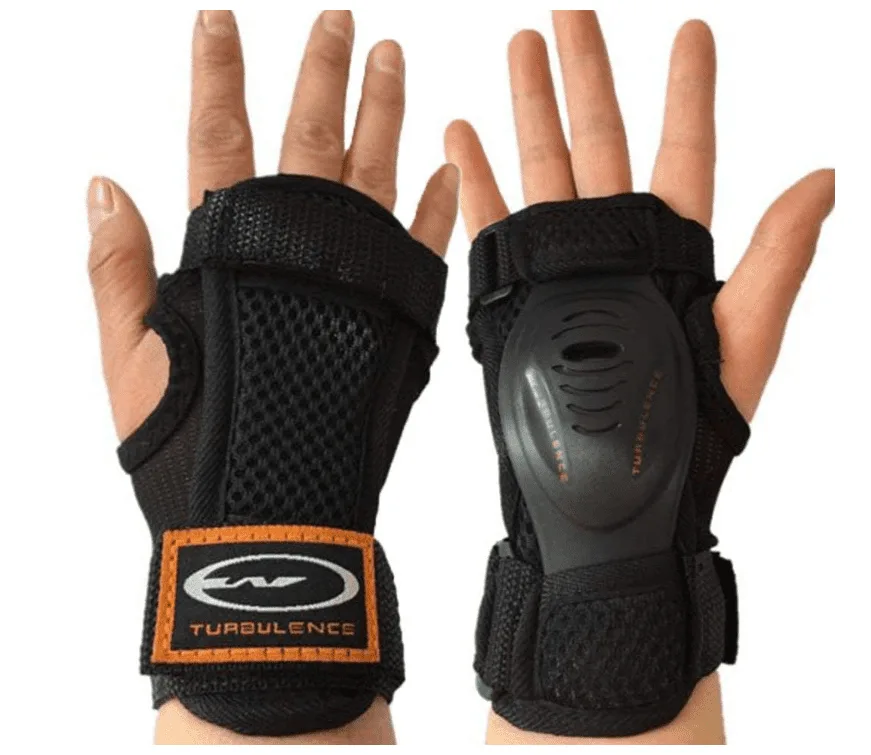 While these wrist guards tick all the necessary boxes, they are not the most durable product on the market. Some skaters report that they start falling apart after only a month or two of heavy use.
Pros
Durable hard-shell palm protection
Made from breathable mesh
Great freedom of movement
Adjustable Velcro straps
Cons
6. Hillbilly Wrist Guard Gloves – Honorable Mention
These half-finger glove style wrist guards from Hillbilly offer great protection combined with superior comfort and freedom of movement. They are made from double-stitched goatskin for superior, long-lasting durability with spoon-shaped splints on the palm and back of your hand for wrist and palm protection.
Glove style wrist guards are great for cold weather as they provide warmth and protection, while still giving you vital freedom of movement. These gloves are also comparatively inexpensive and great value for money.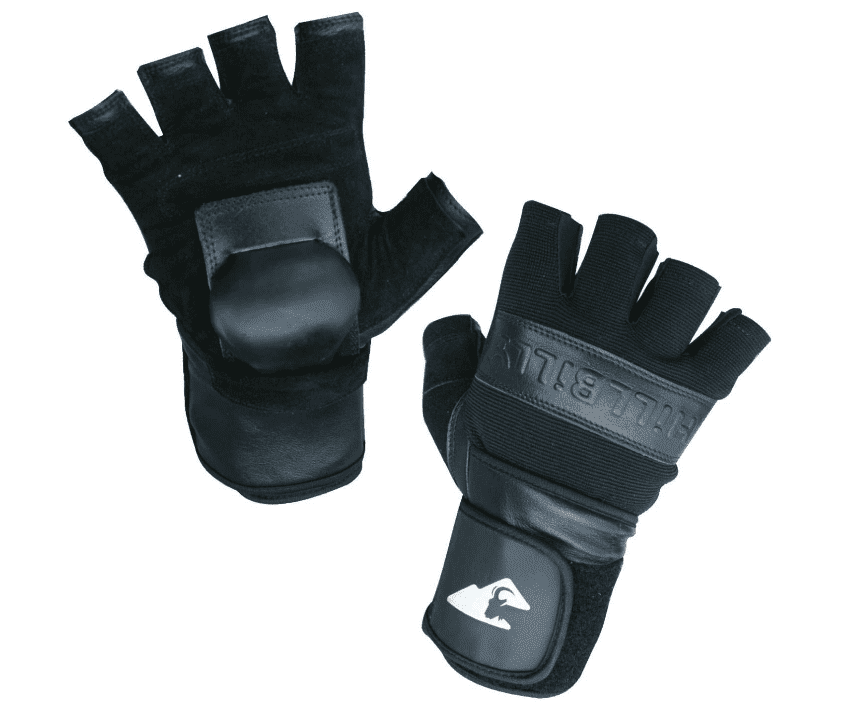 Some skaters report that these gloves have an awkward fit and feel to them, and the stitching began coming away after only a few falls. Also, the Velcro straps are reported to run a bit short.
Pros
Made from double-stitched goatskin
Spoon-shaped splints on both sides
Great freedom of movement
Comparatively inexpensive
Cons
Awkward fit
Velcro straps run a bit short
Common Questions and Answers
Question: Do wrist guards really work?
Answer: In short, yes, they do, but the long answer is a bit more complicated. How well your wrist guards work depends on a few factors, including how well they are constructed, whether they fit your hand properly, and also on your abilities. Poorly constructed wrist guards may just falter under impact, still offering protection but not as much as they could. Wrist guards that are too large or too small for your hand will also not offer the best protection and may even make matters worse. Finally, if you fall a lot or in the "wrong" way, they will offer slight protection at best, and learning to fall correctly is as important as learning to skate correctly.

In summary, there is no guarantee that a wrist guard will protect you 100% of the time. Similar to a seatbelt in a car, they will offer a certain amount of protection most of the time, although there are too many confounding factors to make absolutely certain.
Question: Should I wear wrist guards while skating?
Answer: While pads are not everybody's cup of tea, if you want to have a long skating career, we highly recommend making the most out of any protective gear you can get. As mentioned earlier, falling off your skateboard is not a case of if, but when, and since falling is almost certain, it's best to be prepared. With vert skating, downhill longboarding, and bowls, padding is an absolutely essential piece of gear.
Question: Do skateboard wrist guards work for longboarding?
Answer: Yes! Wrist guards are fairly universal in general, although some are made for more specific uses too. For example, longboarding involves much higher speeds than skateboarding does, and so there are more premium wrist guards available that are specially made to ensure optimum safety against this increased risk.

With that being said, you may want to avoid using overly specialized wrist guards outside of their intended purpose. While they will still work for general application, they may wear out faster if not used for their specific purpose or may just be overkill or overly expensive for your use.
Question: How do I know which type of wrist guard to use?
Answer: The right type of wrist guard for you depends largely on your level of experience, and what type of skating you're doing. As mentioned earlier, with vert or bowl skating a well-padded, strong wrist guard is an essential piece of equipment, but for a general park or street skating, a standard-issue wrist guard will do the job just fine. The majority of wrist guards have the same basic safety feature: protecting your wrist, and it's up to your style of skating how good you want that protection to be, and what the ratio of comfort and mobility versus safety is right for you.
Conclusion
Skateboard wrist guards serve an important purpose, and they are a great way to protect your hands and wrists against the inevitable impact that skateboarding will give them.
Arguably the most important function is the feeling of safety they give you: if you know that your hands and wrists are protected, you'll have more confidence to boost your skills and try tricks that may scare you under normal circumstances.
For general use, our favorite choice is the wrist guards from 187 Killer Pads. These wrist guards are designed to protect your hands and wrists while still giving you vital freedom of movement in your fingers.
They are built to last with double stitching and ballistic nylon construction and feature a cupped and contoured protective plate that covers both the palm and wrist.
It can be confusing to find the right wrist guards to suit your needs, but hopefully, our reviews have helped you narrow down the options and find the perfect pair to keep you confident, safe, and injury-free!