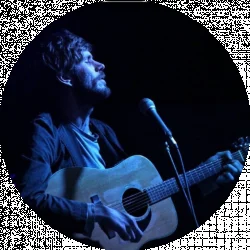 Latest posts by Kyle Baker
(see all)
With the expense of "brand-name", high-end skateboard decks only growing in cost, blank skateboards are becoming a great option for beginner and experienced skaters alike.
When you consider the fact that your deck is the most often replaced component of your skateboard, it can quickly get expensive to keep purchasing pro decks from high-end brands. There is almost nothing more upsetting than snapping that new (expensive) Element or Santa Cruz deck within a couple of weeks of purchasing it.
This is where blank decks come in. Because of the lack of logo, fancy graphics, branding, and the name of a pro skater, these decks are often half the price or less than normal skateboard decks!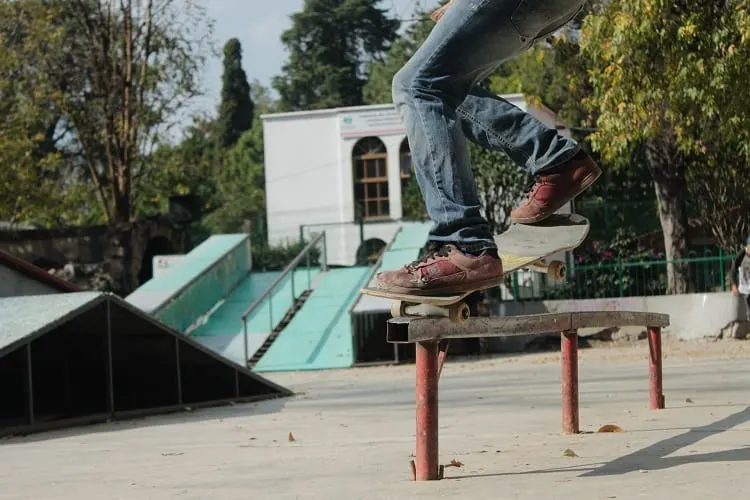 This is great for skaters on budget or skaters cursed with breaking their decks all the time. Of course, not all blank decks are made the same, and there are some terrible quality decks out there too.
Due to the lack of branding and marketing, it can be confusing to choose a good quality blank skateboard deck if you don't know what to look for. Luckily, you're in the right place! We've done all the heavy lifting and scoured the internet for our favorite blank skateboard decks to help you make your decision. Let's get started!
What is a blank skateboard deck?
Put simply, a blank skateboard deck is simply a standard skateboard deck without any graphics or brand advertisement. Believe it or not, just the simple addition of graphics adds a hefty amount to the price of a skateboard, and so does the addition of the name of a pro too. If you think about it, why bother spending more when you are going to scratch those fancy graphics off anyway?
Blank skateboard decks come in all the same sizes and lengths as typical decks and are usually made from maple plies too. Essentially, you are getting the same exact board you are accustomed to, minus the fancy graphics. Of course, this is provided you purchase a good quality product — there are some decks out there that are not really even worth skating.
Why buy a blank skateboard deck?
Even if money is not an issue, there are still some good reasons to go for a blank deck over a graphic-riddled option.
Customization
Essentially, all skateboarders are artists, using the streets as their canvas. A blank deck allows you to further explore your creativity, and this is one of the biggest reasons these days that skaters go for blank decks.
With a blank deck, you can paint it with your own artistic flair, keep it simple with a blank, natural wood look, or even screen print it with the graphics of your local skate shop or skate crew. The options are endless.
Affordability
The second biggest plus of buying a blank skateboard deck is the affordability. Of all the components on your setup, you'll need to replace the deck the most often. Skateboarding is hard on your deck, and besides simply snapping it when jumping off massive stairs or ledges, your board can quickly get razor tail or enough chips and cracks to render it un-skateable.
Blank decks are often half the cost or less of pro model boards, allowing you to buy 2-3 blank decks for the price of a pro deck. Considering that there are a lot of blank decks that are just as good as any pro model out there, this is definitely the best option for budget-minded skaters.
Are blank decks any good?
When shopping for a blank deck, you'll want to save money, but at the same time, you want a decent product. So, while there are some really great blank decks available, there are just as many, if not more, that are of terrible quality. These manufacturers may claim that the boards are maple when they are not, be glued poorly, or even misshapen.
That being said, there are some great blank decks available too, and these decks are certainly worth the money and the money saved over buying a pro deck.
One final word is that although high-end brands charge a premium on their decks just for graphics and name recognizability, remember that these brands also do a lot for the skateboarding industry. They sponsor skaters, hold events, build parks, and are at the forefront of developing new skating products. There is more to the cost than simple graphics.
What to look for
The most important aspects to look for when choosing a blank skateboard deck, or any skateboard deck for that matter, are shape, concave, and size.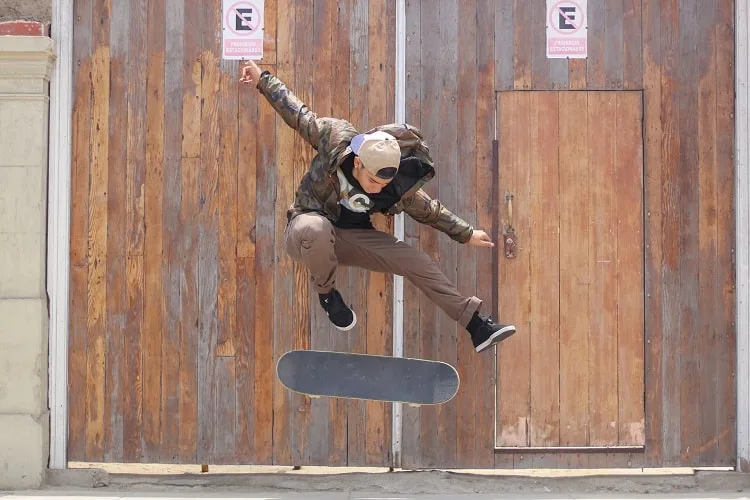 Shape
While almost all popular, modern skateboard decks are the classic "popsicle" shape — meaning the deck is symmetrical and can be skated in any direction — shape is still an important factor. Some decks have slightly larger noses, some are wider in the center, and some have either rounder or more square kicks, all of which will affect your riding.
Concave
All modern skateboard decks are concaved, which is what gives them their pop and makes them more comfortable to ride. This is largely down to personal preference, and for beginners, a mellow concave is best.
Size
The size of your deck will have a massive impact on your ride. The length is not much of a concern, especially for beginners, but you should definitely pay careful attention to the width.
Most decks are between 7.5-inches and 8.5-inches wide. A narrow deck is ideal for younger skaters and skaters who prefer technical skating styles with loads of flip tricks. Wider decks offer more stability and are thus better for transition, bowl, and ramp skaters. It will take a fair bit of trial and error to find your ideal size.
The best blank skateboard decks in 2022 – Our reviews
1. Warning Blank Skateboard deck – Best for beginners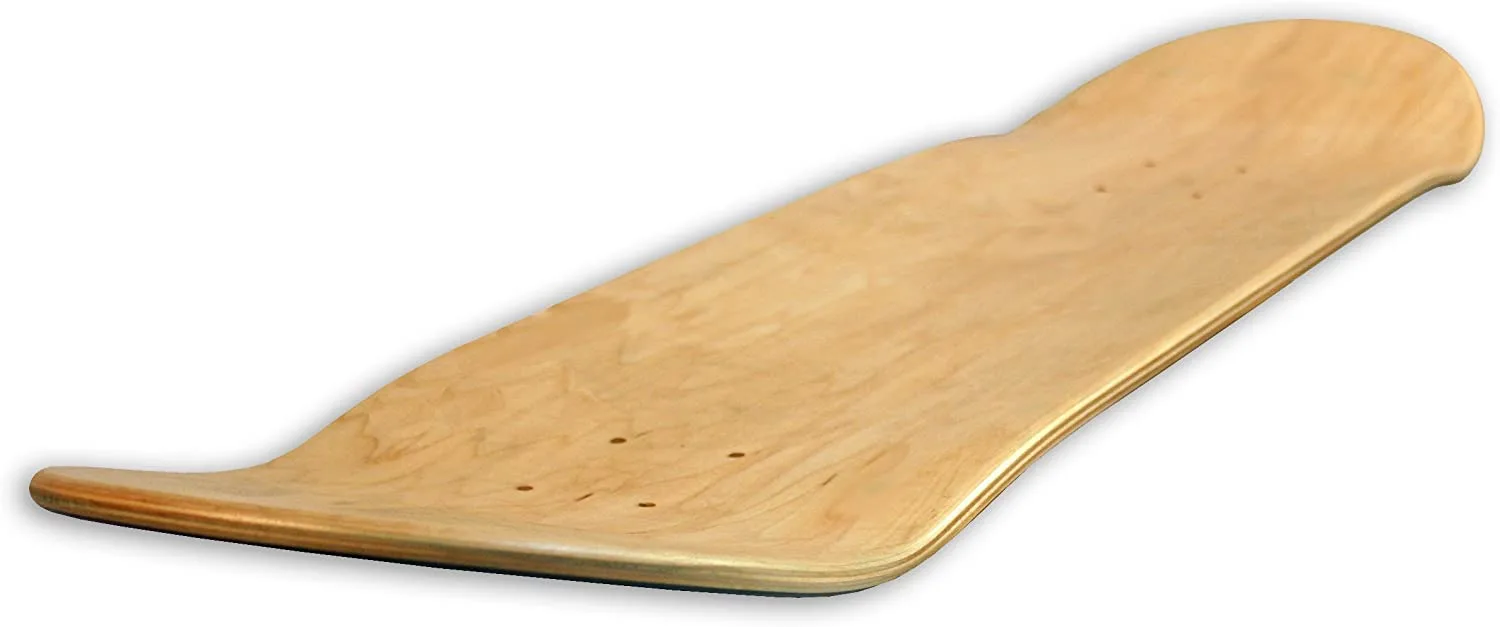 For a beginner on a budget looking for an inexpensive yet high-quality board to get started on, the Warning blank skateboard deck is an ideal place to start. These decks are inexpensive and come in various widths, from 7.75-inches to 8.0-inches, with great concave and a great feel. They have a classic "popsicle" shape and are easy to ride with decent pop.
The major downside to these decks is the weight. Many users have reported that they are a bit heavier than other boards, making flip tricks slightly more difficult to perform.
Also, these decks are likely not going to be able to withstand the punishment of street skating for very long, and if you are an experienced skater, it may not be the right choice for you. Other than that, the low price of these boards makes them ideal for beginner skaters on a budget.
Pros
Inexpensive
Various sizes to choose from
Great concave and shape
Ideal for beginners
Cons
Heavy
Cannot withstand the rigors of experienced skaters
2. Cal 7 Blank Skateboard Deck – Best on a budget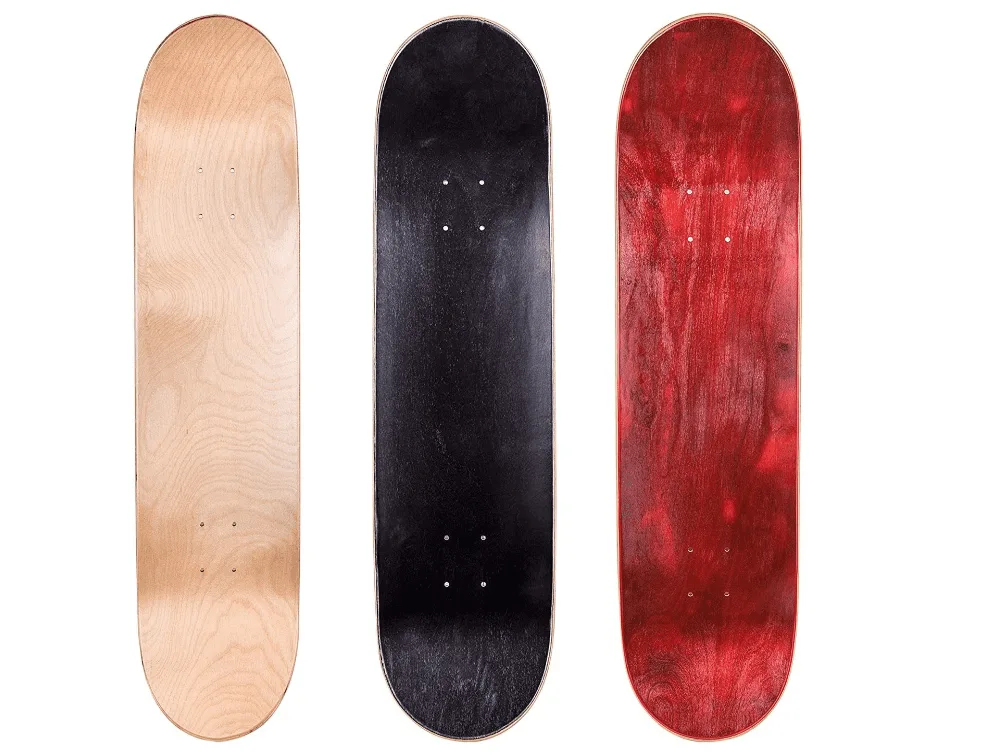 The Cal 7 blank is a 7-ply maple, professional-quality skateboard deck that is great for both beginners and experienced skaters alike. It is available in 3 different sizes, 7.75, 8.0, and 8.25-inches, plus three different colors of tinted wood too — black, natural, and red. These decks have a great medium concave that is ideal for both street and park, with decent pop and a great shape.
Of course, these boards have some limited capabilities and are not up to par with some more professional boards out there. If you are into doing large stair sets and drops, you may not want to put all of your faith in this deck. That being said, for cruising a park, handrails, and flat ground tricks, these boards are great.
Pros
3 different size choices
Comes in 3 different colors
Medium concave pop
Ideal for beginner and intermediate skaters
Great pop
Cons
Inconsistent construction
A lot of flex
3. CCS Logo Blank Skateboard Deck ­– Our Top Pick Overall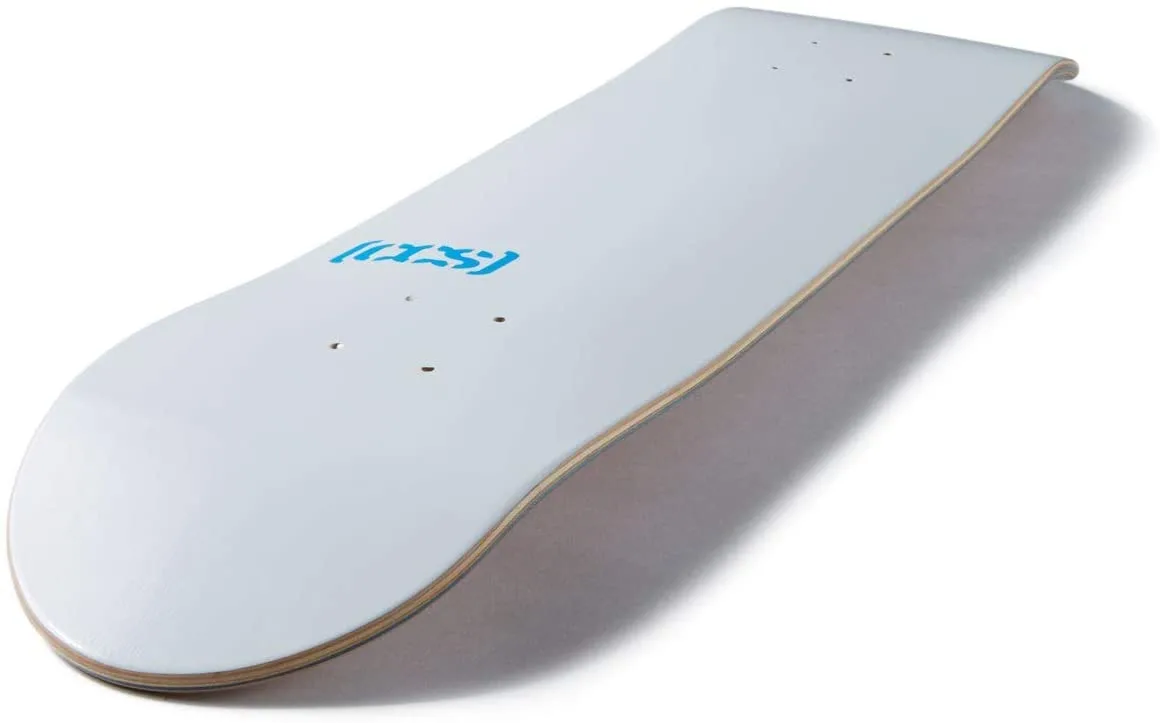 If you are looking for a professional quality deck that can hold its own against many of the top skateboard brands out there, look no further than the Logo Blank Skateboard Deck from CCS. The board has a classic shape that caters to all skating styles — street, park, and vert, and is made from high quality, 7-ply maple.
While the decks are not completely blank — they have a small CCS logo near the tail — unless you buy the natural version, they are still almost completely devoid of graphics and are thus still customizable and inexpensive. They have great pop, a mellow concave, and honestly, for the price, are one of the best blank decks available today.
Pros
Professional quality
100% maple construction
Various size options
Natural or Logo colorways
Great pop and mellow concave
Cons
Slightly more expensive than many other blank decks
4. Bamboo Skateboards Blank Skateboard Deck – Best bamboo option

Bamboo skateboards are slowly but surely become a staple of the industry due to their high flexibility, sustainability, and great pop. These blank decks from Bamboo Skateboards are bamboo/maple hybrids and come in a variety of sizes, from 7.0-inches through to 8.75-inches.
They have a nice deep concave, are super light and strong, and according to the company, have more pop than any other deck on the market. For a beginner or teenager, these boards are a great point of entry, although, for big ramps and stair sets, they may be a bit too flexible for our liking.
Pros
Bamboo/maple hybrid
Great for the environment
Lightweight
Various size options
Deep concave
Cons
Not ideal for experienced or professional skaters
A bit too flexible
Bamboo splinters easily
5. Stoked Ride Shop Blank Skateboard Deck – Honorable Mention #1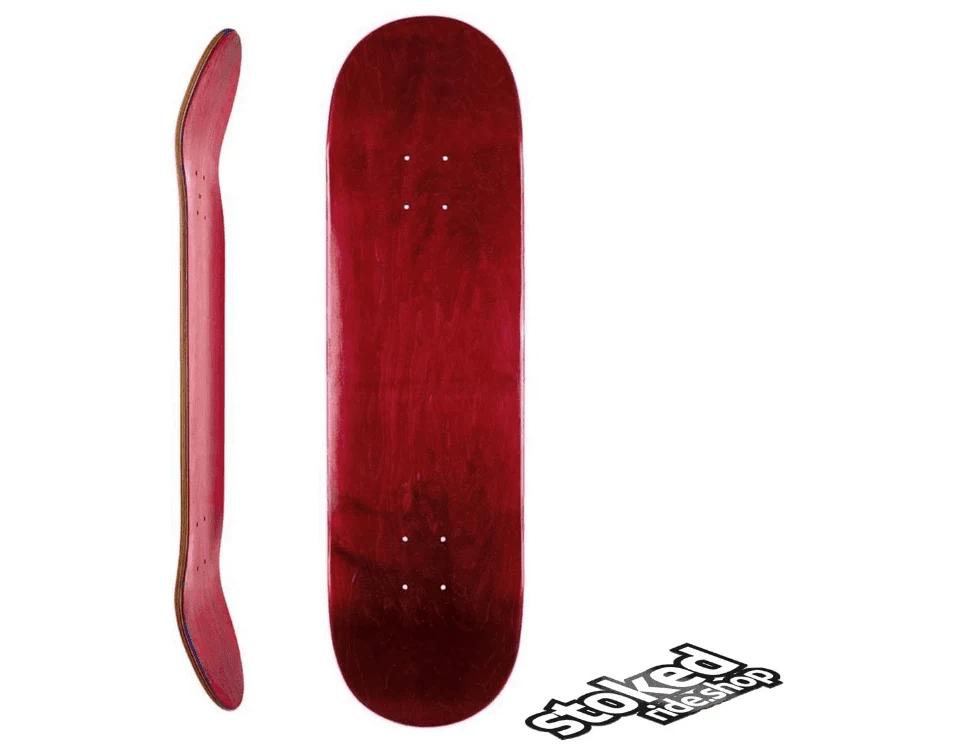 Made from 7-ply Canadian Maple, this blank deck from Stoked Ride Shop is great for beginner and experienced skaters alike, with a nice medium concave, classic popsicle shape, and a 32-inch length. The blank decks come in various widths, from 7.75-inch through to 8.5-inches, making them great for street, flip tricks, pools, and park skating.
The decks also come in 5 different stained colorways — natural, blue, red, green, and purple, plus a Ride Shop sticker for some customization!
Pros
7-ply Canadian maple construction
Medium concave
Several different sizes to choose from
5 different colors to choose from
Cons
It May not be ideal for advanced skaters
6. Moose Blank Skateboard Deck – Honorable Mention #2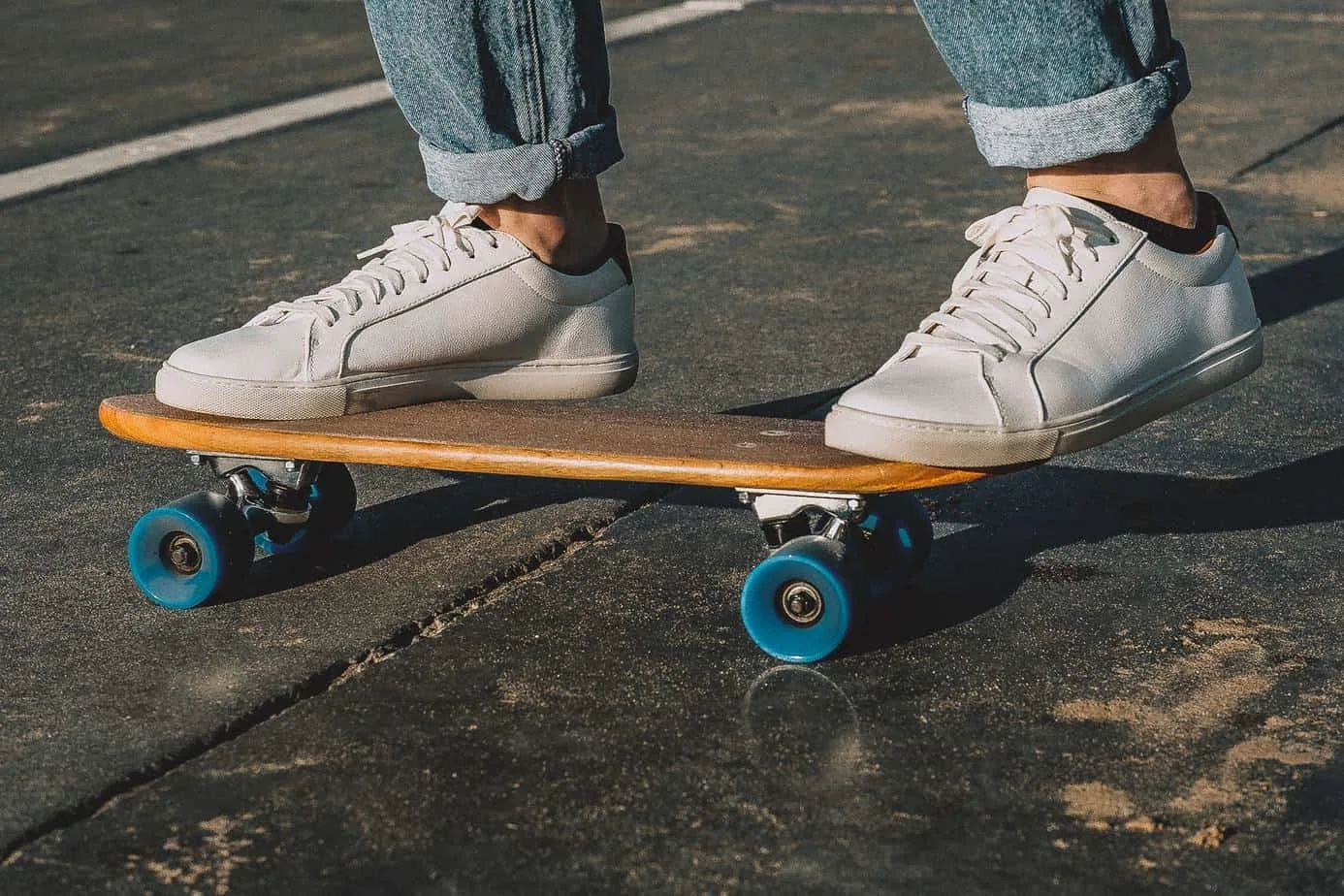 Moose Skateboards make varying different skateboards with a wide array of awesome graphics. They make a great blank deck, too, with a natural finish, classic shape, and mellow concave. These decks are made from 7-ply, 100% Canadian Maple for great, consistent pop, and are highly affordable.
These decks are ideal for beginners or as cruisers but are not professional quality. Also, while the company claims they are made from Canadian maple, these decks are made in China, and many skaters that have ridden them doubt the claim of being made from maple.
Pros
Inexpensive
Natural wood finish
Mellow concave
7-ply maple construction
Cons
Not professional quality
It May not be made from maple as stated
Common Questions and Answers
Question: How much should a good skateboard deck cost?
Answer: Blank decks are often touted as being the same quality as professional decks for a much lower price, but what is the standard going price for a good skateboard? On average, a good quality, brand-name deck will cost you around $50 but may be slightly more if they are pro-model decks. A blank skateboard is typically around$20- $30, offering a similar quality board at almost half the price.
Question: Do skateboards lose their pop?
Answer: Unfortunately, yes. Whether you go with a professional deck or a blank deck, your board will slowly lose its pop. This is caused by the constant stress on the wood, which eventually causes it to lose its integrity, and thus it's pop. This is why maple has been the go-to for skateboard construction for so many years, as it has great, long-lasting pop that other woods cannot manage. Bamboo has great pop, arguably better than maple, but it is lost quickly and is not as strong as maple.
Question: What are the best skateboard brands?
Answer: If you've decided a blank deck may not be the way to go, some of the best skateboard brands making some of the best decks on the planet are:
• Element
• Blind
• Santa Cruz
• Almost
• Baker
• Girl
• Powell Peralta
Final Thoughts
Blank skateboard decks can be a fun, inexpensive way to save some money on your skateboard setup. They are fully customizable, so you are free to paint it or print your own graphics onto it too, and they are often half the price of a professional skateboard.
If you are a skater who goes through a lot of boards or a beginner on a budget, a blank deck may be the way to go. Our favorite blank deck is the CCS blank. It has a classic shape that caters to all skating styles, great pop, a mellow concave, and for the price, are one of the best blank decks available in our opinion.
There are some really terrible quality blank skateboard decks on the market too, however, and it can quickly become confusing. Hopefully, our reviews have helped you narrow down the options, so you can find the best blank deck to suit your unique needs, and go get skating!